American Gay Porn Star, Tony Douglas
Years Active: 2010 – 2016
STATS / INFO:
Star Sign: Leo
Nationality: American
Height: 5'10"
Weight: 154lbs/70kgs
Dick Size: 7.5″/cut
Occupation/job: College Student
A former marine, Tony is now back to studying and decided to start making porn this year at the same time. He's got barely an ounce of fat on his hairless body which means his ripped abs and pecs can be seen perfectly. A horny top, he's also been know to stick the occasional toy or cock up his own hole too.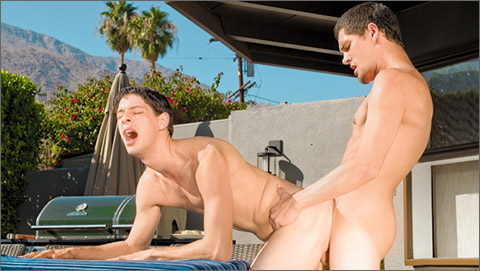 TWIN HEAT: Jay Kohl fucks Tony Douglas
Jay Kohl is one busy dude grilling hot dogs on the back porch when his buddy Tony Douglas comes out to join him. Starving for some grub, Tony checks out his hunky buddy and then the sizzling slabs of barbecued meat. Without skipping a beat, he quickly makes it clear which wiener he'd prefer. He falls to his knees facing Jay's crotch and crams his mouth full of cock. His lips slide easily over the tip and then down the lengthy shaft of Jay's tasty meat pole, letting his tongue massage the fleshy sex muscle with hungry slurps. Both men happily push each other's buttons and grow anxious for more man play, so Tony yields his ass to his partner willingly. Jay skewers Tony's tight bunghole fast and hard, slamming his erect poker all the way in with strong deliberate thrusts. They grind back and forth and continue even faster when Tony climbs aboard Jay's tool and bucks up and down like a well-greased piston. Finally, ready to finish, the guys jack off until they shoot their loads.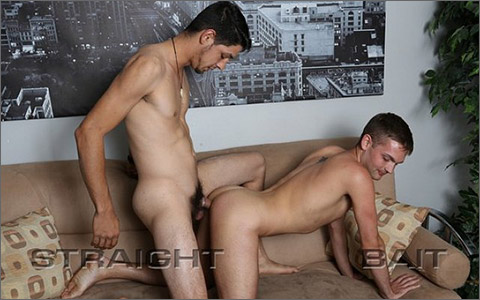 CONNER MASON BAITS TONY DOUGLAS
SPECIAL EDITION: "GIRL BUTT, BOY BUTT, STILL A BUTT!"
Former BaitBuddies.com straight boy Tony who made his porn debut with us back in 2010 went on to do many movies, but has not performed for the last few years. That's because he got engaged to be married and had a great job working on the railroad. But things recently soured as he was laid off and in need of money, so he reached out to Caruso for help, and that's what got him back in the studio where Caruso briefly introduces Tony and then moves on to Conner, "Welcome! How are you." Conner replies "Good! How are you?", as Caruso can see him turning red and fidgeting. "You are a nervous wreck aren't you" Caruso inquires "a little bit" Conner says as he nervously laughs. "What about a straight guy turns you on he asks Conner. "The chase" – great answer. Caruso tells us how Tony was here 6 years ago doing his first shoot and has since gone on to do lots of other work in porn. Tony says he thinks he's hit every department including fetish, gay, straight, leather, bondage, you name it. He tells us that after his porn career he went away to college and got his bachelor's degree in civil engineering and electrical power generation then he landed a safety position job with the railroad but was recently laid off.
   Caruso says this is a perfect pairing because we have a gay guy that loves to have sex with straight men and a straight guy that is experienced in 'gay for pay'. It doesn't take long before the guys get up and Tony starts making out with Conner. The guys continue to kiss while undressing each other. Conner doesn't waste any time and drops down and starts blowing Tony. Apparently Tony liked Conner's skills and says "oh wow" before he gets down on his knees and returns the favor. Then Tony tells Conner "I want to fuck you. Stick my dick in your ass. Won't that feel good?" Tony puts on a condom and tries several times to stick his dick in Conner telling him he has a tight hole. Tony finally fucks him doggy style, then changes position with Conner on top riding him. Tony soon takes charge again and lays Conner on his back and fucks him while jacking him off. Tony can't hold off any longer and pulls out and shoots his load on Conner's stomach which triggers Conner to blow his load as well! With both dudes satisfied and cummy, Caruso sends them off to the shower.
   In 'After the Shoot' both guys have showered off and are all relaxed sitting on the couch for their post fuck interview where Conner tells Caruso that his favorite part was riding Tony's cock. Tony starts talking about how tight Conner's hole is and then has to cross his legs because he starts getting hard again. Caruso asks what their relationship statuses are and Tony says "Well, for today the ring is off the finger but I'm engaged. And, we've communicated. We know exactly what I'm doing today and how I'm doing it and what's going on." She's okay with him being here, but he says she won't see this because she doesn't like watching him have sex. In the end it's all the same he expresses to Caruso "girl butt, boy butt, still a butt!"
FALCON STUDIOS
RAGING STALLION
CHANNEL 1 / RASCAL
CATALINA VIDEO
COLLEGE DUDES
SUITE 703: MEN HARD AT WORK
BADPUPPY
TWINKS
GAY ROOM
CLICK HERE TO GO TO HIS GIO CARUSO'S BAIT BUDDIES DETAILS