William Higgins Czech Gay Porn Star, Tomas Fuk
Known Aliases / aka: Brace Morris, Zac Drogba
Years Active: 2014; 2016
WILLIAM HIGGINS INFO:
Model Name: Tomas Fuk
Age: 20
Home Town: Opava
Height: 189cm/6'2″
Weight: 89kg/195.8lb
Foot Size: EU45/US9.1/UK8.6
Penis Size: 18cm/7.09″
Profession/Student of: Worker
Hobbies: Sport
Favorite Sports: Fitness
Active Sports: Ice-Hockey
Movie/Music/Sport Stars: Adrien Brody
Visited Coutries: Italy
Want to Visit Coutries: England
Dream of My Life: I don't know.
Zodiac Sign: Aquarius (January 20 – February 18)
Tomas Fuk is from Opava. He is aged 20 and work. He enjoys sports, fitness and ice-hockey. He is a stunningly handsome guy who looks so good as he poses for the camera. As he lifts his tee-shirt we see a great body too, those abs are to die for. Then the tee-shirt comes off and Tomas shows the entire upper body, which is beautifully defined. He takes his jeans off too,and goes through a series of muscle poses, showing off that hot body, in just his underwear. Then, turning with his back to the the camera Tomas lowers the undies to reveal his sexy ass. He turns back, teasingly pushing the undies down to, gradually expose his beautiful, soft, cock. Completely naked he then gives us another showing of his sexy ass before sitting and getting his cock hard. What a beauty that cock is too, and it stands to attention so well. We get to see it as Tomas stands and does so more posing for us. He then sits again and lift his legs in the air, to show off his ass, with the cheeks spread to reveal his tight pucker hole. He finishes off reclining, with that hard cock in his hand. What a beautiful body on a very handsome guy.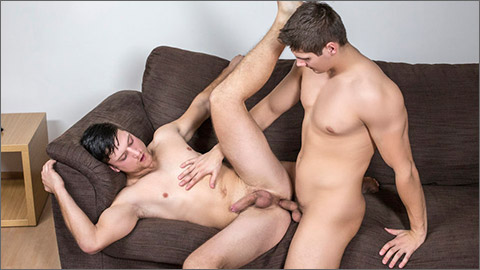 STRAIGHT BAREBACK MUSCLE FUCKING WITH TOMAS FUK AND ISAAC HARTLEY
Isaac Hartley is the new kid in town. He is short, but full of hard muscles. He says that he is straight, and this dark haired, steel grey eyed muscle boy is ready to try gay sex for the first time. Enter Tomas Fuk. This tall and beefy sweet heart is the perfect guy to break someone in. I mean if you are going to have gay sex for the first time, it might as well be with someone big and manly. They start to kiss and it soon moves to blow jobs. They tae turns sucking on their long hard uncut cocks. Next Isaac offers up his virgin ass. Tomas slides his raw cock in there and begins to fuck him hard. They bareback in position after position. Isaac is surprised by how much he loves feeling the a raw dick pumping in and out of him. Then finally Tomas can't handle how good Isaac's tight ass feels. He pulls out and cums and shoves the cum back inside. Then Isaac goes over the edge and cums too.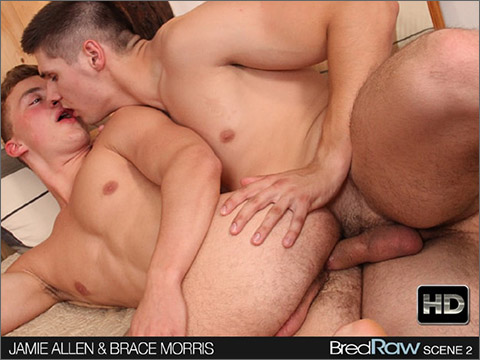 BRED RAW: Brace Morris, Jamie Allen
A pure uninhibited raw fuck-fest coming at you fast and hard from uncut studs Jamie Allen and Brace Morris.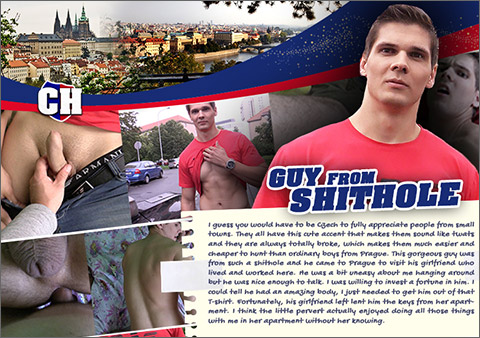 CZECH HUNTER 263
I guess you would have to be Czech to fully appreciate people from small towns. They all have this cute accent that makes them sound like twats and they are always totally broke, which makes them much easier and cheaper to hunt than ordinary boys from Prague. This gorgeous guy was from such a shithole and he came to Prague to visit his girlfriend who lived and worked here. He was a bit uneasy about me hanging around but he was nice enough to talk. I was willing to invest a fortune in him. I could tell he had an amazing body, I just needed to get him out of that T-shirt. For-tunately, his girlfriend left lent him the keys from her apartment. I think the little pervert actually en-joyed doing all those things with me in her apartment without her knowing.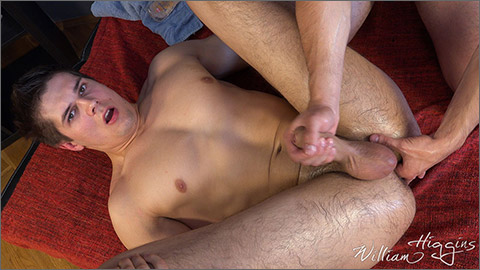 MASSAGE: TOMAS FUK
What a handsome guy Tomas Fuk is and he happily agreed to a massage. He looks so good as he lays on the bed, wearing olnly his underwear. The masseur arrives and gets to work on Tomas' back, oiling it and massaging all over. The hands work the back and shoulders, gliding all over. As the hands work to lower back the fingers slide into the underwear too, squeezing the butt cheeks. Then the underwear is pulled down to reveal that sexy ass. The soft, downy hair gets coated in oil as the hands work over the sexy ass. The cheeks are parted, giving a teasing glimpse into the crack. The the underwear is removed and Tomas' legs parted with his cock and balls pulled back between the thighs. Oil is dripped onto the ass and balls and a hand reaches down to rub the cock, with more oil being dripped. The cock stiffens under the expert touch, as it is gently wanked. Then Tomas moves onto his knees, his cheeks parting to expose his hole. The hands rub up and down the ass crack and then take hold of Tomas' cock and wank it, cupping the balls too. That tight hole looks so inviting too as Tomas' cock is wanked. As a hand rubs over the as a finger finds its' way into Tomas' tight hole. It fucks in and out as the cock continues to be wanked. Then two fingers slip into the hole, opening it up real good. His cock is rock hard as he feels the fingers probing his ass. The fingers then come out to be replaced by a toy that slides in so deep. It goes in all the way and stays in place when left alone. Then it is pulled out and Tomas turns over and lays on his back. The hand continue working on his cock, wanking it hard until Tomas shoots his hot cum. That hot cream shoot up his chest and all over his right thigh. The cock is milked dry of all the creamy juice to end a great massage.
RANDY BLUE
WILLIAM HIGGINS
CZECH HUNTER
CLICK HERE TO GO TO HIS WILLIAM HIGGINS BIO PAGE