American Gay Porn Star, Todd Marshall
Known Aliases:
Years Active: 1981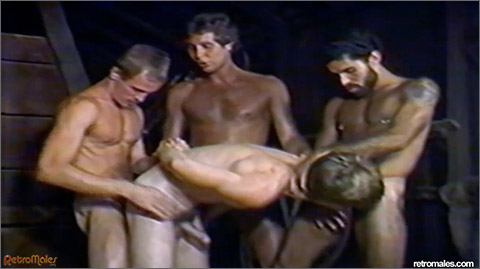 RAWHIDE: Ray Medina, Sky Dawson, Todd Marshall gang-bang Chris Burns
Sky Dawson gets all of the ranch hands into the barn for some special chores that needed performing.
   A hot afternoon, three horny ranch dudes, a new blond ranch-hand, and a dusty old barn are the ingredients in this fast-paced Western fantasy. The action starts to heat up when Sky Dawson, Todd Marshall and Ray Medina drag young Chris Burns into the barn, force strip him and then proceed to fuck Chris's tight ass 'n' eager mouth in some wild, wild positions!
The ranch dudes forget the horses for now, and practice taking each other for a ride!
   The hot barn action continues! After poor Chris Burns's young butt and mouth have been plowed by the three horny ranchdudes, his tender cock and balls are tied and pulled . . . until Chris submits to more deep-throat action! Then his raw hole is assaulted hard by mean-looking dildoes until his stud juices fly!