Handsome Kinky American Muscle Gay Porn Star, Tober Brandt
Known Aliases / aka: Tigger (All Worlds)
Years Active: 2002 – 2008
TITAN MEN INFO:
Age: 39
Height: 5'10"
Penis Length: 8″ Cut
Bio: I'm a kinky, twisted fetish sex pig.
Turn-ons: If I told you it would traumatize you.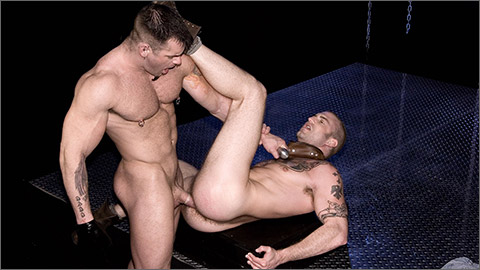 SPY QUEST 3 – BLACK FIST'S DUNGEON: Tober Brandt punishes, throatfucks, and fists Greg York.
Tober Brandt, intimidating in black leather chaps, gloves, boots and codpiece, towers over terrified hunk Greg York, who's a bound, gagged and collared captive in Tober's dungeon. Tober punches and smacks sex-slave Greg, grabs him by the collar and grinds his head into his crotch and codpiece. With Greg kneeling before him, Tober rips off his codpiece; out pops his throbbing boner, which he uses to beat Greg in the face and head. Tober hurls giant gobs of spit into Greg's face, punches him with his gloved fist, rips off the gag and shoves his stiff member down Greg's throat until he chokes. Tober laughs as Greg gags on his cock, spitting and slobbering a steady stream of choke-juice.
   Tober then throws his own muscular ass in the air for Greg to eat. At Tober's command, Greg spits into Tober's deep crack and tongues his hole relentlessly as Tober shoves his beefy butt back into Greg's face. Tober turns around and force feeds Greg his hard and massive manmeat, grabbing his head in both hands as he pounds him deep before pulling out and shooting his load all over Greg's chest.
   Tober grabs Greg by his dog collar, bends him over, smacks his ass and teases his butt hole with his gloved fist, then slips his index finger deep inside Greg's ass. Tober hucks his spit down Greg's butt crack and massages it into his hole before slipping a condom on his throbbing cock and plunging it deep into Greg's receptive chute, first with slow strokes then faster than a jackhammer as Greg grunts and pants and begs for more.
   Tober slowly screws a stainless steel dildo in and out of York's fuckhole. He slams Greg to the floor and cracks his hole open again with the dildo as he chews on Greg's beefy butt cheeks. Realizing that one rod isn't enough to satisfy this cock hound, Tober doublefucks Greg doggy style with his cock and the steel dildo, then turns him over and fucks him on his back. Tober holds the dildo in his mouth and shoves the massive toy back up Greg's bottomless pit.
   Tober hoists Greg's thick thighs into the air and rolls him back onto his shoulders; with Greg's ass high in the air and Tober's stiff dick stuffed way up his butt, Tober spits into Greg's mouth as he continues to pound him until Greg unloads a giant wave of cum all over himself. Tober pulls out and covers his obedient servant with jizz.
   Tober greases up Greg's ass then drives his fist in and out of him up to the forearm opening a gaping hole in Greg's muscularly meaty butt. While Tober's fisting him, Greg shoots an endless piss fountain into Tober's eager open mouth, soaking Tober's face and beefy chest. With Tober's fist still in his ass, Greg then pops a hot sticky load as Tober growls and roars his approval.
   In the final incredible shot of the scene, Greg hoists Tober, who's pierced with hooks through his back and shoulders, suspending the malevolently grinning Black Fist mid-air as he reveals his diabolical plans.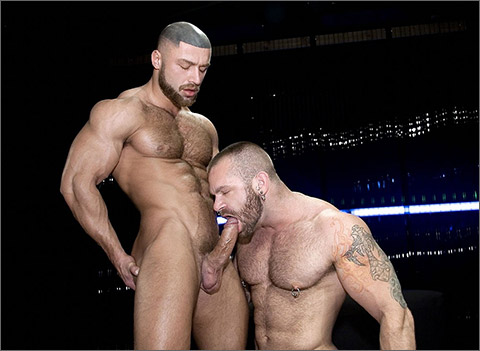 SPY QUEST 3 – BLACK FISTS' LAIR: François Sagat and Tober Brandt suck, fuck, rim and piss all over.
Thickly muscled, black-clad TitanMen stud François Sagat arrives at Tober's dungeon to deliver a stolen prize. Tober's pleased, and decides to reward his successful agent by offering the greatest prize of all – his giant cock; François drops to his knees and uses his teeth to undo Tober's leather pants, licking and drooling over the boss's leather codpiece. François sucks and slobbers on Tober's pierced dick, getting it slick with plenty of spit as Tober facefucks him, moaning and growling like a mad dog.
   Tober makes a meal out of François' thick, hairy pecs, furry pits and amazingly perfect six pack abs, ultimately peeling open François' trousers and swallowing the thick upturned cock. As François pumps away, Tober gags and lubes the thrusting fuck pole with his spit, swallowing François to the hilt while his own bone stands at attention. François jerks Tober's cockpole until Tober busts his nut all over François' chiseled, beefy pecs.
   François then kneels ass-out in a chair while Tober dives his face into his rock- hard ass before mounting it, driving his condom-covered dick deep between the muscled globes. The two rock the chair back and forth as François rides Tober's stiff pole while his own hard dick bangs against Tober's ripped abs. Sweat pouring off his tanned torso, François turns around and sits backward on Tober's dickshaft and sends thick ropes of jizz flying everywhere.
   As François kneels and strokes his thick veiny pole, Tober hoses him down with an interminable cannon spray of piss that bathes François's golden, ripped, muscular body.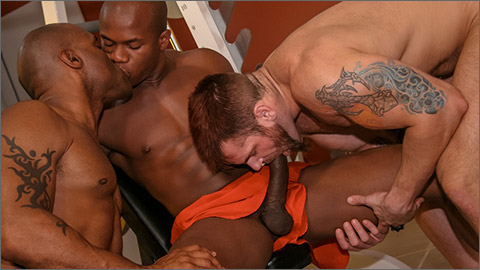 BIG MUSCLE – WEIGHT ROOM
Markus Ram and Jason Tiya top Tober Brandt
When Markus Ram delivers the cliché gym pick-up line of all time to Tober Brandt, "Hey man, would you come over here and spot me?" what he really means is "Hey, buttslave, get over here and bury your face in my bodacious big ass." Tober laps butt like a ravenous beast—and growls like one, too. He gets the skull fuck of his life, choking and gagging on the giant's gargantuan rod, and both studs shoot sweet nectar. Still in raging heat, Tober's battered from both ends, sitting on Markus' fat wang while cramming Jason Tiya's dick down his throat–a cock frenzy that makes the massive men pump out the cream.
CLICK HERE TO GO TO HIS TITAN MEN DETAILS

MEN MAGAZINE PRESENTS: TITAN MEN
VIDEO ON-DEMAND: Tober Brandt @ AEBN SMUTJUNKIES THEATER
DVDs & ON-DEMAND: Tober Brandt @ TLA VIDEO