William Higgins Slovakian Gay Porn Star, Tibor Rysavy
Known Aliases:
Years Active: 2013 – 2015
WILLIAM HIGGINS INFO:
Tibor Rysavy is aged 21 and lives in Trencin, Slovakia. He works as a fitness trainer and in his spare time enjoys sports and bodybuilding. What a very handsome guy Tibor is. He looks splendid as he starts his shoot. lifting his tee-shirt he shows off his chest some. Then the tee-shirt is off completely and we really get to appreciate just how good that chest is. He poses to let us see it, and then flexes his big biceps too. The jeans come off too and Tibor stands to pose, in just the underwear. He turns and lowers the underwear so that we can see that hot ass as he twists to look into the camera. Turning again he lowers the underwear further to let us see his flaccid cock. Tibor then sits on the sofa, hands behind his head, posing again. He is very proud of that awesome body and stands up to go through a series of very good poses, so that we can see it all. Then he wanks on his cock and it grows very nicely. Kneeling on the sofa, back to camera, Tibor shows the ass again, spreading the cheeks to let us see his tight hole. He poses again, sitting on the edge of the sofa before leaning back and pulling his legs up, to really expose that tight hole. Then it is time to get that cock nice and hard for a final series of very good poses.
Model Name: Tibor Rysavy
Age (2013): 21
Home Town: Trencin, Slovakia
Height: 180cm/5'10"
Weight: 88kg/193.6lb
Foot Size: EU44/US8.9/UK8.4
Penis Size: 17cm/6.69″
Profession/Student of: Fitness Trainer
Hobbies: Sport
Favorite Sports: Bodybuilding
Active Sports: Bodybuilding
Movie/Music/Sport Stars: Jennifer Lawrence
Visited Coutries: Hungary
Want to Visit Coutries: RSA
Dream of My Life: To be the best!
Zodiac Sign: Virgo (August 23 – September 22)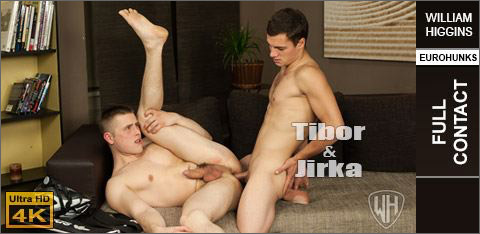 FULL CONTACT: TIBOR RYSAVY & JIRKA MENDEZ
Tibor Rysavy is a courier, and has gone by bicycle to deliver a package to Jirka Mendez. He arrives at the address and Jirka comes down to accept the package. But Tibor cannot find a pen to have the package signed for. So They go upstairs to use one that Jirka has. After signing for the package Jirka starts to chat about Tibor's job and, instead of getting right back to work the conversation, Tibor is invited to rest a while. That doesn't last long though as the guys start to kiss, with Tibor quickly removing Jirka's tee shirt. His hands roam over Jirka's chest and his begins kissing it too. As he does so Tibor pulls Jirka's jeans off too. Tibor is quickly on that cock, sucking it and getting it nice and hard. Jirka pulls Tibor's tee shirt off as well. Then Tibor takes down his pants, before going back down on Jirka's stiff cock. That cock is so hard as the kiss. As Jirka pushes Tibor down on the sofa and kisses him, Tibor releases his own rock hard cock. Jirka is quick to get a taste of that cock before kneeling for Tibor to suck him again. With his underwear off too then both kneel, cock to cock and kiss as Jirka wanks Tibor. Tibor's dick is very fat and Jirka has to really open wide to get it in his mouth, but he manages well. He licks at Tibor's tight balls too as he sucks on the throbbing cock. Jirka sits back on the sofa, legs apart as Tibor sucks him again and fingers his tight ass. Then they change around, with Jirka sucking Tibor, who fingers his own tight hole. After another quick suck on Tibor's cock Jirka has him spread his leg, to expose his ass hole. He opens that hole with a dildo, pushing it all the way in as he sucks on that big cock. Tibor's ass takes the toy well, opening up nicely. Jirka fucks it in and out of Tibor's ass as he continues to suck on his big dick. Then Tibor moves onto the floor, on his shoulders, legs over his head, so that Jirka can fuck that hot ass. As he fucks that ass his own hole is shown, with Tibor spreading the cheeks. Jirka's cock really works that ass well, going all the way in, and fucking hard. Moving to missionary has Tibor wanking himself and Jirka continues to slam his dick deep into that ass. Tibor wanks hard and fast as his takes that cock and soon releases his hot cum, as he feels the pleasure of his hole being ivaded. Jirka speeds up his fucking , pulling out to shoothis hot cum over Tibor's sexy body. He leans forward and kisses his favourite courier again, having delivered his own lovely package into a very hot ass.
CLICK HERE TO GO TO HIS WILLIAM HIGGINS BIO PAGE