American Dream Boy Bondage Gay Porn Star, Thomas
Years Active: 2015
ROPED STUDS INFO:
Age: 22
Height: 5? 10? (1.8 m)
Weight: 165 lbs (75 kg)
Waist: 31? (79 cm)
Chest: 42? (107 cm)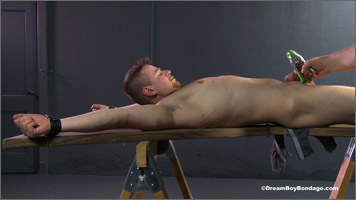 DREAMBOY BONDAGE THOMAS FOUR YEARS LATER
Four years ago, 20-year-old Thomas was convicted of sexually assaulting a co-ed – a completely trumped-up charge. The girl, a daughter of a prominent politician, got pregnant and someone had to take the blame. Thomas was brutally tortured then thrown in prison for a "reduced" sentence of one year. Ever since, the once promising young man has been on a downward path that has led him back to the same torture chamber and the same cruel man who tortured him four years ago. The man is very pleased when he sees Thomas, still muscular and beautiful at 24, strapped to a horizontal X-cross, naked but for the tight briefs that barely hide his massive cock and balls. He has been sentenced to two-hours of non-stop beating. The man will punch, flog, whip and pummel him in any way he pleases. Then Thomas will be subjected to his greatest nightmare: crucifixion, a torture that nearly destroyed him four years ago.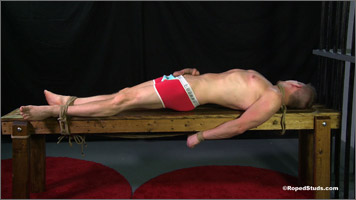 ROPED STUD THOMAS
Talk about having some fun with a frat boy! Thomas, like most of his frat brothers, has been hitting the gym, sculpting his 24-year-old body into a thing of beauty. He regularly "manscapes," trimming his pubes and body hair to have that clean, smooth look favored by male models. He even wears sexy designer briefs. He's the classic 2015 straight pretty boy. The only thing distinguishing him from his gay counterparts is his cheesy haircut and goatee. But rope man J.J. couldn't care less. To him, Thomas is a piece of meat, plain and simple. J.J. ropes his new boy to the long bondage bench at the ankles and neck and binds his wrists with more rope under the bench. He rips open the boy's shirt and soon discovers he has extremely sensitive nipples. Fun! And look — even better — a huge cock!
   KENNETH BENJAMIN'S DREAM BOY BONDAGE
   KENNETH BENJAMIN'S ROPED STUDS