Sexy Hungarian Power Bottom Gay Porn Star and Escort, Tamas Eszterhazy
Known Aliases / aka: Tamas Esterhazy
Years Active: 2003 – 2008
STATS / INFO:
Height: 5′ 11"
Weight: 165 lbs
Position: Versatile
Hair: Brown
Eyes: Green
Body Hair: Smooth
Body Type: Swimmer
Endowment: 8" uncut
Birthplace: Budapest
Birthday: June 6, 1978
Current Home: Budapest, Milan, Miami, San Francisco
Prized possession: My tattoos
Three words that describe me: Self-confident. Patient. Friendly
AEBN INFO:
Hungarian porn star Tamas Eszterhazy has a strong ambition and desire to succeed in this industry. Tamas got his start in the industry when a Catalina producer approached him to appear in their films. A fan of porn from a young age, Tamas jumped at the chance to have sex on screen and soon was making films for popular studios like Titan, Buckshot, Raging Stallion and Kristen Bjorn. Although versatile in his personal life, Tamas is proud of being known as one of the best bottoms in the industry. His passion for getting fucked can be seen in his many features, especially ASS QUEST 2, which he shot under the direction of Michael Brandon. In 2006 Tamas signed an exclusive deal with Raging Stallion Studios in the US. Aside from his massive 8-inch uncut cock, Tamas is best known for his chiseled good looks and spectacular arm tattoos, which he designed himself. Before getting into the business in 2003 Tamas worked in fashion, marketing and public relations.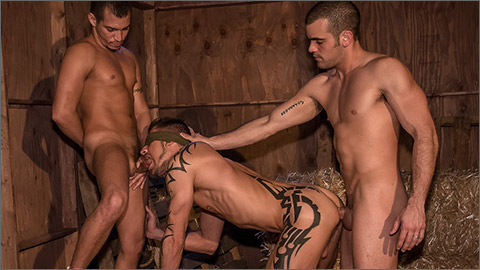 HITCH: Damien Crosse has his way with Tamas Eszterhazy and Sergio Anthony
Tamas Eszterhazy is the next arrival in town, but he doesn't bother looking for a job — well, make that work. He actually does get a job, a blowjob, right away. Tamas finds a private stable filled with hay and takes out his long dick, stroking it to full erection, while he's being spied upon by Damien and Sergio Anthony. Damien and Sergio seize the opportunity to overpower Tamas (not actually too difficult) and have their way with him. This is our first look at how the mostly monosyllabic Damien is like a simmering pot waiting to boil. In complete opposition to the first scene, where he was subservient to Jake in every way, in this scene Damien takes control like he was born to, slamming his dick down Tamas' throat and making him choke on it, then briefly forcing him to suck Sergio (in all honesty, though, Tamas begs for more throughout). This sequence ends with Damien and Sergio cumming on Tamas, then hosing him down with piss right after. Then they blindfold him, bind his hands, and leave him to air dry while they focus their attentions on each other. Tamas kneels, his cock still arcing away from his body fully erect while he listens to Damien wetly rim Sergio, then pound his ass from behind. Damien fucks hard, slamming into Sergio's ass forcefully, and later, he gives Tamas the same treatment, and this amazingly good three-way ends with more hot shots, this time aimed at Sergio.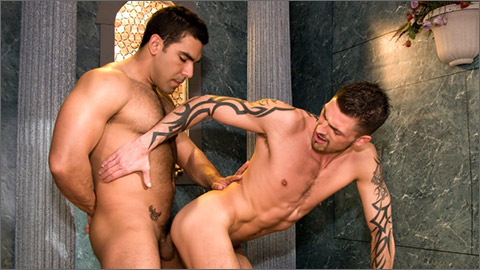 THE CHEST – A CEMETERY CRYPT: Nick Marino fucks Tamas Eszterhazy
Attending Jack's funeral, two of his buddies comment how much his son Cole resembles him. The memory of their fuck buddy sets them off, and they attack each other in a secluded crypt. Burly Nick sucks Tamas' long pipe 'til it sprays cum across his furry chest, and then Tamas straddles a marble mausoleum bench and Nick's fat sausage is sucked right up Tamas' demanding hole. Nick pounds with abandon and Nick beats his meat until his balls bust up a couple gallons of prick juice and Nick's even bigger blast arcs clear across his buddy's wrenching body.
TITAN MEN
FALCON STUDIOS
RAGING STALLION
CATALINA VIDEO
COLT STUDIO
CSABA BORBELY / DIAMOND VIDEO
CAZZO FILM BERLIN
CLICK HERE TO GO TO HIS TITAN MEN DETAILS

MEN MAGAZINE PRESENTS: TITAN MEN

MANDATE April 2008
RAGING STALLION: 2009 STALLIONS CALENDAR
VIDEO ON-DEMAND: Tamas Eszterhazy @ AEBN SMUTJUNKIES THEATER