Sexy Canadian Stripper Gay Porn Star, Skyy Knox
Known Aliases:
Years Active: 2016 – 2018
TIM TALES INFO:
Another perfectly lean muscular Canadian on Timtales. Turns out Canadians are built strong! Have you seen that body? Skyy Knox is such a charming guy. Originally from Montreal, Skyy travelled to Barcelona to meet what Europe offers best. We can just tell you that Skyy loves to get fucked. And the bigger, the better. Watch out for Skyy Knox taking Timtales massive cocks in such ecstasy!
Country of birth: Canada
Height: 6'0″ (184 cm)
Weight: 172 lbs (78 kg)
Cock: 7″ uncut (18 cm)
Position: Bottom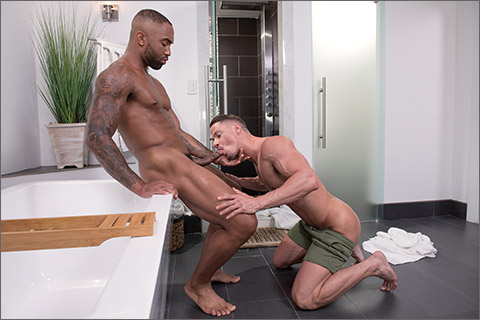 PRIVATE SHOW: Remy Cruze fucks Skyy Knox
Remy Cruze is jacking his giant rod for a cam show when Skyy Knox interrupts him. Slightly annoyed at first by the intrusion, Remy quickly asks Skyy to join in to make his show a little more special for his viewers. After showing off his insatiable ass, Skyy can't resist getting down to his knees to get a taste of the monster dangling between Remy's legs. As Remy's meat stiffens, he can't take his eyes off Skyy's perfectly toned ass and gets behind the stud to show his perfect ass some much deserved attention. Remy can no longer take the anticipation and slides his massive pole deep into Skyy's crack. He goes slowly at first, enjoying the sensation of Skyy's tight, warm hole surrounding his giant dick. When Remy is convinced that Skyy is nice and warmed up, he thrusts into his buddy harder, ramming it deeper with each pump. Getting pounded that hard makes Skyy ready for release, and after riding Remy for a bit of extra prostate pleasure, Skyy lies back and lets Remy finish him off. Remy pounds in and out of Skyy's sore ass until Skyy explodes onto his ripped abs. When Remy sees all the cum, he stands above Skyy and gives him a facial that neither Skyy nor the cam viewers will soon forget.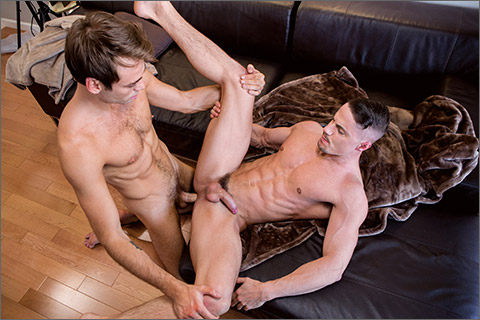 MAX IN THE CITY: Skyy Knox & Max Adonis flip-fuck
Max Adonis is coming home from the grocery store when he stops in to say hi to the new neighbor, Sky Knox. Skyy invites Max in to check out the view of the neighborhood and works his magic by feeling Max's firm ass. That's all it takes for Max to cave into his temptations and the two start making out hard. Skyy can't control his urges and reaches into Max's underwear to feel his hairy crotch. Skyy wraps his lips around the giant cock and gets to work sucking as he takes the whole thing down his throat. He works Max hard before working his way down the hairy hole that awaits him. Both studs are raging hard when Skyy bends Max over to slide his dick inside. He pumps away on Max, quickening his pace until Max is panting and begging for more. Max wants the chance to ride Skyy's massive uncut pole and hops on to take it deep, making Skyy moan out with each grind from Max's talented hole. That's not enough for Skyy, so he pulls out, lies back on the couch and asks Max to fuck him. Max happily agrees and slips inside the horny stud's tight ass. He plugs away, stretching Skyy until he fucks the cum out of the muscle stud. When Max sees the giant load covering Skyy's heaving muscles, he pulls out and dumps his own load all over Skyy's face and tongue. Max cleans up his own mess by licking the cum off of Skyy's face and then feeds it to his new neighbor with a wet, sticky kiss. Skyy thinks that the fog has rolled in. Max notes that it's not the fog, but they fogged up the windows with their hot session.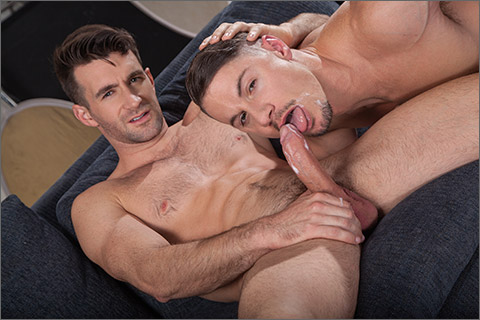 ZACK & JACK MAKE A PORNO: Woody Fox fucks Skyy Knox
Skyy Knox has left the set after a dispute with another performer and when Zack (Woody Fox) chases him down to console him, the comfort quickly turns to lust as the two lock eyes and start making out. Skyy's towel quickly drops to the floor and Zack's pants are soon to follow as Skyy goes in for a taste of what his producer has to offer. Skyy loves the taste of Zack's massive cock and could stay between his legs for days if he could. As much as Zack loves the oral attention, he's not going to let Skyy's ass slip away from him so easily. Zack bends his star over the back of the couch and goes directly into his hole with his tongue, giving long broad strokes from balls to back until Skyy is begging for a dick up his ass. Zack isn't one to let his guys down and slides his dick into Skyy, going slowly at first and building to a frenzied fuck as Skyy demands harder and faster pumping. Skyy wants Zack's dick even deeper inside of him and after getting plowed on his side, hops on to finish himself off as he rides Zack's pole. Skyy is rock hard with a dick up his ass as he blows his load all over his own cut abs. Skyy is still hungry for more and opens his mouth wide as he hops off Zack's cock to take a massive creamy facial before he gobbles up all the cum.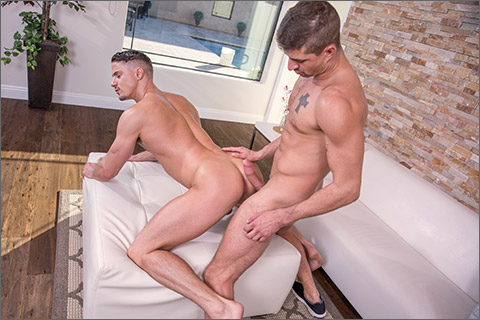 SERVICE ME!: Sean Maygers fucks Skyy Knox
Pool boy Sean Maygers is skimming the pool for leaves when homeowner Skyy Knox comes out to offer him a fresh glass of tea. Skyy disrobes and quickly shows Sean how things work around his place when he reaches for his cock. They both strip naked poolside before taking things inside. Skyy is first to get on his knees and forces his face down to the base of Sean's swollen dick. Cupping the balls and dripping with spit, Skyy uses his mouth to show he appreciates the pool boy's efforts. Sean wants to show he appreciates the job and plants his tongue dead center into Skyy's tight hole. With Skyy lubed up and ready, Sean stuffs his cock into Skyy and drills hard and deep. Skyy takes every thrust like a champ with ease until he wants to be in control. Sean gets on his back to let Skyy climb aboard his cock and rides it relentlessly. Skyy keeps grinding away until he can't hold it any longer and shoots off a hot load onto Sean's abs. The studs switch it up one last time with Skyy on the floor taking it deep from Sean. Wearing Skyy's load, Sean puts Skyy on his back and coats his abs in jizz then scoops it up to feed to Skyy before they share a cum filled kiss.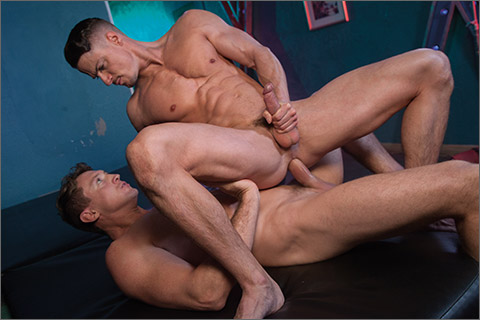 A NIGHT AT THE ENTOURAGE: Pierce Paris fucks Skyy Knox
Pierce Paris is in the bathhouse shower when Skyy Knox walks by and gives him a suggestive glance before walking away. Pierce knows a good thing when he sees it and cuts his shower short to follow the ripped stud down the hall. Pierce finds Skyy bent over with his ass in the air just begging to be rimmed. Pierce can't wait to eat Skyy out and gets down to plunge his tongue deep inside the hunk's ass. He fingers and licks Skyy's smooth hole until Skyy is ready to take a taste of Pierce's giant pole. He gets down to deep throat the monster cock and takes the whole thing down his throat with ease. With tears in his eyes and spit dripping from his chin, Skyy fights to swallow Pierce's cock down to the base. Pierce can tell that Skyy is more than ready to get plowed and bends him over to slide his dick inside. After taking it deep, Skyy instructs Pierce to lie back and let him do the work. Skyy sits on the giant dick and bounces up and down, putting himself in control as his own uncut cock flops up and down with each plunge into his ass. The studs try everything they can and switch up their positions until Skyy shoots his load all over his own ripped abs. The sight of Skyy in such pleasure is all it takes for Pierce to let go. He straddles Skyy's hungry face and shoots his load all over the hunky stud's awaiting mouth.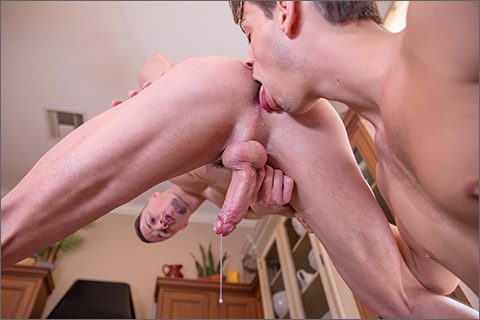 LOVE & LUST IN NEW ORLEANS: Michael Delray fucks Skyy Knox
It's a rainy day in New Orleans and Michael Delray and Skyy Knox have been out enjoying the sights and having some lunch. By the time they make it back to the house, they're soaking wet and need to get out of their clothes. Skyy can see that Michael has a raging hard-on inside his undies and gets to work taking it all the way down his throat. It's a big dick, but Skyy can manage the whole thing and when Michael is at full mast, he decides to return the favor. Michael gets on his knees and services Skyy's extra-long foreskin and big tight balls. Both studs are raging hard now and Michael can't resist taking a taste of Skyy's smooth hole. He gets it nice and wet and opened up with every intention of filling Skyy up with his big stiff rod. Michael is ready to get down to business and bends Skyy over the kitchen table to plug him as deep as he can go. Skyy wants to look his stud in the eyes and flips around to get a view of Michael's face as he continues plowing away. The sight of the hot, young stud servicing his ass is all it takes for Skyy to let loose and cover himself with cum. Even after letting loose, Skyy isn't quite finished. As Michael pulls out of him, Skyy gets on his knees and opens his mouth once again to take every drop that Michael's throbbing dick has to offer.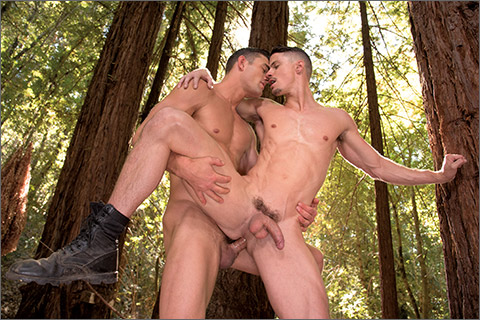 HEAD PLAY: Ryan Rose fucks Skyy Knox
Ryan Rose is an adventurer in a virtual world seeking treasure and when he finds what he's looking for and avoids a booby trap, he's cornered by a crafty hunk with virtual superpowers, Skyy Knox. In the blink of an eye, Ryan is tied to a tree and before Skyy takes the coveted treasure, he decides to take a taste of the hunky specimen in front of him. He gets Ryan out of his pants to find a bulging set of tighty whitey briefs just waiting to be explored. Skyy doesn't waste a second getting Ryan's beautiful cock into his wide-open mouth and gets on his knees to service the stud. After getting Ryan hard as a rock, Skyy offers up his back door for Ryan to enter. Ryan is still tied to the tree so Skyy does most of the work as he gets Ryan as deep inside of him as he can. As Skyy rides the big dick, Ryan works his way free and takes over as the dominant force to continue pumping Skyy. Ryan's sexual prowess is like nothing Skyy has ever experienced before. With Ryan still planted deep inside him, Skyy lets go and covers the ground with cum. Ryan sees the forest floor get drenched and decides to finish off on Skyy's face. He pulls out of Skyy and carefully aims into his hungry mouth. Skyy shares his reward with Ryan as the two kiss to swap Ryan's creamy love. Anything can happen in this world of intrigue and double-crossing, and when these two are vulnerable and naked in the woods, they learn their lesson the hard way.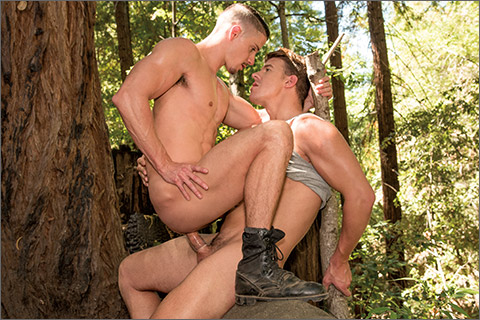 HEAD PLAY: JJ Knight fucks Skyy Knox
JJ Knight finally has the virtual reality trophy he needs to win the game when Skyy Knox comes from behind and scoops it up. Knowing that he can't win without seducing JJ, Skyy gets on his knees to suck the willing stud and his massive dick. As an acknowledgment of Skyy's abilities, JJ taps Skyy on the face with his throbbing member before he turns him around and licks his tasty hole. After getting him fully prepped, JJ stands up to slide his erection deep inside his adversary. Skyy is more than willing to take every inch of JJ and leans against a tree to get every inch. As JJ pounds away, Skyy gets harder and more willing to shoot his way to winning the game. With a few final thrusts and a "fuck yeah" from both horny dudes, Skyy hops on to ride his way to the finish. JJ's dick feels amazing in Skyy's throbbing ass and when JJ turns him around, it's all that Skyy can take. Skyy lets his inhibitions go and blasts his big white load all over his defined 8-pack. Once JJ sees the mess that Skyy has made, he pulls out of Skyy's tight ass and lets his massive balls relieve themselves as both hung studs are covered in cream.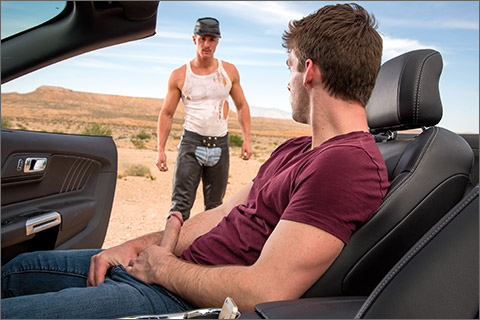 ROUTE 69: Skyy Knox fucks Dustin Holloway
Dustin Holloway is in the car by the side of the road waiting for Fane Roberts to return from getting gas. He's jacking off in the front seat when he looks up to see Skyy Knox walking across the barren desert. As Skyy approaches, he asks if Dustin needs a helping hand and reaches down to feel the stud's hard dick. Skyy wants to do more than give Dustin a handie and opens wide to take Dustin's rod in his mouth. After giving Dustin a nice head session, Dustin wants access to what Skyy is packing and the guys take the fun to the side of the road. Dustin can't wait to get Skyy in his mouth and gets on his knees to service the horny stranger in the dirt. When Dustin gets Skyy as hard as he can be, Skyy bends the hunk over the car and slips his big dick into Dustin's open and ready ass. "Take that power," Skyy yells out as he picks up the pace and slams Dustin even harder. Dustin wants to feel Skyy deeper inside and lies back on the hood of the car. Skyy spits on Dustin's ass to lube it up and then once again slips inside the horny stud. The steady rhythm makes Dustin's eyes roll into the back of his head as he jacks his rod and blasts all over his tight ripped body. Skyy sees Dustin's handiwork and pulls to unleash a load of his own. Dustin wants to feel it hit his body and goes down on his knees in front of the muscle hunk to get his smooth chest doused with Skyy's pleasure.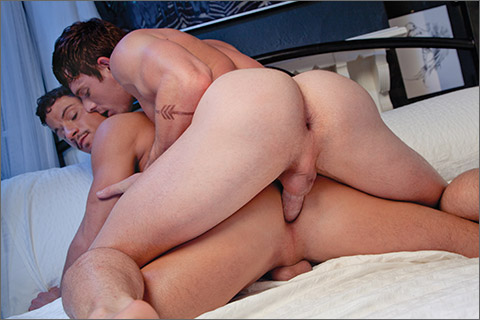 EARTHBOUND – HEAVEN TO HELL 2: Brent Corrigan as Lucky & Skyy Knox as Rogue flip-fuck
Rogue (Skyy Knox) was a sex slave, but he turned his back on his master, The Devil and became Earthbound. After stumbling into a crowded bar, Rogue finds his personal angel: Lucky (Brent Corrigan), an angelic gogo dancer. It's true love at first sight, and the power of their love frees Rogue from his enslavement by the Devil. Rogue, overwhelmed with gratitude, kisses Lucky passionately. Removing their clothing, Lucky wraps his lips around Rogue's huge cock. Switching places, Rogue slathers spit along the shaft of Lucky's cock, then uses his fingers to probe inside Lucky's tight hole, then gives Lucky a taste. Lucky throws his legs in the air, and Rogue presses his face between Lucky's ass cheeks. Flipping places, Lucky reciprocates. Sliding his tongue along Rogue's crack, then rubbing his cock right down the center. Slowly at first, then picking up speed, Lucky starts fucking Rogue doggy style. Their hard muscles flex and bend as they grind their bodies together. As Lucky lays back on the bed, Rogue uses his powerful legs to raise and lower himself on Lucky's hard cock. Standing up by the side of the bed, Rogue drives his hard member into Lucky. The incredible sensations of Rogue's cock inside him gets Lucky ready to blow. He strokes his cock and cums into Rogue's mouth, who then snowballs it back to Lucky with slow, tender kisses. Kneeling over Lucky's face, Rogue shoots his load right into Lucky's open mouth.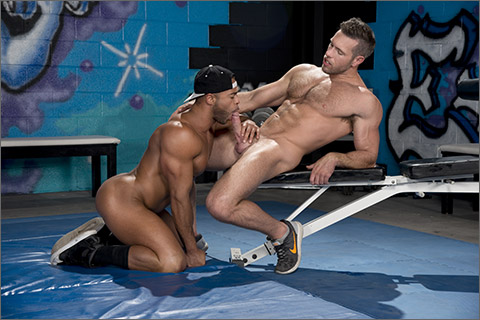 THE TRAINER – NO EXCUSES: Sean Zevran fucks Skyy Knox
http://members.hothouse.com/en/film/The-Trainer-No-Excuses/125799
Ripped stud, Sean Zevran, is training his muscled-up client, Skyy Knox, at the gym. They work their bulging biceps and perfect pecs before they call it a day and hit the locker room. The well-worked, sweaty hunks peel off their dirty gym clothes as Skyy tries to make small talk. Sean knows what he wants and shows off his thick, uncut cock to get Skyy's undivided attention. The massive hardon makes Skyy hard as a rock and the two gym rats start making out. Skyy needs that pulsing pole down his throat so he gets on his knees to service Sean on the bench by the lockers. Sean face fucks his eager-to-please client and cops a feel of his smooth, tight ass while he plows his face. Sean is throbbing hard and ready for more. Before he goes any further, he needs a taste of Skyy's sweet hole. The anticipation of getting Sean inside his body is almost more than the smooth stud can handle. Sean can sense that Skyy is ready for his hearty meat and slips it inside Skyy's open hole. He pounds his client from behind as Skyy's hard cock bounces and flops with every thrust. Skyy wants to feel the giant cock deeper inside him and hops on for a ride. He bounces up and down taking the big dick balls deep as he jacks his own rod. Sean is ready to be in control one last time and flips Skyy over, plowing the tight hole and hitting all the right spots. Skyy hits his limit with the relentless pounding and can't hold back any longer. He sprays his cut abs with a torrent of jizz that leaves him a sticky, wet mess. When Sean sees the giant load, he gives himself the okay to pull out and walk up to Skyy's panting face. He gives his client a massive creamy facial and then kisses up his cum. If this is the reward for a good workout, there's no doubt more people would be hitting the gym every day!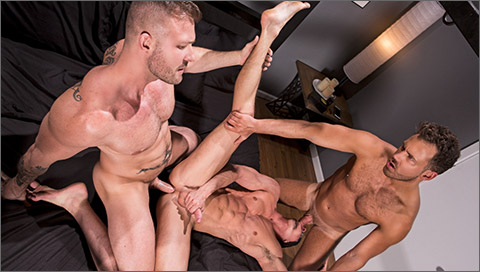 BLINDFOLDED: Austin Wolf & Logan Moore spit-roast Skyy Knox
Blindfolded and sprawled onto the bed doggy-style, Skyy Knox eagerly awaits his anonymous stuffing. Beefy stud Austin Wolf sneaks in from behind and dives straight into Skyy's hairless fuck hole, lathering Skyy's ass with spit. After prepping Skyy's hole, Austin hits record on his phone as he pushes his fat member into Skyy's ass. Starting off slow, Austin picks up speed hooking Skyy by the mouth with his finger as he drills his eager center. Austin invites his friend Logan Moore to have a turn while Skyy is still blindfolded. Austin films Logan having his turn then joins in taking turns pounding their unknowing bottom. The Skyy's surprise, Austin reveals his double-cock secret by feeding him his cock while Logan stuffs him from behind. Not opposed in the slightest, Skyy takes every single thrust as the hunks take turns on his holes. With Skyy on his back and Austin pumping his hole, Logan oozes a thick load onto Skyy's face and mouth. Austin feeds Skyy the creamy spunk until Skyy blows his load onto his washboard abs. When it's Austin's turn, he tweaks his nipples and drips his load into Skyy's awaiting mouth. Covered in cum, Skyy removes his blindfold and is pleased with the revelation of his unknown fuckers.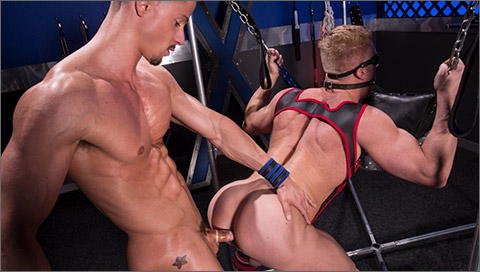 BLINDFOLDED: Skyy Knox fucks Johnny V
Skyy Knox and Johnny V make out passionately until Skyy takes control and throws Johnny in a sling with a blindfold on. Johnny hoists his legs in the straps with the help from Skyy giving him easy access to Johnny's awaiting hole. Finger, tongue, finger, tongue is the tease for this unknowing bottom. After a rigorous bow and rimjob, Skyy instantly shoves his thick tool deep inside Johnny. Moans and screams echo from Johnny as Skyy's thrusts get faster and harder. Skyy wants more so he rips Johnny from the sling and ball gags him before bending him over and slamming Johnny's lossened fuck hole. Unable to see or speak, Johnny jacks and shoots thick ropes of hard earned cum. Skyy empties his balls all over Johnny's face and chest and licks it off. Eventually, Johnny's blindfold and gag are removed and the two share a sweaty, cummy kiss.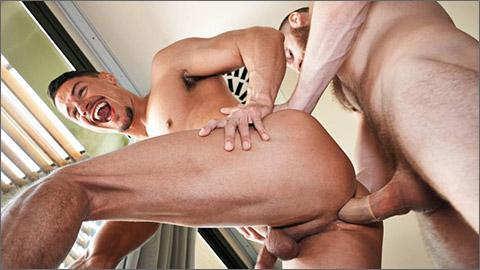 TIM KRUGER FUCKS SKYY KNOX
We had the chance to work with Canadian actor Skyy Knox in Barcelona. This guy is beautiful! Muscular all around, with a strong ass that can take ANY cock size… So we offered him Timtales holy trinity, starting with Tim Kruger of course. As you can expect, Tim opens that hole like an expert. A wide bottomless hole opened and ready for our stallions! Stay tuned for more scenes with Skyy Knox in his Timtales eurotrip.
HOT HOUSE
TIM TALES
MEN.COM
COCKYBOYS
FALCON STUDIOS
RAGING STALLION
CLICK HERE TO GO TO HIS MEN.COM DETAILS