Sexy Canadian Stripper Gay Porn Star, Skyy Knox
Known Aliases:
Years Active: 2016 – 2017
TIM TALES INFO:
Another perfectly lean muscular Canadian on Timtales. Turns out Canadians are built strong! Have you seen that body? Skyy Knox is such a charming guy. Originally from Montreal, Skyy travelled to Barcelona to meet what Europe offers best. We can just tell you that Skyy loves to get fucked. And the bigger, the better. Watch out for Skyy Knox taking Timtales massive cocks in such ecstasy!
Country of birth: Canada
Height: 6'0″ (184 cm)
Weight: 172 lbs (78 kg)
Cock: 7″ uncut (18 cm)
Position: Bottom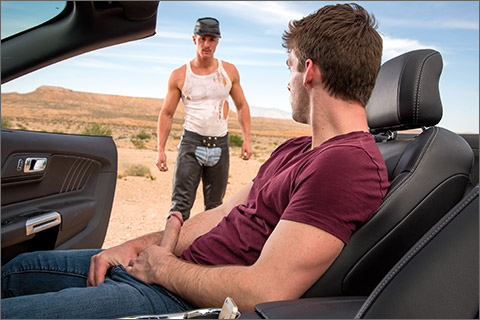 ROUTE 69: Skyy Knox fucks Dustin Holloway
Dustin Holloway is in the car by the side of the road waiting for Fane Roberts to return from getting gas. He's jacking off in the front seat when he looks up to see Skyy Knox walking across the barren desert. As Skyy approaches, he asks if Dustin needs a helping hand and reaches down to feel the stud's hard dick. Skyy wants to do more than give Dustin a handie and opens wide to take Dustin's rod in his mouth. After giving Dustin a nice head session, Dustin wants access to what Skyy is packing and the guys take the fun to the side of the road. Dustin can't wait to get Skyy in his mouth and gets on his knees to service the horny stranger in the dirt. When Dustin gets Skyy as hard as he can be, Skyy bends the hunk over the car and slips his big dick into Dustin's open and ready ass. "Take that power," Skyy yells out as he picks up the pace and slams Dustin even harder. Dustin wants to feel Skyy deeper inside and lies back on the hood of the car. Skyy spits on Dustin's ass to lube it up and then once again slips inside the horny stud. The steady rhythm makes Dustin's eyes roll into the back of his head as he jacks his rod and blasts all over his tight ripped body. Skyy sees Dustin's handiwork and pulls to unleash a load of his own. Dustin wants to feel it hit his body and goes down on his knees in front of the muscle hunk to get his smooth chest doused with Skyy's pleasure.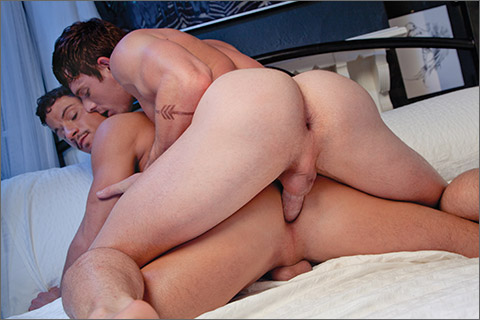 EARTHBOUND – HEAVEN TO HELL 2: Brent Corrigan as Lucky & Skyy Knox as Rogue flip-fuck
Rogue (Skyy Knox) was a sex slave, but he turned his back on his master, The Devil and became Earthbound. After stumbling into a crowded bar, Rogue finds his personal angel: Lucky (Brent Corrigan), an angelic gogo dancer. It's true love at first sight, and the power of their love frees Rogue from his enslavement by the Devil. Rogue, overwhelmed with gratitude, kisses Lucky passionately. Removing their clothing, Lucky wraps his lips around Rogue's huge cock. Switching places, Rogue slathers spit along the shaft of Lucky's cock, then uses his fingers to probe inside Lucky's tight hole, then gives Lucky a taste. Lucky throws his legs in the air, and Rogue presses his face between Lucky's ass cheeks. Flipping places, Lucky reciprocates. Sliding his tongue along Rogue's crack, then rubbing his cock right down the center. Slowly at first, then picking up speed, Lucky starts fucking Rogue doggy style. Their hard muscles flex and bend as they grind their bodies together. As Lucky lays back on the bed, Rogue uses his powerful legs to raise and lower himself on Lucky's hard cock. Standing up by the side of the bed, Rogue drives his hard member into Lucky. The incredible sensations of Rogue's cock inside him gets Lucky ready to blow. He strokes his cock and cums into Rogue's mouth, who then snowballs it back to Lucky with slow, tender kisses. Kneeling over Lucky's face, Rogue shoots his load right into Lucky's open mouth.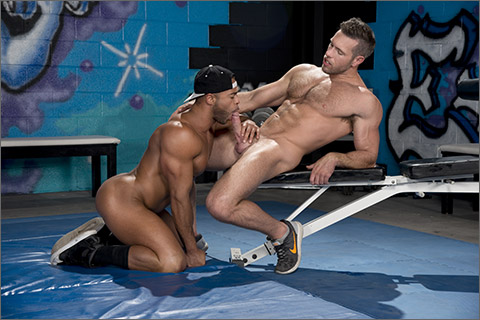 THE TRAINER – NO EXCUSES: Sean Zevran fucks Skyy Knox
http://members.hothouse.com/en/film/The-Trainer-No-Excuses/125799
Ripped stud, Sean Zevran, is training his muscled-up client, Skyy Knox, at the gym. They work their bulging biceps and perfect pecs before they call it a day and hit the locker room. The well-worked, sweaty hunks peel off their dirty gym clothes as Skyy tries to make small talk. Sean knows what he wants and shows off his thick, uncut cock to get Skyy's undivided attention. The massive hardon makes Skyy hard as a rock and the two gym rats start making out. Skyy needs that pulsing pole down his throat so he gets on his knees to service Sean on the bench by the lockers. Sean face fucks his eager-to-please client and cops a feel of his smooth, tight ass while he plows his face. Sean is throbbing hard and ready for more. Before he goes any further, he needs a taste of Skyy's sweet hole. The anticipation of getting Sean inside his body is almost more than the smooth stud can handle. Sean can sense that Skyy is ready for his hearty meat and slips it inside Skyy's open hole. He pounds his client from behind as Skyy's hard cock bounces and flops with every thrust. Skyy wants to feel the giant cock deeper inside him and hops on for a ride. He bounces up and down taking the big dick balls deep as he jacks his own rod. Sean is ready to be in control one last time and flips Skyy over, plowing the tight hole and hitting all the right spots. Skyy hits his limit with the relentless pounding and can't hold back any longer. He sprays his cut abs with a torrent of jizz that leaves him a sticky, wet mess. When Sean sees the giant load, he gives himself the okay to pull out and walk up to Skyy's panting face. He gives his client a massive creamy facial and then kisses up his cum. If this is the reward for a good workout, there's no doubt more people would be hitting the gym every day!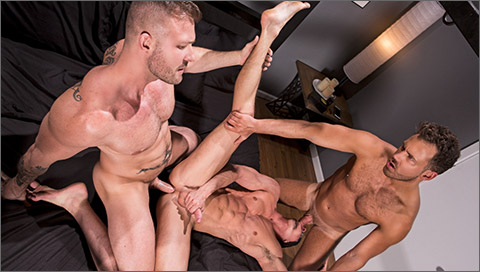 BLINDFOLDED: Austin Wolf & Logan Moore spit-roast Skyy Knox
Blindfolded and sprawled onto the bed doggy-style, Skyy Knox eagerly awaits his anonymous stuffing. Beefy stud Austin Wolf sneaks in from behind and dives straight into Skyy's hairless fuck hole, lathering Skyy's ass with spit. After prepping Skyy's hole, Austin hits record on his phone as he pushes his fat member into Skyy's ass. Starting off slow, Austin picks up speed hooking Skyy by the mouth with his finger as he drills his eager center. Austin invites his friend Logan Moore to have a turn while Skyy is still blindfolded. Austin films Logan having his turn then joins in taking turns pounding their unknowing bottom. The Skyy's surprise, Austin reveals his double-cock secret by feeding him his cock while Logan stuffs him from behind. Not opposed in the slightest, Skyy takes every single thrust as the hunks take turns on his holes. With Skyy on his back and Austin pumping his hole, Logan oozes a thick load onto Skyy's face and mouth. Austin feeds Skyy the creamy spunk until Skyy blows his load onto his washboard abs. When it's Austin's turn, he tweaks his nipples and drips his load into Skyy's awaiting mouth. Covered in cum, Skyy removes his blindfold and is pleased with the revelation of his unknown fuckers.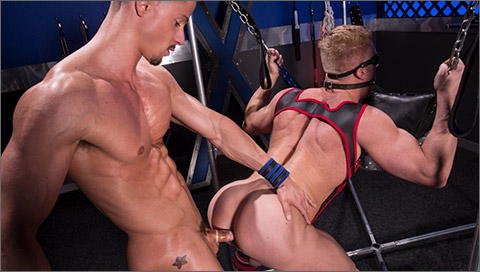 BLINDFOLDED: Skyy Knox fucks Johnny V
Skyy Knox and Johnny V make out passionately until Skyy takes control and throws Johnny in a sling with a blindfold on. Johnny hoists his legs in the straps with the help from Skyy giving him easy access to Johnny's awaiting hole. Finger, tongue, finger, tongue is the tease for this unknowing bottom. After a rigorous bow and rimjob, Skyy instantly shoves his thick tool deep inside Johnny. Moans and screams echo from Johnny as Skyy's thrusts get faster and harder. Skyy wants more so he rips Johnny from the sling and ball gags him before bending him over and slamming Johnny's lossened fuck hole. Unable to see or speak, Johnny jacks and shoots thick ropes of hard earned cum. Skyy empties his balls all over Johnny's face and chest and licks it off. Eventually, Johnny's blindfold and gag are removed and the two share a sweaty, cummy kiss.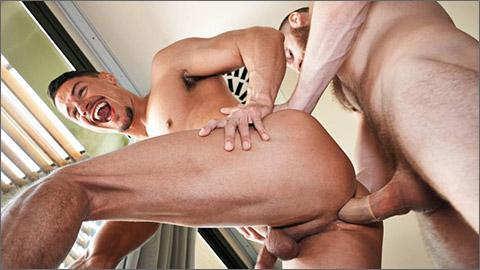 TIM KRUGER FUCKS SKYY KNOX
We had the chance to work with Canadian actor Skyy Knox in Barcelona. This guy is beautiful! Muscular all around, with a strong ass that can take ANY cock size… So we offered him Timtales holy trinity, starting with Tim Kruger of course. As you can expect, Tim opens that hole like an expert. A wide bottomless hole opened and ready for our stallions! Stay tuned for more scenes with Skyy Knox in his Timtales eurotrip.
HOT HOUSE
TIM TALES
MEN.COM
COCKYBOYS
FALCON STUDIOS
RAGING STALLION
CLICK HERE TO GO TO HIS MEN.COM DETAILS