Handsome Young Czech BelAmi Gay Porn Star, Serge Cavalli
Known Aliases / aka:
Years Active: 2017
BEL AMI INFO:
Whilst Serge has been primarily a Freshmen model throughout 2017, next year will see him have a greater presence on BelAmiOnline as well.
   His debut scene was bottoming for Hoyt Kogan, but Serge is a truly versatile model and you will get to see plenty of him both topping and bottoming in the future. He is an avid football player, and personally thinks that he looks a lot like Christiano Ronaldo. We're not so sure about the similarity, but we are sure that he is a great performer. One of his dreams is to win a 'Porn Oscar'
Eye Color: Brown
Hair Color: Brown
Zodiac: Pisces
Dick Type: Average
Dick Size: 18
Height: 182
Weight: 72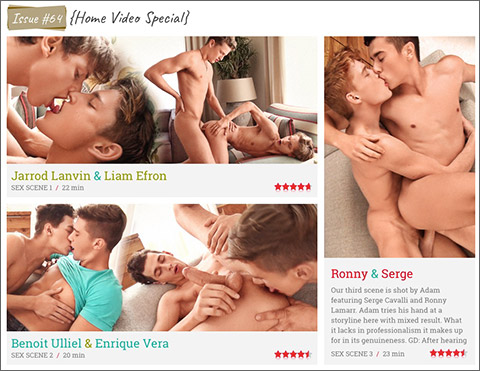 FRESHMEN ISSUE 64: HOME VIDEO SPECIAL: Serge Cavalli & Ronny Lamarr
Our third scene is shot by Adam featuring Serge Cavalli and Ronny Lamarr. Adam tries his hand at a storyline here with mixed result. What it lacks in professionalism it makes up for in its genuineness. GD: After hearing Dehanoia's response, I sent this for re-edit. He wrote: "The fucking is very enjoyable if you don't fall asleep during the introduction". Before you get too critical, remember this is a belated Christmas gift. Normally there would be an image set in this section.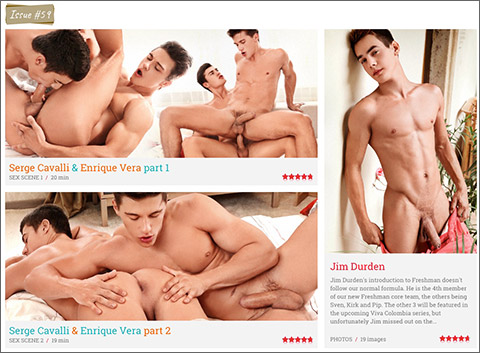 FRESHMEN ISSUE 59: Serge Cavalli & Enrique Vera – Part 1 & 2
At Bel Ami we often try to pair more experienced models with our Freshmen. In this flip-flop scene Serge and Enrique force us to re-think that practice as they demonstrate that passion, lust and enthusiasm more than compensates for lack of experience. This scene has a genuine sexual drive and both boys give us first-class performances as tops and also as bottoms. Marty, who filmed this scene, was particularly thrilled with the results.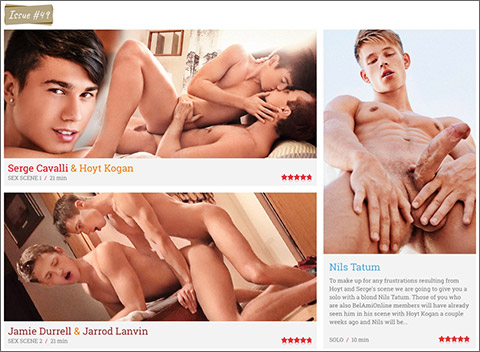 FRESHMEN ISSUE 49: Serge Cavalli & Hoyt Kogan
Even though this is not the first scene with Serge there are still signs of his newness here in this scene. We scheduled this scene with Hoyt, even though he is no longer Freshmen material we thought that they make a very sweet couple.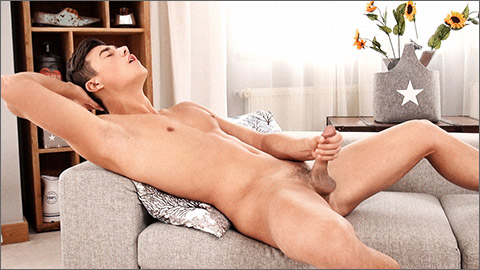 CASTING: SERGE CAVALLI
Sometimes we get new guys, who when they first appear on camera, come across are born performers, and then there are some who are a little nervous about the whole thing. Serge falls into the latter group of boys, although as you will see on Freshmen in a little while, his nervousness didn't last long at all.