Tattooed Bentley Race Aussie Mate Gay Porn Guy, Sarpa Van Rider
Known Aliases:
Years Active: 2014 – 2016
TWITTER @SarpaVanRider
BENTLEY RACE COMMENTS / INFO:
I'm really excited about today's newest mate to join us at BentleyRace. 19 year old Sarpa Van Rider from the suburbs here in Melbourne contacted me last year about modelling for me. He wasn't sure about doing it back then and decided not to proceed with a shoot. But this year Sarpa is back and ready to put on one of the hottest solo scenes you will see. Some guys look great in their photos but tend to be a little stiff in their video scenes. But Sarpa looks great both in his photos, and then went on to put on a really hot show as I filmed around him. My newest mate brought along a long dildo that he had just bought and couldn't wait to try it out. After greasing up his bum Sarpa pushes that black rubber cock deep up inside of himself, and the look on his face shows that he's really enjoying it. Once he's finished playing with the toys he stands up and sprays a huge load of cum over me as I lay filming from the floor below. What a nice way to finish off a very horny video scene. I see many more hot scenes coming up for Sarpa. I already have several volunteers wanting to be his first duo scene partner.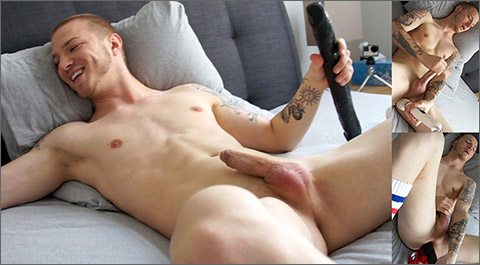 SARPA IS PLAYING WITH ALL THE TOYS IN THIS HOT JACKING VIDEO
My hot mate Sarpa Van Rider is back giving me one hot show with all these different toys. We had been doing lots of photos for the past couple of hours, so by the time we were ready to make a video, Sarpa was really ready to get off. I showed him the new toy drawer and he went wild grabbing the biggest dildo he could find. These also a great handsfree fleshlight fucking show on the couch. I can tell he is enjoying playing with the toys, and eventually jacking himself off. It's gotta be one of Sarpa's hottest videos so far. I was turned on like crazy watching this hot show.