Randy Blue Live Performer & Gay Porn Star, Roman Todd
Known Aliases:
Years Active: 2010 – 2019
TWITTER @RomanToddNYC
MEN.COM INFO:
Hair Color: Blonde
Sign: Aries
Eye Color: Blue
Dick Size: 7″ cut
Height: 6'1″
Weight: 190
Sexual Positions: Top
About:
Favorite Foods: Pizza, sushi
Favorite Movie: Wolf of Wall Street
Favorite City: NYC
Hobbies: Snow boarding,hiking,wake boarding
What I like The Most: Living life to the fullest and weed
What I Don't Like: Liars, haters and drugs
Best Thing About Me: Probably my eyes
Worst Thing About Me: Temper
How To Make Me Happy: Food and sex
Favorite Quote: Be yourself because everyone else is already taken.
RANDY BLUE INFO:
Roman Todd first got the attention of our members as Fresh Meat on Randy Blue Live. His quick wit, street smarts and sly charm, not to mention his sexy lean yet muscular body, got him instant fans. His debut solo was awesome and it wasn't long before he was sucking cock with the best of them and giving a good ass pounding. Turns out he can take it as well as he dishes it out and several other Randy Blue models are looking forward to tapping his hot little ass. And no matter what is thrown at him he takes it all in stride. From ramming Brett Swanson's hungry hole to getting manhammered by the ultrasexy Diego Sans, Roman is up for pretty much anything. And his body just keeps getting better and better. Spotting Blake Powel in the Randy Blue gym the two of them got so turned on they had to fuck right then and there, and it was so hot because they were already hot and sweaty from their workout. And the time he took a warm steamy shower with Shane Fisher he just had to get a mouth full of his nice long cock. Roman is an amazing performer with a great body and wild outgoing personality. Definitely one Randy Blue model you want to check out.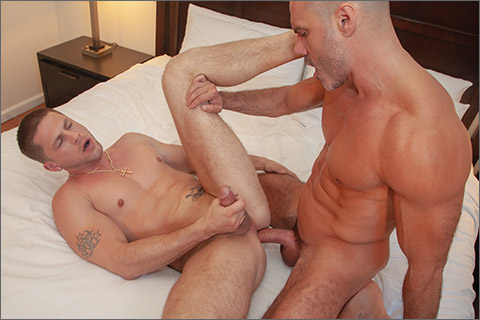 BEACH RATS OF LAUDERDALE: Manuel Skye fucks Roman Todd
It's a windy, stormy night in Fort Lauderdale when dealer Manuel Skye joins Roman Todd in the hot tub. Roman's ready to make a transaction, but he wasn't expecting Manuel to put the moves on him and expect more than the cash. When Manuel takes Roman's cock in his mouth, Roman knows he's going to have to give it up to close the deal. The two studs move it to the bedroom where Roman takes over sucking on Manuel's thick, uncut dick. With Roman's lips wrapped around Manuel's cock, he takes it to the next level by bending the tatted bad boy over to rim his ass. Roman can't get enough of Manuel's dick in his mouth and the two 69 on the bed until Manuel is ready to fuck. Roman bends over to take every inch of Manuel's raw cock deep inside his body. It's a tight fit but Manuel manages to slide it all the way in. The hung stud plows away on Roman's hole bareback until Roman decides to sit on the big dick. Manuel keeps pumping hard as Roman sits and takes every inch from the horny stud. After planting his dick deep into Roman's ass, Manuel is ready to unload. He rolls Roman onto his back and plugs away until he fucks the cum out of Roman's throbbing cock. Manuel loves seeing Roman covered in cum and takes a taste of his customer's fresh jizz. With Roman's load on his tongue, Manuel pulls out to blast Roman's smooth hole and balls with a creamy load of his own. When all is said and done, Manuel licks up all of the remaining cum and finishes Roman off with a cum-filled kiss and a stash of weed.

PRIVATE SHOW: Roman Todd fucks Jackson Reed
Jackson Reed is live on cam when Roman Todd joins him in the kitchen. Jackson convinces Roman that they should fuck to get their numbers up and Roman agrees. Without missing a beat, Roman and Jackson lock lips as their hands make their way down each other's shorts. Jackson is happy to find a big stiffy in Roman's bulging undies and immediately drops to his knees to get it in his wet mouth. He sucks and slurps Roman's hard cock, working every inch of the extra thick shaft before Roman returns the favor. The muscle stud gets down in front of Jackson's swimmers body and takes his girthy cock in his mouth. He slowly works his way around to Jackson's ass and opens the stud up with laps from his tongue. When Roman is convinced that Jackson is ready for dick, he stands up and slides his hard rod deep into Jackson's backside. Jackson wants to watch Roman plow him and turns around to lie on his back as Roman keeps up pounding his prostate. With Roman pumping in and out, Jackson can't hold back his urge to bust any longer. He blasts his cum all over his chest and quickly gets on his knees one more time to take Roman's load on his face. Roman is happy to give Jackson his reward and covers him with a river of cum that runs down his cheeks and onto his panting, sweaty body.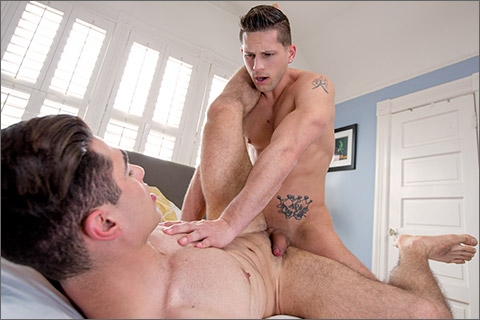 MAX IN THE CITY: Roman Todd fucks Lucas Leon
Roman Todd is visiting San Francisco and is renting a room from Lucas Leon. There's an instant spark between the two strangers as they lock eyes. Lucas leaves to get a towel for Roman, and returns to catch Roman stripping down and rubbing his bulge in front of a mirror. Roman sees Lucas watching him from the stairs and turns to nod his head as an invitation to join. Lucas jumps at the opportunity and joins the stud in his room. Lucas can't resist the sight of Roman's massive cock and gets down to lick every inch the hunk has to offer. After a nice long blowjob, Roman is ready for more and bends Lucas over the bed to rim the young stud until he's asking for Roman to fill his ass with cock. Roman needs his release and fast so he sticks his dick deep inside Lucas, pumping away as Lucas moans out with each thrust from the muscle hunk's big cock. Roman plows Lucas even harder until Lucas decides he wants to watch Roman face-to-face as he pounds his hole. Lucas' cock is throbbing and ready to blow as Roman fucks the cum out of the young stud's fat cock. Lucas isn't quite done though; he's still thirsty for cum and opens his mouth wide as Roman drops his load inside. It's a great first day in San Francisco for Roman and a jackpot rental for Lucas.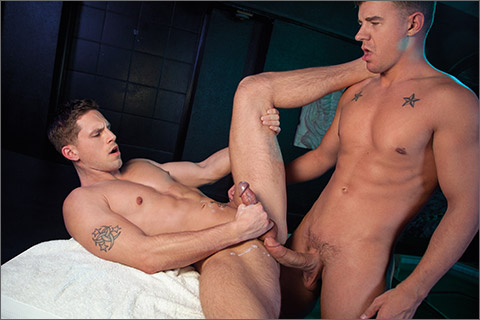 A NIGHT AT THE ENTOURAGE: JJ Knight fucks Roman Todd
When Roman Todd hops in the hot tub, he knows he wants some action, and he's in luck when JJ Knight joins him for a soak. The two lock in an embrace with a kiss as JJ jacks Roman under the water. When Roman is nice and hard, he gets out of the tub and lets JJ satisfy his curiosities by offing up his hard dick. JJ takes it in his mouth and savors every inch as Roman moans out in ecstasy. Roman has his own cravings to satisfy and gets down between JJ's legs to take a taste of the massive 10" JJ has between his legs. He loves what's he's getting and can't wait to have it deep inside his ass. JJ can see that Roman wants his meat and opens the stud's ass to lube it up with his mouth. Both studs are ready to fuck and to Roman's delight, JJ is eager to please. JJ bends Roman over by the side of the hot tub and rams his massive rod deep into the tight stud. The horny studs switch positions a few more times for maximum penetration until Roman blasts a creamy load as JJ keeps pounding away. When JJ sees Roman's cum running down his ripped body, he pulls out and shoots a thick load all over Roman. With Roman covered in cum and still catching his breath from getting fucked, JJ pulls him close and kisses him as a final thank you for the hot and steamy fun.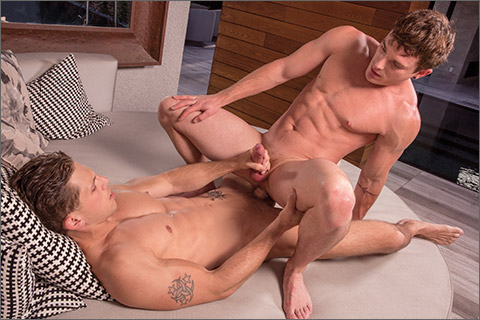 HIDDEN PALMS: Brent Corrigan & Roman Todd flip-fuck
Brent Corrigan takes a dip in the pool and spies Roman Todd lounging on the pool deck in his swim suit. Brent decides to take a closer look and with his muscles glistening and his body dripping wet, he hops out of the pool and walks over to Roman. No words are exchanged as they make extended eye contact. Brent knows what that means and without an invitation, peels off Roman's tight swimwear and gets to work sucking his thick rod. Savoring Roman's big pole makes Brent hard as a rock. It doesn't go unnoticed by Roman and soon he has every inch of Brent in his open, hungry mouth. When the two studs can't possibly get any harder, Brent leans Roman over to open him up with his tongue. Roman turns around giving Brent the go-ahead to slide his hard dick deep inside the moaning muscle hunk. Roman takes Brent from behind until Brent decides he wants to be filled with Roman's throbbing manhood. The horny studs switch positions and Roman takes control as he enters Brent's tight hole. The steady pounding feels amazing and they let loose to create a pool of creamy love all over Brent's cut and smooth abs.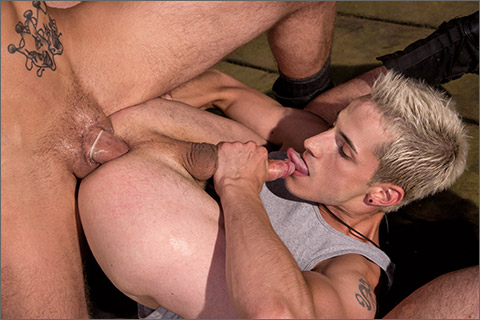 HEAD PLAY: Roman Todd fucks a self-suckin' Jay James
After Roman Todd steals a mystical object from Ryan Rose and Skyy Knox in a virtual world, he realizes the true power of his current possession. As the sky goes dark in broad daylight, Jay James appears out of thin air, takes the treasure from Roman's hands, and reaches out to feel what Roman is sporting beneath the fabric of his pants. Jay likes what he feels and pops Roman's cock out of the top of his tight-fitting underwear so that he can taste it in his mouth. Jay deepthroats Roman's thick manhood, giving Roman the ultimate oral pleasure. Roman needs more and slowly removes all of his clothing and helps Jay out of his pants. Roman goes to work licking Jay's tight and toned ass, getting it lubed and prepped for Roman's large member. When Roman senses that Jay is ready for what he can give, the hung stud gently slides his dick into the mystery man who just appeared before him. Roman pumps Jay hard as his ripped abs glisten in the ethereal dark night of day and continues his rhythmic pace until Jay spills his otherworldly seed all over his perfectly sculpted six pack abs. With his new lover satisfied, Roman pulls out and finishes himself off all over Jay's soaked and writhing body. As the two bask in the glory of their encounter, the talisman they both seek once again disappears into the hands of another mysterious hunk.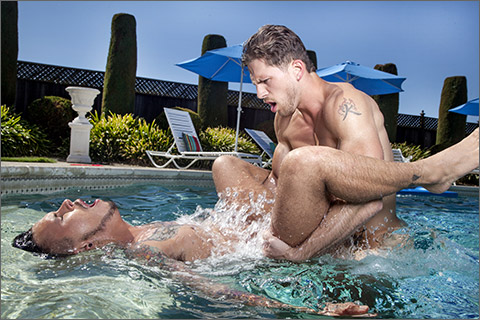 POOL MATES: Roman Todd fucks Gabriel Alanzo
"You want this dick in your mouth? Make it big and hard for me." When Roman Todd asks Gabriel Alanzo is eager to oblige. His expert cock-sucking skills almost get Roman off but Gabriel has other plans for his buddy's rock-hard meat; he wants his hole plowed. Roman slams his ass from all sides then pulls out and fills Gabriel's mouth with his hot white cum. When you hear Roman call Gabriel "Baby" you'll blow your load too.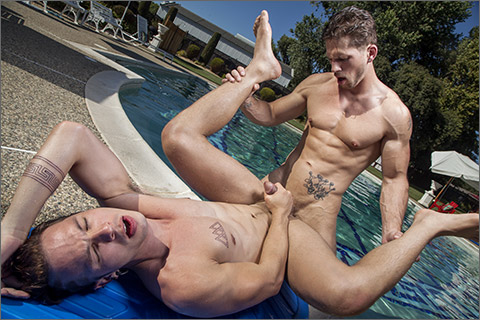 POOL MATES: Roman Todd fucks Seth Knight
Wow! There's no denying the sexual attraction between Roman Todd and Seth Knight. Seth can barely contain himself under water or poolside when Todd takes a chair and kicks back for some legit cock worship. He begs Roman to fuck his face then bends over to offer up his perfect tight hole. Roman can't control himself around Seth's delicious ass. To call it a rim job is an understatement… this is a legendary ass buffet. Seth mounts Roman and rides his dick until he blows then goes back down on Roman's cock to eat his creamy white load.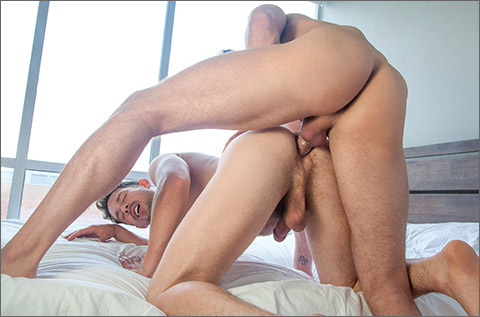 INTIMATE: Roman Todd fucks Casey Jacks
When Roman Todd and Casey Jacks get together, the sparks fly. They're kissing in front of a bedroom window, groping each other when Roman decides to give Casey a taste of his erect manhood. This is exactly what Casey wants and he doesn't waste a second wrapping his lips around Roman's big hard dick. After getting completely revved up, Roman reaches into Casey's underwear to feel his tight ass. The feel of his fingers meeting Casey's throbbing hole is all it takes for Roman to peel down his partner's shorts and get to work rimming him with his hungry tongue. Roman knows he wants to enter Casey, who's begging for his dick. After getting Casey nice and loosened up, Roman lies back on the bed and lets Casey get what he wants. The young stud hops on Roman's thick pole and rides it deep as the two maintain eye contact and continue kissing while they make love. 'Oh baby, I'm so deep inside of you,' Roman says as he speeds up his rhythm and makes Casey moan even more. When Casey is ready to blow his load, the two studs flip around and as Roman continues pumping, Casey blasts a giant hands-free orgasm all over his tight body. As his cum pools up on his stomach, Roman is ready to give Casey his load. He pulls out and stands over the panting stud to shoot every last drop he has all over Casey's face and wide-open mouth. Exhausted after their incredibly satisfying session, the two jocks collapse in a heap on top of each other and kiss Roman's cum away.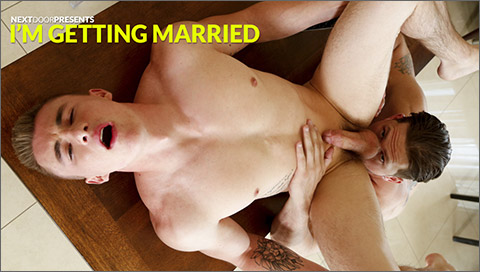 I'M GETTING MARRIED
With a knock on the door, teacher Jake Davis is suddenly confronted with a blast from his not so distant past. As Roman Todd stands in his doorway, a flood of memories comes back to Jake. After some meaningless small talk, Jake grills Roman about the purpose of his visit, and Roman shocks Jake with a wedding invitation. As Jake reads it, he shakes his head, barely able to process the reality in front of him. He asks Roman what this means for the two of them, and Roman tells him it's over and can't happen anymore. Jake takes Roman by the hand and tells him he'd like to send him off one final time. Roman is reluctant, but as Jake inches closer, brushing against Roman's cock starting to stiffen up inside his shorts, it becomes obvious to Jake as to what Roman really wants. Kissing him hard, Roman throws Jake down onto his desk and begins to work his way up and down Jake's body. Jake falls to his knees and takes Roman's hard cock into his mouth, downing it immediately as Roman closes his eyes and leans against the ledge. Jake's hands run up Roman's body as he sucks him off, and Roman's cock gets rock hard as Jake works his magic. Switching places, Roman sucks Jake off with a passion and hunger he has yet to feel with his fiance, rocking Jake's legs high into the air as Roman playfully tongues his ass. Jake begs Roman to fuck him hard, and Roman obliges, plunging his cock deep inside Jake as he fucks him missionary on the desk top. Jake strokes himself as Roman fucks hard, bending Jake over and taking him from behind, then letting Jake take a ride as he bounces on Roman's sexy dick while getting ever closer to losing his nut, busting it as Roman continues to pound away. Roman pulls out and blasts Jake with his load, and as Jake lay there cum covered and sated, he suspects this won't be the last time the two of them mingle. Hopefully the future wife will understand.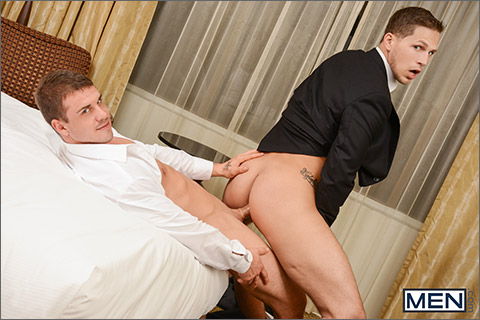 THE GROOMSMEN – PART 1
Roman Todd is moments away from getting married to the girl of his dreams but one of his groomsmen wants to dip his fat cock in his hole one last time before his best buddy ties the knot. Itís his wedding day but Roman doesnít see the harm as he bends his hot ass over for Darin Silverís huge dick.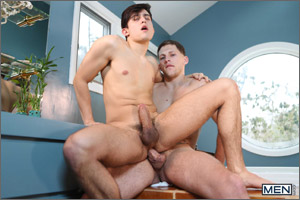 GODFATHER – PART 2
Jacob Ladder, nephew of The Godfather, doesn't quite agree with the way his uncle is running the "family." He has a plan to make some changes with the help of Roman Todd. Jacob has an offer for Roman that is simply too good to pass up! Roman gives Jacob just what he wants, as he pounds his ass with his big, loyal dick.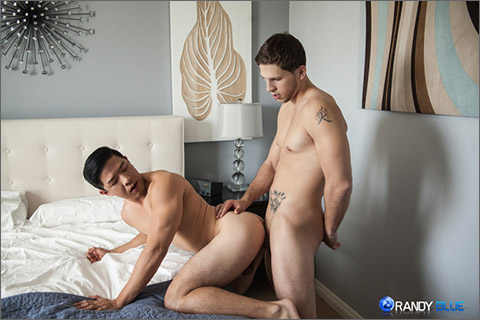 ROMAN TODD FILLS COOPER DANG WITH CUM
Roman begins the scene by abruptly announcing that he is going to fuck the shit out of Cooper. Cooper seems alarmed about the promise of a hard pounding but after Roman grabs Cooper and pulls him into his hunky embrace, all is forgotten. Roman wraps his muscled arms around Cooper and slides his tongue down his throat. Cooper gives into the passion. As Roman grabs a handful of that hot Asian bubble butt, he states he cannot wait to fuck him. Cooper is happy to open his legs, he lubes that hard cock and sits right down on Roman raw. Roman bareback fucks Cooper and then Cooper hops off to suck his cock. Then he hops back on and lets Roman fuck him nice and hard. Once Roman starts to fuck Cooper doggie style, he gets overwhelmed and cream pies Cooper. As he pulls out the cum starts flying every where and drips out of his hole. Then Roman shoves it back in and and keeps on fucking. Finally he gets Cooper on his back and fucks the cum out of him and they collapse into a hot warm passionate embrace. Be sure to check out all the hot HD video action right here at Randy Blue.
NAKEDSWORD
FALCON STUDIOS
NEXT DOOR STUDIOS
MEN.COM
RANDY BLUE
CLICK HERE TO GO TO HIS MEN.COM DETAILS
CLICK HERE TO GO TO HIS RANDY BLUE DETAILS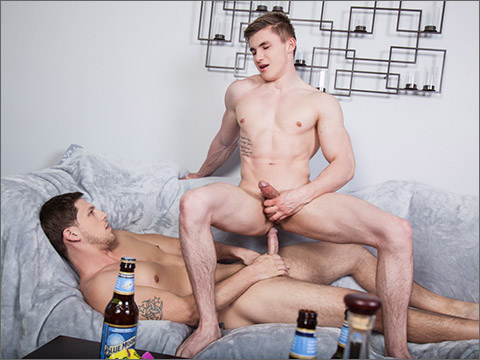 ROMAN TODD UNLOADS HIS CREAM INSIDE JAKE DAVIS
ROMAN TODD FILLS COOPER DANG WITH CUM
ROMAN TODD FUCKS THE VIRGIN HOLE OF RUSSIAN HUNK, JAMIE PAVEL
WELCOME TO LA EPISODE 7 – WEST HOLLYWOOD
WELCOME TO LA EPISODE 5 – BEVERLY HILLS
STRAIGHT STUD, ROMAN TODD MAKES PAOLO MALDINI SUCK HIS FIRST DICK
DICKS EVERYWHERE WITH KURTIS WOLFE, LANCE ALEXANDER & ROMAN TODD
ROMAN TODD FUCKS JIMMY FANZ
CHANCE & ROMAN
CHRISTIAN & ROMAN
CAMERON & ROMAN
ROMAN & TUCKER
GABRIEL & ROMAN
ANDREW & ROMAN
RAPHAEL & ROMAN
BLAKE & ROMAN
GUNNER & ROMAN
BRETT & ROMAN
ROMAN & SHANE
CHIP TANNER & DONNY WRIGHT & ROMAN TODD
MALACHI & ROMAN
ROMAN TODD SOLO