William Higgins Czech Gay Porn Star, Roman Klaska
Known Aliases / aka: Martin, Sajkov, Daniel, Jan Saikov, Alex Saikov, Daniel
Years Active: 2012 – 2015
WILLIAM HIGGINS INFO:
Model Name: Roman Klaska
Age: 22
Home Town: Sluknov
Height: 183cm/6'0″
Weight: 80kg/176lb
Foot Size: EU44/US8.9/UK8.4
Penis Size: 17cm/6.69″
Profession/Student of: Unemployed
Hobbies: Sport
Favorite Sports: Boxing
Active Sports: Fitness
Movie/Music/Sport Stars: Cassius Clay
Visited Coutries: Poland
Want to Visit Coutries: Germany
Dream of My Life: To be a fitness trainer!
Zodiac Sign: Libra (September 23 – October 22)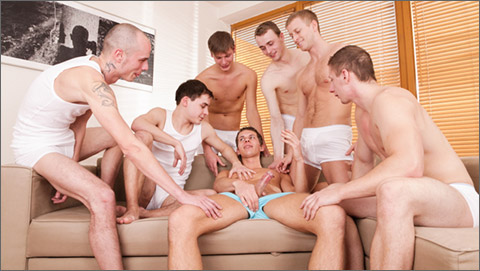 GAYKKAKE 2
Timoti is busy jerking off, but then falls asleep with his dick in his hand. When he awakens he notices that he blew his load all over himself. He then closes his eyes again and starts his wet dream all over again. The guys are all sitting around watching TV and just hanging when the pizza man (Tony) shows up. No one has money for the pizza, so as a compromise Tony just wants some dick. Andrew is feeling lonely so he goes out for a drink. Once he gets there he notices that all his friends are there; they make a toast for him and tell him that his glass will always be full. Cheryl, Chris's best friend decides to surprise him for his Birthday. She brings him to a room blind folded and tells him to wait. When he opens his eyes he gets the surprise of his life.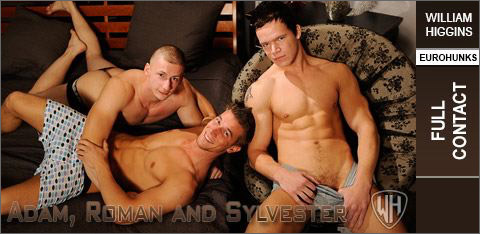 FULL CONTACT: ADAM RUPERT, ROMAN KLASKA & SYLVESTER ADAMUS
We brought Sylvester Adamus, Roman Klaska and Adam Rupert together for a really great scene. We find Sylvester and Roman on the bed, with Adam on a chair resting his feet on the bed. Sylvester and Roman are kissing his feet and sucking on his toes. As they do they also share a kiss or two. Then Roman lays on his back with Adam running his feet over that hot chest. Meanwhile Sylvester is playing with Roman's cock. He begins to suck on it and removes the underwear. He gets Roman's cock nice and hard as Adam wanks himself. Then Adam removes his underwear as the others move to him. Roman begins to suck on Adam's throbbing cock and Sylvester moves up to kiss him. Sylvester sucks the cock a little before letting Roman resume his pleasure. Sylvester stands and drops his shorts so that Adam can suck on him too. Then Roman moves and bends over the chair, so that Sylvester can rim his ass as he sucks on Adam some more. Adam turns the chair, so that he can rim and finger Roman's hot hole. Roman takes Sylvester's dick in his mouth at the same time. Then Adam gets on his knees and slides his big cock deep into Roman's ass. He fucks him nice and hard. Roman takes that dick and sucks on Sylvester. Then Roman is turned again, so that Sylvester can fuck him as Adam gets sucked again. Sylvester's dick is deep in Roman's ass and he spanks him a few times, marking the white cheek. Adam wants some more ass and takes Sylvester's as he lay s on his side so he can suck Roman. As Adam fucks him Sylvester wanks himself and shoots his load over his belly. He continues to suck on Roman's big hard cock as Adam fucks him harder. Then they all change again. with Roman on his back and Adam's ass sitting right down on his big cock. Roman also sucks Sylvester as he fucks. The as Adam rides that big dick, with Roman slamming it right up into his ass, he shoots his own cream. Roman is ready too and pulls out and dumps a very nice load. Adam and Sylvester lick and suck the spent cock to end a wonderful scene.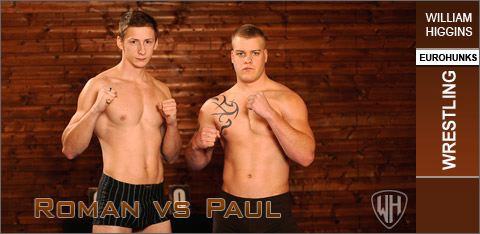 WRESTLING: ROMAN vs PAUL
Roman Klaska and Paul Fresh are two very well built guys who came in for a submission wrestling shoot. After helping each other with some warm-up and stretching exercises they start the match. Roman seems to be an experienced wrestler and it isn't long before he has won the first round. The guys then remove their underwear and start the wrestling again. Their is a lot of grunting and groaning as they each try to gain ascendancy. They trade the next couple of rounds before Roman pulls into a bit of a lead in the match. However Paul is not one to give up and fights back, really working hard to take control of the match. He draws level at 5-5 and then moves into a lead. At 5-7 to Paul they take a breather to oil each other's bodies and then back to the match. But there is no way back for Roman who, try as he might, cannot recover his early form. Paul moves into an unassailable lead and finally wins 5-10. Then the guys settle down for the wank off. After a quick wank of each other's cocks it is Paul who is the first to blow his load, the cum shooting out all over the place. Roman then follows with his cum as well. After cleaning each other's cocks they go off to the shower to wash all that oil off their bodies, to finish a very nice match.
MILE HIGH MEDIA / MALE REALITY
WILLIAM HIGGINS
STR8HELL
STAXUS
IKARUS STUDIOS / SWEET AND RAW
BIG DADDY
CLICK HERE TO GO TO HIS WILLIAM HIGGINS BIO PAGE