Gay Porn Superstar Blueboy Magazine Model & Hung Hustler, Roger
Known Aliases: Tom Garrett
Years Active: 1977 – 1981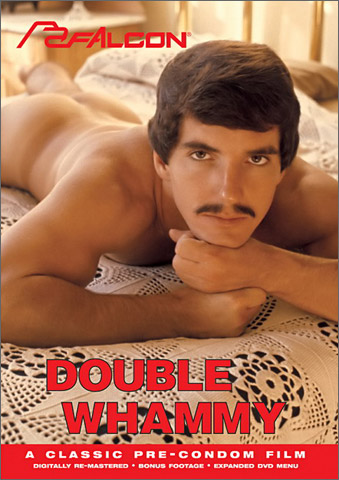 DOUBLE WHAMMY (FVP-006)
'The Housepainter': Hunky stud muclejock Roger as a housepainter in a 3-way. 'Bigger Than Life': A young artist seduces his willing model, Roger. 'Double Whammy': Black stud Big Ben lures a cleancut collegiate hunk back to his pad with promises of a big score. 'Mr. Egan Gets His Paperboy': Jack Egan's newsboy arrives in a rainstorm soaked to the skin and Mr. Egan resolves to warm him up.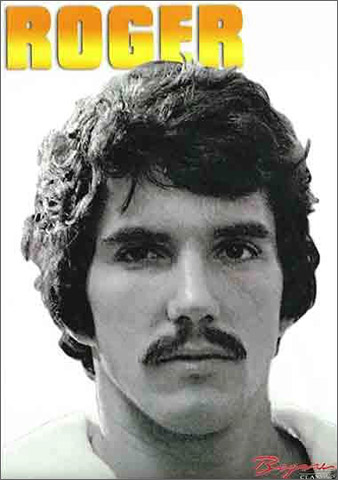 ROGER
Join J. D. Slater as he sits at home watching porn videos, including the cinematic goodbye of Roger, a star of his time. Beautifully photographed, Roger pulls on his glowing meat live(!) at the Nob Hill Cinema in San Francisco. Other new footage includes a jack off solo as J.D. Slater gets more and more turned on after each clip. The other tapes are excerpts from previously released films, like New York Construction Company and Bad, Bad Boys. Jack Wrangler even makes a short appearance as a maintenance man who gets sucked off and then pisses in the basement. One unusual clip has a guy wearing a ball stretcher and then fucking a man with his nuts only. The varied lengths of the carefully chosen episodes and the way in which they are strung together make this a well-paced and well-thought-out tape, putting it a mark above most compilations. Unfortunately, Wrangler is not on the screen very long, but the other action is both diversified and continually interesting. This film has excellent sound and cinematography.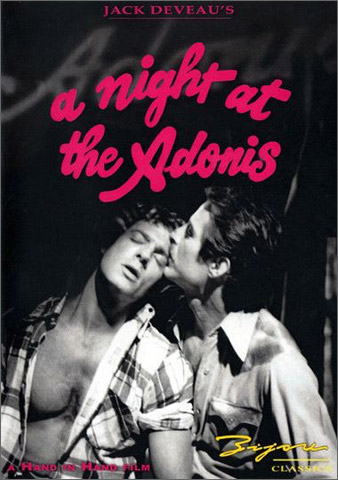 A NIGHT AT THE ADONIS
Into another men's room, three men begin to get into one another. Roger is there and has one of the guy's mouth with his big cock while the other watches. The barber goes down on Jack's boner and Roger is shown plowing ass in the bathroom over the sink.
   Roger soon glides Geraldo's cock into an ass he was sucking, the film here becoming a full-scale orgy. Highlighting this orgy is a dual jackoff session by "two" Big Bill Elds.
CLICK HERE TO GO TO HIS FALCON STUDIOS DETAILS

BLUEBOY Feb/Mar 1977 (Vol. 10), Apr/May 1977 (Vol. 11), January 1978
BLUEBOY PRESENTS ROGER
BLUEBOY: FOR WOMEN ONLY VOL. 1
BLUEBOY: THE BEST OF STEVE & ROGER
BLUEBOY POSTER: ROGER

HONCHO November 1978
MANDATE September 1977, September 1978
DRUMMER 021
IN TOUCH #30
NUMBERS: 100 NUMBERS #3
PLAYGUY (#5) v01 n05, (#7) v01 n07, (#9) v01 n09
BRONC September 1982
STUDFLIX v03 n02

TARGET: JAVELIN #3
TARGET: LANCER #1
TARGET CALENDAR 1978
TARGET CALENDAR 1979
TBT-1: TARGET BY TOM
TOM GARRETT B&W Photo Set (PJ-02)
GARRETT & RAZ B&W Photo Set (PM-02)
TOM GARRETT Slide Set (SJ-02)
GARRETT & RAZ Slide Set (SM-02)
LANCER Slide Set (SO-05)
FALCON: ROGER & FRIENDS
BRUNO GMUNDER: ULTIMATE FALCON
GUISE
MASCULIN – MALES U.S.A – Jon Target
MAN'S IMAGE: TOP MAN
BD-34 – Photos / CD-35 – Slides
VIDEO ON-DEMAND: Roger @ AEBN SMUTJUNKIES THEATER
DVDs & ON-DEMAND: Roger @ TLA VIDEO