Blond Uncut American Gay Porn Star, Rod Barry
Known Aliases / aka: Rob DeBaer
Years Active: 1997 – 2009
FALCON STUDIOS INFO:
Hair Color: Blonde
Eye Color: Green or Blue
Height: 5′ 10"
Weight: 175lbs.
Position: Versitile
Build: Gymnast
Body Hair: Smooth
Cock: 8″-9" uncut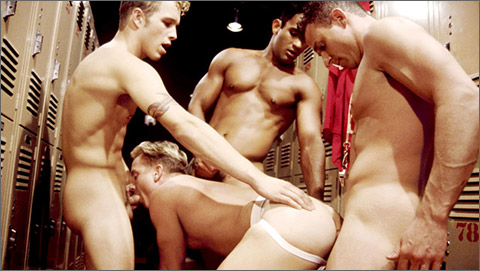 THE NEW COACH: Rod Barry, Raphael Perez and Aaron Wilde break in the new coach Kevin Miles
Players Rod Barry, Raphael Perez and Aaron Wilde grumble about Coach Miles riding them hard during practice when suddenly Kevin walks in and apologizes: the principal's been on him to push the team and produce. Willling to prove he's a team player, Kevin pulls out his "peace pipe" and soon all four are going at it hot and fierce. Raphael and Aaron begin by sucking Kevin's and Rod's cocks. Aaron works his tongue around Rod's uncut prick, savoring the taste of the meaty foreskin. The four studs suck and rim and kiss, playing each other into a sweaty frenzy. Aaron lays back on the bench and sucks Raphael's thick meat as Rod and Kevin poke their fingers into his tight hole. Rod then begins to fuck Aaron from behind as Raphael lays down with Kevin sliding up and down his prick, riding him fast. All four work it hard and in time they come, shooting explosives loads. The new coach proves he's with his team 100%.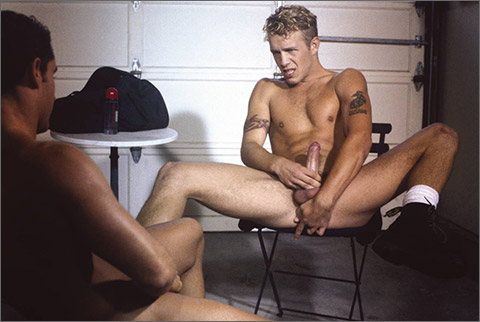 CURRENT AFFAIRS: Kyle Becker & Rod Barry
Kyle Becker faces of with Rod Barry-a mean sex-pig exuding a thick sap of sensuality. Rod taunts Kyle with his uncut cock, waving it in his face. Rod verbally baits Kyle and forces him to watch as he shoves a well-lubed plug up his butt. His asshole twitches with each insertion and Kyle is the appreciative audience to this sexual performance. Under Rod's directions, he strokes and pulls his cock. Rod then orders Kyle to lick the sweat off his face. Eyeing each other lustily, the two men pump their shafts until they can contain themselves no longer and give in to their respective orgasms.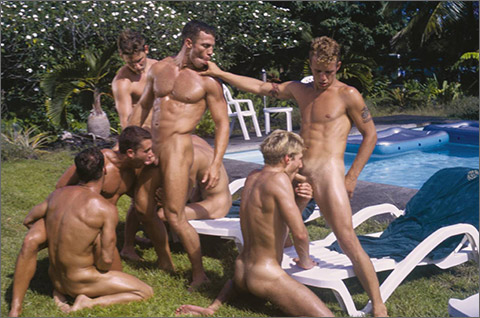 HIGH TIDE: Poolside Orgy
Back at the house, Matthew Anders meets Jeremy's buddies lounging poolside-Jake Andrews, Christopher Scott, Travis Wade, Kristian Brooks, Rod Barry, Anthony Shaw, and Kyle Becker-enjoying the sun. Christopher Scott takes on Jake Andrews and Kyle Becker; Kristian tangles with Travis, while Anthony devotes himself to servicing Rod Barry's stiff prick. The scene becomes a frenzied orchestra of male satiation. Jake feeds Christopher a dildo, which he eagerly accepts. Travis stretches Kristian's hole with a buttplug while Rod inches a set of latex balls into Anthony's ass. Anthony groans ecstatically as Rod pulls the toy out…one segment after another. Rod zeroes in on Anthony's ass, pounding it with abandon. Christopher sucks Jake as Kyle fucks him from behind while Travis buries his tool deep in Kristian's hole. The seven studs continue fucking, sucking, stroking and pleasuring themselves until each man-urged on by his lusty mates-forcefully ejects his load, soaking in all the masculine energy.
FALCON STUDIOS
CHANNEL 1 / RASCAL
ALL WORLDS VIDEO
CATALINA VIDEO
HOT HOUSE ENTERTAINMENT
LUCAS ENTERTAINMENT
KINK MEN
KINK.COM / BOUND GODS
CLICK HERE TO GO TO HIS FALCON STUDIOS DETAILS