Spanish Hunk and Kristen Bjorn Gay Porn Star, Robin Sanchez
Known Aliases: Robinson, Xavi
Years Active: 2012 – 2016
TWITTER FAN PAGE
KRISTEN BJORN INFO:
Nationality: Spain
Height: 5′ 9″
Weight: 189 lbs
Dick: 7 (17.78 cms) uncut
Position: Versatile
Kristen says:
Robin Sanchez is talkative guy with a rapier wit. He did a couple of casting videos for Kristin Bjorn back in 2007, but then subsequently went on to participate in a Spanish Reality TV program called Pekin Expres. It was a race between couples to follow clues and to travel across the planet penniless. While the cameras were following Robin around in India, his porn past was revealed on TV and it caused quite a scandal back in Spain. All's well that ends well, though. Robin actually came back some years later to work with Kristin Bjorn again – and he was looking better than ever!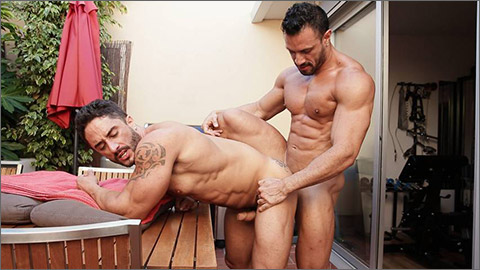 FLEX FUCKS ROBIN SANCHEZ
We decided to bring two of our most beautiful Bodybuilders together….because we simply LOVE to look at them. The divine Flex and hulky Robin Sanchez. And Flex is the Top!!!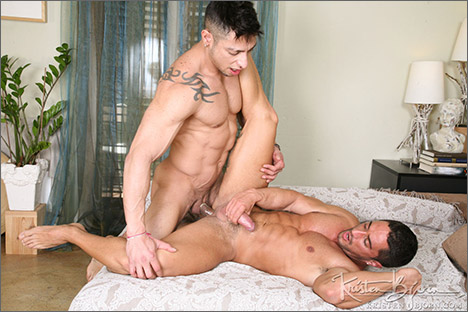 CASTING COUCH #309: JULIO REY & ROBIN SANCHEZ
Before they became famous on film, Julio joined Robin one afternoon to see how the chemistry between them was. Robin enjoys the look, feel and taste of Julio's perfectly sculpted muscular body and promptly moves to unleash Julio's huge, straining cock from its confines. As quickly as it jumps out Robin pounces on it with his mouth, savoring every morsel as it glides across his wet tongue and deeper into his hungry mouth. As Julio's cock grows harder and fatter so do the veins that crisscross over his meaty shaft. Julio then takes Robin's straining cock in his mouth and delivers the oral pleasure he has been seeking. Robin takes Julio's head in his hands and begins to fuck his face as Julio eagerly swallows his throbbing cock. Julio then flips Robin over and dives in and begins to chow down on that perfect pucker hole that he has dreamed about. Being an expert rimmer, Julio preps Robin's hole with sufficient saliva and then guides his fat cock into Robin's pucker. Robin has been hungry for this hot cock in his ass long before Julio arrived, so his hole has been wet from the time Julio walked in the door. Julio penetrates Robin completely and with Robin on all 4's his ass is totally open for his raging hard cock. Robin flips over and Julio spreads his legs wide open and thrusts his starving cock deep inside Robin. Julio picks up his rhythm and Robin joins him as he begins stroking his straining cock. With Julio pounding away at his ass every muscle in Robin's body spasms with pleasure as his cum bursts free from its confines and all over his heaving chest and abs. Julio feels Robin's ass muscle constrict around his cock forcing him to pump harder until his creamy load spews all over Robin's cock and balls. Now there is some chemistry!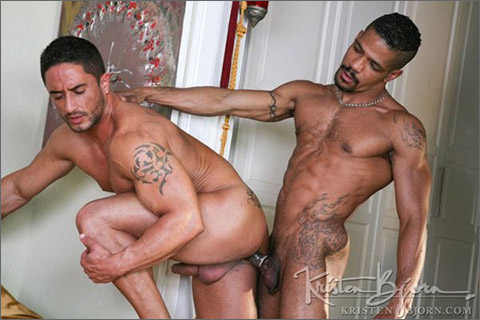 CASTING COUCH #309: JULIO REY & ROBIN SANCHEZ
The sensation of touch is an incredible thing. Each of our bodies has its own unique area that is highly sensitive to touch and arousal. Gerald is at home enjoying a quiet afternoon of pleasuring himself through touch. His wet tongue working its way up and over and around each finger as his other hand is exploring his ripped muscular body. A sly fox grin comes across his face as he notices his lover taking delight in watching his partner pleasure himself. Robin is already hard as he anticipates taking over for his lovers hands with his tongue, hands and lips. He begins by feeding Gerald his fingers to suck and linger over. Robin's fingers are quickly replaced with his rigid cock. Gerald runs his hot tongue up and down Robin's shaft and pauses on his engorged head to lap at its expansive crown. Robin moans with pleasure as he begins to feed Gerald his cock at a more rapid pace. Gerald rises so that Robin is able to take his straining cock deep in his throat. Robin is eager to receive his lover's dark ebony cock deep in his throat. Feeling that hot cock fill his hungry mouth and deep throat. Gerald's balls are drawing up tight against his body as the pleasure radiates from the head of his cock through the shaft and throughout his body. Feeling his hot load building quickly, Gerald mounts Robin from behind and begins to deliver a hot pounding to Robin's tight, muscular ass. Robin encourages his lover to pound him deeper and harder. The pleasure of being penetrated deeply has Robin's cock straining to release his hot load. Gerald continues to pound and pleasure with each thrust of his hard cock. The continues pounding has brought Robin to the brink of explosion which erupts all over his ripped abs. Gerald's rhythm is only intensified by the spasming ass muscles wrapped around his cock. Pounding away until his pleasure is delivered in an eruption of milky cum all over his lovers thighs and balls. The sensation of touch is something that we all have within ourselves, pleasure yourself today.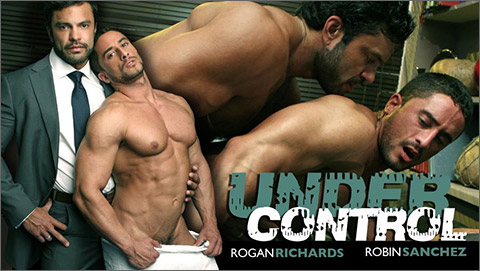 UNDER CONTROL
There's nothing quite like an arrogant man in a suit especially when he's your boss. Rogan Richards takes power abuse to new heights when he humiliates his sexy young PA Robin Sanchez. Robin knows his job depends on following Rogans every request so when he's asked to stand naked infront of his boss he puts up little resistance. Soon Rogan has his office boy sucking on his thick cock and munching at his ass. Rogan then fucks Robin over his desk pounding him hard for as long as the urge takes him. This is one of the hottest parings on Menatplay with two super hard cut naked bodies writhing and sweating and fucking their hearts out.

UNDER CONTROL
We've already seen how easily P.A. Robin Sanchez can be persuaded to get naked and offer up his arse for a good fucking in the film 'Under Control' with Rogan Richards. And this week we see how he is enticed into a webcam session under instructions of his demanding boss Rogan, giving us all a very sexy private show, and a better chance of appreciating his hard ripped body and most of all that amazing muscle butt of his.
TIM TALES
KRISTEN BJORN
MEN AT PLAY
MEN.COM
CLICK HERE TO GO TO HIS KRISTEN BJORN DETAILS