Scruffy American Gay Porn Amateur, River Elliott / River West
Known Aliases: Justin Brody
Years Active: 2015 – 2018
GUYS IN SWEATPANTS INFO:
River recently came to me emphasizing his love for fucking and taking control while doing it. He being 6'3″, I knew little Elliott would love getting manhandled and fucked like crazy by him.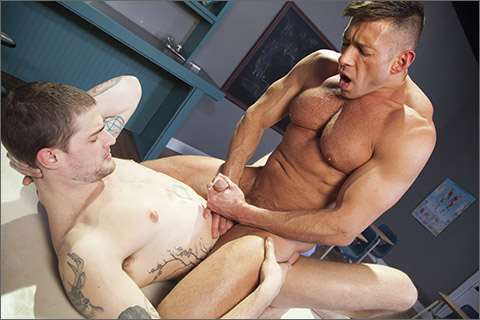 THE SLUTTY PROFESSOR: Justin Brody fucks Bruce Beckham
Fumbling Professor Kelp (Ace Era) is becoming increasingly unpopular with his students, except for equally nerdy Justin Brody. As the sexual tension between them builds, Professor Studly (Bruce Beckham) bursts into the classroom and Kelp is called to the Dean's office. Studly informs Justin that Kelp is in danger of losing his job but promises to put in a good word for him, if Justin cooperates. Studly undresses Justin and goes down on him like he's earning a PhD in cock sucking. He edges Justin with his hot wet mouth, but that's not the hole he wants filled. The hot professor bends over the desk and Justin shoves his dick inside, fucking him deep all over the class room. The sucking and fucking continues until both men are hot, sweaty, and covered in cum.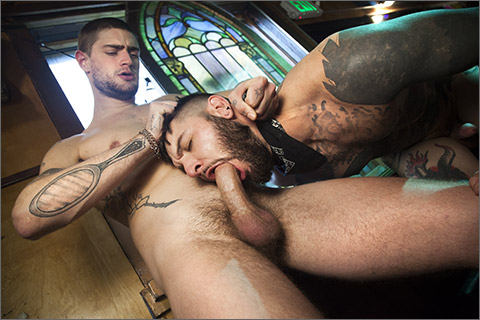 BERKELEY: SOPHOMORE YEAR – FUCKING ANARCHY: Justin Brody fucks Teddy Bryce
Activists Justin Brody and Teddy Bryce are making protest signs, getting pumped for tonight's big Antifa rally. They slip their black ski masks over their heads and bolt out the door headed for the Berkeley campus. By the time they get there it's a full-on riot. Protestors from both sides are shouting obscenities, throwing blows and dodging bottles – including Republican Club President Leo Forte. Justin and Teddy work the young republican over good and take off back to their headquarters. They crash through the door and immediately begin making out as they rip each other's clothes off in an adrenaline fueled rage. Justin's already engorged cock demands attention from Teddy's hot mouth before he shoves it in his tight hole and pounds him hard. Justin lies back, and Teddy bounces up and down his hard cock until he blows then Justin pulls out and beats his meaty cock directly into Teddy's open mouth.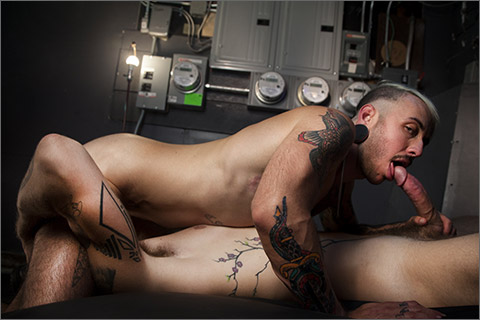 THE DEVIL'S DEAL & OTHER SORDID TALES: Justin Brody fucks Viktor Belmont
A young man (Justin Brody) fond of mixing witchcraft with religious iconography visits a cemetery chapel for quiet contemplation. Unable to shake the feeling that he is being watched, he goes outside among the tombstones to call the four corners. Moving at inhuman speed a tattoo'd specter (Viktor Belmont) thrusts the sexy stud into another dimension. Unbridled lust leads to cock sucking as the specter reveals new sexual pleasures the man had never known before. Driven mad by the aggressive sexual two-spirit, he mercilessly fucks his hole then pulls out and shoots his load into his hot mouth. As quickly as he left, he returns to the cemetery only to wonder – was it all a dream?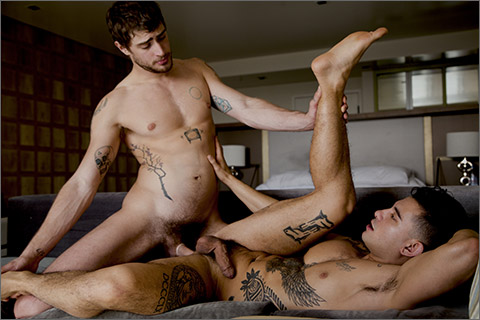 MISSED CONNECTIONS: JUSTIN BRODY & RICKY ROMAN
There's no wrong way to make a connection, even if it's as instant as a few quick glances outside a bookshop in Los Angeles. As Ricky Roman recounts with a deep, sultry narration, it's actually these passing connections that often drive us the most wild. Ricky meets a man named Justin but can't remember that this man is in fact Justin Brody. And after being so transfixed on Justin's striking blue eyes, his forwardness, and that hard bulge in his denim jeans, Ricky forgets to save Justin's phone number.
   With all the advancements in social networking over the past years, you'd think Ricky would have no problem tracking Justin down. But sometimes the good ol' fashion "Missed Connections" section on Craigslist can work wonders. It's worth a shot, and Ricky is still extremely horny fantasizing about all the things he'd let Justin do to him — kissing, playing with his nipples, playing with his dick. But little does he know that Justin will be doing much more than that in a few short hours. Almost immediately after posting his ad, Ricky receives the response he'd been waiting for and Justin is inside his hotel room just as eager to fuck!
   Working off the spontaneity of their immediate connection, the guys go all out in a never-ending fuckfest. Justin picks up Ricky and pushes him against the wall, strips him down, loosens him up with a nice rimming (already causing Ricky's cock to drip with pre-cum), and begins fucking him from behind within minutes. Wanting to savor every moment, Ricky brings Justin over to his bed and fully engulfs that cock he's been craving.
   Ricky had a hard time stuffing Justin's jumbo cock all the way down his throat, but with a little determination and a lot of infatuation, Ricky gave Justin a blowjob for the record books! Ricky's lips alone could make any guy cum within seconds, but Ricky wouldn't allow that from Justin until he got properly plowed a second and third time on that bed.
   At times slow and passionate, then quick and aggressive, Justin nailed Ricky in just about every way imaginable all throughout that hotel room. Ricky finally couldn't take it anymore and exploded during an exceptionally fast jack-hammer fuck laying on top of Justin. Turned on by Ricky's complete submission, Justin blew a huge load shortly after. Judging by their electric chemistry, it's pretty safe to say that this was one missed connection well made!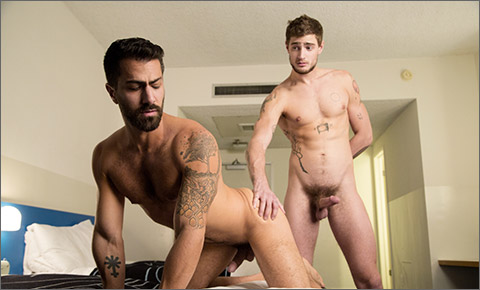 ADAM RAMZI FUCKS JUSTIN BRODY
Justin Brody knows what he wants and he's not afraid to take it when he sees it. He recalls a time when he was traveling with his parents and as soon as they were asleep he hooked up with a guy on Grindr who was staying in the same hotel!
   This guy left the door open and had his ass lubed and ready to be plowed. He was only interested in getting fucked so there was nothing for Justin to do but walk right in and take what he wanted.
   Justin recreates this scene with Adam Ramzi playing the part of the stranger. Adam kneels on the bed and whimpers while he waits for Justin to walk into the room and have his way with him. Justin walks right up and spits on his asshole before bending down and tongue fucking his ass. Adam screams his appreciation as Justin's tongue goes to work and lubes up that hole with spit.
   Justin drives Adam crazy with a very length rim job then pulls down his pants and slides his rock hard cock into Adam's ass without apology. This dude wanted to get fucked and that's just what he's going to get! Adam moans loudly as his ass gets used to Justin's enormous cock and before you know it the two are grunting and grinding in perfect harmony as the fucking picks up steam.
   Justin pushes Adam back on the bed and climbs aboard for some rough pounding. Grabbing Adam by the neck and his rails that ass for all he's worth. Adam's rock hard cock cannot lie and it's clear that he's into being used as a fuck hole. Is he ever!
   Justin pulls out and turns Adam around so he can suck on that dick a little. Turns out this top is an amazing cock slut himself and he slobbers all over that pole. A tender moment that makes the rough sex seem even hotter. Adam wants his turn so he turns Justin around and dives on that massive cock. Swallowing the length of the shaft all the way to the balls while Justin looks on helplessly. Enjoying every moment of a world class blowjob. Damn!
   They move to the edge of the bed and Adam sits back down on Justin's cock as the two rock back and forth in a beautiful fucking motion. Justin picks up the pace and drives the full length of his cock in and out of Adam's ass. The two notice the mirror over the dresser and spend some time admiring themselves as the fuck their brains out on the bed. This is pure electric sexual energy as two horny guys get off on each other in real time.
   The stand up and move closer to that mirror as Justin continues to fuck Adam from behind. Drilling his cock into his asshole with pure animal passion. This does the trick and Adam grabs his cock for a couple strokes before blasting a huge load of cum all over the dresser.
   He's still panting with delight as Justin turns him around and delivers his own load all over Adam's furry belly. They groan in unison as Adam smears that mess around and enjoys the feeling of his buddy's jizz.
   They collapse in a passionate heap of sweat and kisses as the fantasy becomes reality and these two are done. Fucking hell, that's a hot scene!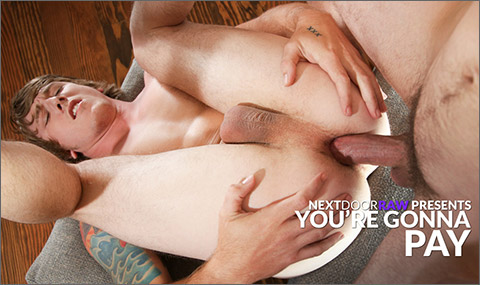 YOU'RE GONNA PAY
River Elliott thought he and Tom Faulk had a deal, but things aren't quite working out. Here to collect his money while Tom tries to back out, River's determined to make good on the debt one way or another. So when Tom tells River to go fuck himself, River laughs. 'Funny you would put it like that,' he says, shoving Tom down onto his couch as he pulls his cock out. Tom seems confused about all of it until River slaps him across the face a few times with his dick, and then Tom starts to understand. Before he can protest, River has his cock shoved halfway down Tom's throat, fucking his face as Tom realizes he should have just paid up. Too late. River has Tom turned over and he's wetting Tom's asshole for his meat-stick, grabbing Tom by his jock as he shoves his raw cock inside, punishing Tom with his rock hard dick as he pounds him from behind. Tom relents and decides to just go with it as River raw dogs him even harder, pile driving him on the floor as Tom strokes himself off. Tom loses his load all down his chest as River pulls out and blasts Tom with his jizz, slapping his cum-drenched hole with his cock as Tom wonders if there's any way for the two of them to do some more business in the future.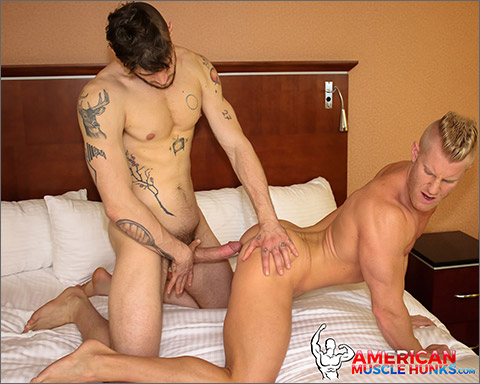 RIVER ELLIOTT FUCKS JOHNNY V
Ex-military hunk River Elliott destroys Johnny V's tight muscle ass in this week's hot AMH release. River is a rough, dirty top that gives his boy no sympathy as he devours Johnny's hole. Forcing his head down and fish-hooking Johnny, River pounds him from behind as Johnny moans and let's him take over. Then, River forces his huge cock down Johnny's throat and spits in his face in order to remind Johnny of his place and how he should behave. River finishes Johnny off with some serious military position fucking while he bites his toe and forces Johnny to blow his huge load before River feeds Johnny his hot jizz.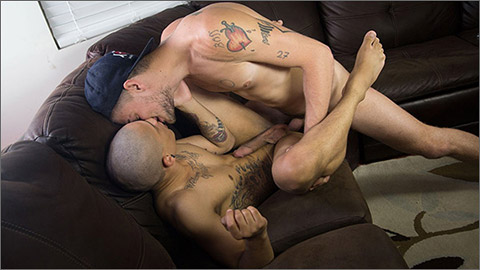 RIVER WEST UNLOADS IN ELLIOTT BLUE
I wanted to give you guys a straight-to-the-point, hot fucking video, and these two were perfect for that. River recently came to me emphasizing his love for fucking and taking control while doing it. He being 6'3″, I knew little Elliott would love getting manhandled and fucked like crazy by him. Elliott sucked and spit on River's cock until it was lubed up enough… then he sat on it balls deep. They fucked nonstop until River blew his load all over and into Elliott, then kept fucking until Elliott did the same. So fucking hot!
NAKEDSWORD
COCKYBOYS
NEXT DOOR RAW
AMERICAN MUSCLE HUNKS
GUYS IN SWEATPANTS
VIDEO ON-DEMAND: Justin Brody @ AEBN SMUTJUNKIES THEATER
DVDs & ON-DEMAND: Justin Brody @ TLA VIDEO
[Total: 159 Average: 3.3]