American Military Active Duty Amateur, Ricky Stance
Years Active: 2016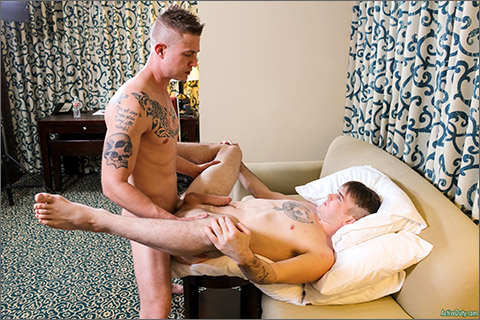 MICHAEL MOLOTOV FUCKS RICKY STANCE
Ricky is back and this is only his second time sucking cock but Michael is amazed just how great his skills are. Ricky is a quick learner and enjoys being broken in by one of our special team vets. Ricky did so well the first time around that we wanted to see him get fucked by Michael's sexy cock.Michael wasn't quite ready for Ricky's big fat cock but I'm sure soon enough we will get to see that sexy beast deep inside a tight ass just like when Ricky fucked Allen Lucas. Finally they relax back on to the couch where they both sit next to each other stroking their beautiful dicks. First to pop is Michael and he just unleashes that built up load all over himself. Ricky on the other hand gets down on his knees and finishes off with a nice blast all over the carpet.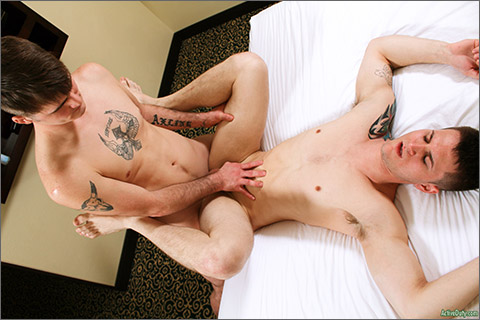 RICKY STANCE & ALLEN LUCAS FLIP-FUCK
Ricky watches Allen just like any good soldier that needs to follow in line. Allen takes the lead as Ricky follows and eventually takes charge as the two become more and more comfortable with each other. Allen is one of our Veterans who loves the new recruits. He goes way back but one of the best scenes we have with him is with Jerry Price. Jerry just like Ricky had never been with another man until we hooked him up with Allen and boy ohh boy did Jerry enjoy himself, just look at his face and you will see what I mean.These two almost look like twins with the same military style haircut. Ricky is only 25 but his big dick is probably one of the best cocks I've seen in a while. Its extremely thick and veiny,really gorgeous and any man would be lucky to have it in his mouth. Allen is a champ and takes that big dick up his ass like the Vet he is.You have to give it to Ricky for the great performance he just pulled off with Allen, what an amazing duo with no dull moments, only pure excitement and both were vocal on how much they loved the dick inside their asses.Finally Ricky goes solo beating his fat dick until it can't take it anymore and he cums all over himself.