Corbin Fisher Amateur College Men American Gay Porn Star, Quinn
By now, we all know Quinn's quite the horny guy and that he loves to get fucked. Just watch him here with Connor, though – his dick is so hard throughout the entire episode, I could not help but wonder if it was painful for him to have that cock straining and on the edge of orgasm so long. Of course, that would assume he could even feel anything in his cock at all – I suspect he was totally focused on how Connor's big dick was making his hole feel.
   Connor's a complete and total stud and can fuck like a champ. When he knows he has an insatiable bottom on his hands, though, he manages to step it up even more – he has the green light to fuck hard, deep, and fast, and takes full advantage of that!
AGE: 24
WAIST: 31
EYES: Hazel
HEIGHT: 5′ 11″
WEIGHT: 156 lbs:
HAIR: Brown
BUILD: Swimmer
COCK: 6.0″ Cut
SHOE: 10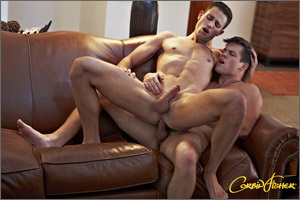 QUINN FUCKS ELLIS
TAHOE: KELLAN FILLS UP QUINN
WILLIAM FILLS UP QUINN
CORBIN FISHER'S AMATEUR COLLEGE MEN