Chaos Men Amateur Lean Muscle American Gay Porn Star, Palmer
Known Aliases: Logan B (Next Door Studios)
Years Active: 2014 – 2015
ChaosMen Start Age: 25
ChaosMen Debut: June 2, 2014
Height: 5'7″
Weight: 160 lbs
Cock: 6.5″ cut
With his high-n-tight haircut and aggressive tattoo action, Palmer gets asked all the time if he is a Marine or military. Instead, he is bright and social type of guy, who is super easy talk with. He is a guy who seems like has plan for life and is goal-oriented. Despite his aggressive looks, pretty sure there is not a mean bone in his body…besides his super thick mean bone!
   Befitting his amazing body, he is a personal trainer, and clearly spends a lot of time working on his own physique. He finds a lot of satisfaction in helping others to train and eat properly. He looks like he has never eaten a potato chip in his life as his body fat must be about 3%! Very enviable!
   He has a girlfriend that seems like a keeper. She sounds equally secure, and gave a big thumbs-up to him coming to do guy-on-guy work. Seems like it a new relationship, but you can always tell by talking to these guys they are in for the long-haul with their sweethearts.
   I did book Palmer pretty quickly, so we didn't have much time to wait for his pubes to grow out. He was shaved bald, so we did manage to to get a little pube action. I did tell him to stop shaving his pits too. Not sure why some guys do that, but I am sure there are a lot more lovers of musky pits, then the shaved and soapy smelling kind! We can all watch it grow back together!
   His solo is amazing! Totally into showing-off in a confident, yet not too cocky way. Palmer is not shy about showing-off his ass, and over all, he seems down for doing full-interactive.
   He will be back next week for a massage, and he is already on the schedule to fuck a guy at the time of writing this summary.
   For today though, enjoy this awesome jerk-off session!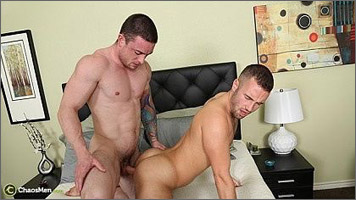 RAW: NOAH RILEY & PALMER
Noah has been doing a lot of Serviced videos, so it was time for him get his bubble-butt back into action! I asked him if he would be down to play with Palmer to which I got an eager, "Yes!"
   Palmer has been great as a Top, so I have been steering him towards just topping. He will bottom of course, but to me, he is just is taking it. Whereas when he is Topping, he is really loving it. After this shoot, Palmer claimed this was the easiest and most fun video he had shot. He really liked Noah, and him being gay made it easier for him. Score one for the pink team!
   CLICK HERE TO GO TO CHAOSMEN BIO PAGE ON THIS PERFORMER