American Gay Porn Star, Nick Capra
Years Active: 2002 – 2016
TWITTER @nickcapra
Height: 6′ 2″
Weight: 195 lbs
Dick Size: 9″
Position: Versatile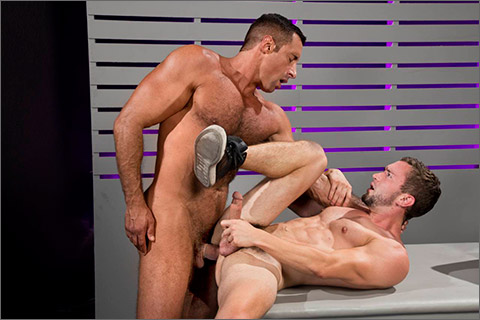 BACKSTAGE PASS: Nick Capra fucks Colt Rivers
Nick Capra and Colt Rivers sneak away backstage for some hole-gaping fun. Athletic Colt can't wait to taste Nick's tasty 9′ cock, so he yanks Nick's shorts to his ankles. Nick tells Colt, 'get it really wet; wax it.' Nick has a broad chest, covered in fur, and he's nearly twice the size of Colt. His nonstop barrage of nasty encouragement keeps Colt grinning and choking himself as he sucks harder. Satisfied with Colt's effort to please, Nick sends Colt up a ladder until his ass is level with Nick's mouth. Colt's balls swing and hang low as he thrusts his bubble butt out to meet Nick's eagerly awaiting tongue. Nick loosens Colt's hole as he swirls his tongue around Colt's tight center, then loosens him a bit more with his finger. Colt shivers with ecstasy and collapses onto Nick's waiting cock, grinning as it stretches him. He bounces himself repeatedly onto Nick's fat rod, each pump going deeper. Colt's glutes spread wider when Nick penetrates him all the way down to his base. Nick hoists Colt up and fucks him harder and faster, as their skin glistens with sweat. Nick takes Colt to the edge of anal endurance, and at the moment of orgasm discharges a huge load in his mouth, then kneels to gobble up Colt's spunk and take one last taste of his hole.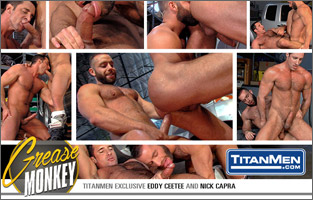 GREASE MONKEY: Eddy Ceetee with Nick Capra
Perched under a pickup truck in his shop, mechanic Nick Capra grabs his own bulge…getting the attention of beefy Eddy Ceetee, who bends down to start rubbing the stud's crotch. "You look like you like that," he says, Nick's initial apprehension quickly turning to curiosity ("Maybe I do…"). Eddy unclips the hunk's overalls and rubs his hairy muscle chest, then takes out Nick's big dick and strokes it. He soon has the thick shaft in his mouth, Nick getting more verbal with each slurp: "Wrap those lips around it! Wax that fat cock!" Nick sucks back, his own cock throbbing as he plants his noise in Eddy's pubes. "Take the whole thing…all the way!" instructs Eddy as Nick gulps it up. The two kiss, their cocks grinding together, before Nick bends over the hood to get his ass eaten ("Open up that hole!"). Eddy fucks him from behind, yelling "Back up on it!" as Nick moans. "Put it back in!" yells Nick as Eddy slides out. "Fuck! You're making my dick drip!" Eddy's pecs shake as he fucks hard and fast, Nick then sitting down on him—his own boner bobbing as Eddy grips his waist. On his back, Nick gets slammed some more before the two squirt on him.
TITAN MEDIA
FALCON STUDIOS
RAGING STALLION
ICONMALE
JAKE CRUISE'S COCK SURE MEN