American Gay Porn Star, Nick Capra
Years Active: 2002 – 2019
Height: 6′ 2″
Weight: 195 lbs
Dick Size: 9″
Position: Versatile
Produced by: Mr. Hankey
Year Produced: 2019
MR. HANKEY'S TOYS: NICK CAPRA REALISTIC LIFE CAST DILDO
Whoever said "ain't nothing like the real thing" never met our supersized lifecasted Nick Capra dildo! Sculpted from a lifecast Nick Capra himself (@nickcapra) we're especially proud of this cast. We've managed to recreate Capra's phallus down to the last detail, and if having the genuine article pounding your guts was not enough, we've resized him all up to our towering XXXL! Choose from the original Nick Capra replica dildo all the way up to our XXXL version, and get ready to feel all those dirty details in staggeringly large proportions.
So don't be shy, gorge yourself on Nick Capra in the comfort of your own home, in whatever size you can handle. Find your new limits today.
Specifications:
NICK CAPRA – ORIGINAL
Circumference near head (rim): 5.90″
Circumference at center: 7.20″
Circumference near base: 7.15″
Overall length: 8.50″
Insertable length: 6.70″
Texture: Smooth/Realistic with veins
Strapon Ring Size: NA"
NICK CAPRA – MEDIUM
Circumference near head (rim): 7.10″
Circumference at center: 8.65″
Circumference near base: 8.75″
Overall length: 10.25″
Insertable length: 8.00″
Texture: Smooth/Realistic with veins
Strapon Ring Size: 2.50″
NICK CAPRA – LG/XL
Circumference near head (rim): 8.75″
Circumference at center: 10.95″
Circumference near base: 10.75″
Overall length: 12.25″
Insertable length: 10.00″
Texture: Smooth/Realistic with veins
Strapon Ring Size: 3.00″
NICK CAPRA – XXXL
Circumference near head (rim): 10.10″
Circumference at center: 12.50″
Circumference near base: 12.60″
Overall length: 14.25″
Insertable length: 11.50″
Texture: Smooth/Realistic with veins
Strapon Ring Size: NA
Hankey's Toys offers the internet's finest sex toys and dildos, and we've got the goods to prove it. From extra small to giant dildos, realistic or fantastic, you're bound to find something new to reinvigorate your sex life with. Thrill your partner in mind-blowing ways with realistic dildos or explore the truly exotic. Mr.Hankey has the goods in a wide range of sizes to pleasure all bodies.
GO TO: MR. HANKEY – BEST SEX TOYS IN THE WORLD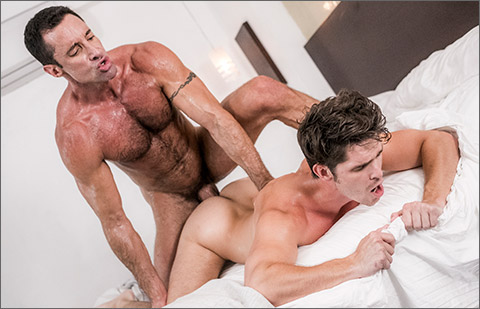 DADDY'S PLAY THING: Devin Franco Takes Nick Capra's Daddy Dick
Devin Franco always jumps at the chance to climb into bed with a hot daddy; Devin is upfront about loving the feeling of when a mature top man fills his ass with a throbbing hard cock. This past summer Devin hooked up with Tomas Brand, the King of All Muscle Daddies, and had an awesome time in the sack with him. Devin's next daddy conquest is Nick Capra, who gives Devin a massage before he starts sucking on his bottom boy's cock and licking his asshole. Devin Franco can really taking a pounding, and if you check out 21:40, Nick gets Devin on his back and shows him just how strong a muscle daddy he is!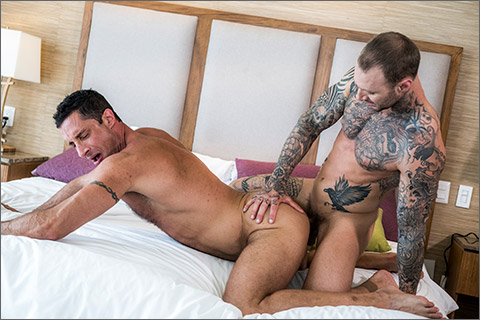 BAREBACK AUDITIONS 10 – RAW DOGGED: Dylan James Fucks Muscle Daddy Nick Capra
Dylan James enjoys playing a daddy when he's fucking a needy little bottom, but in the third scene of "Bareback Auditions 10: Raw-Dogged," he's the boy in the scene. And he is fucking Nick Capra, who could very much be Dylan's daddy! Nick loves taking and throwing around a boy for his own pleasure, but for the right guy he will give it up and take dick down his throat and up his ass, and that's exactly what he does for Dylan James' legendary cock!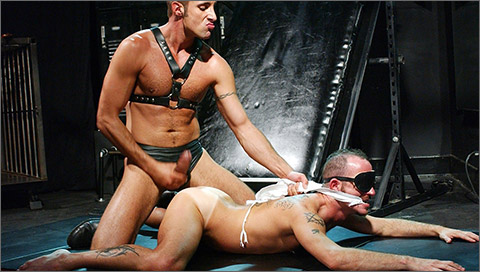 TWISTED: Nick Capra fucks and dildo-fucks Joey O'Bryan
The filth opens with Joey O'Bryan blindfolded, caged, and awaiting orders from tough guy Nick Capra. Capra unlocks the cage and grabs O'Bryan who tries to escape; but Nick throws him down on his belly and rips off his t-shirt and underwear to expose his lily-white round bubble butt. Capra grabs him by the throat and tells him that the only words he wants to hear out of his mouth is "Yes, Sir!" Then he proceeds to invade Joey's open mouth with his horse hung prick. Capra sucks his hole inside out in a rim chair, getting O'Bryan's manhole moist and ready for a full assault. Joey straddles atop Nick and rides him in a reverse cowboy before mounting a giant dildo for some deep tissue massage. After some deep probing, Joey blows his load. Then, in one of the best cumshots of the year, Capra stands up and shoots gob after gob of thick cum all over O'Bryan's grateful face.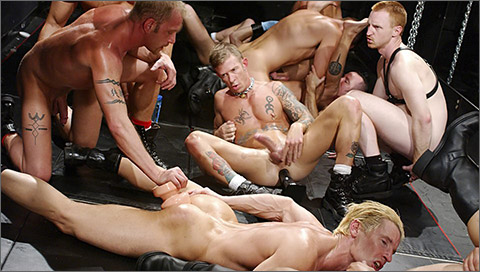 TWISTED: Entire Cast fucks, fists and dildo fucks: TOPS: Nick Capra, Rod Barry, Jordan West BOTTOMS: Billy Cochran (DP), Tim Rusty, Joey O'Bryan (DP), Nick Savage TOP/BOTTOM: Rik Jammer, Chris Neal
Twisted ends with an unbelievable, powerpacked 10 man orgy in scene 5, the kind of sex party we all dream of being in the middle of. The scene reeks of Crisco, sweat, and manjuice as the studs pile on top of each other and begin their midnight revel. There's plenty of big-dicked bossy tops to take charge of the action, loads of ungodly sized toys to tame the hungry holes, and two cameras that roam the party keeping you in the thick of the action every second of the way. The party revs into high gear as the men descend on Hot House Exclusive Kent North and gangbang his party hole with their fists. North earns a spot in the history books with an unrivaled performance here as the filthiest marathon handballer ever!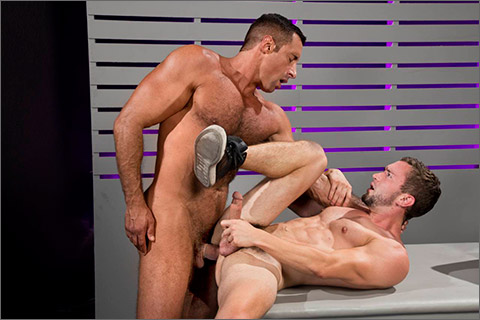 BACKSTAGE PASS: Nick Capra fucks Colt Rivers
Nick Capra and Colt Rivers sneak away backstage for some hole-gaping fun. Athletic Colt can't wait to taste Nick's tasty 9′ cock, so he yanks Nick's shorts to his ankles. Nick tells Colt, 'get it really wet; wax it.' Nick has a broad chest, covered in fur, and he's nearly twice the size of Colt. His nonstop barrage of nasty encouragement keeps Colt grinning and choking himself as he sucks harder. Satisfied with Colt's effort to please, Nick sends Colt up a ladder until his ass is level with Nick's mouth. Colt's balls swing and hang low as he thrusts his bubble butt out to meet Nick's eagerly awaiting tongue. Nick loosens Colt's hole as he swirls his tongue around Colt's tight center, then loosens him a bit more with his finger. Colt shivers with ecstasy and collapses onto Nick's waiting cock, grinning as it stretches him. He bounces himself repeatedly onto Nick's fat rod, each pump going deeper. Colt's glutes spread wider when Nick penetrates him all the way down to his base. Nick hoists Colt up and fucks him harder and faster, as their skin glistens with sweat. Nick takes Colt to the edge of anal endurance, and at the moment of orgasm discharges a huge load in his mouth, then kneels to gobble up Colt's spunk and take one last taste of his hole.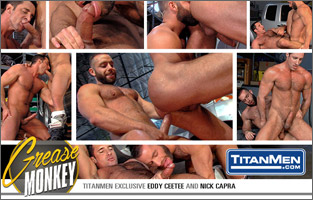 GREASE MONKEY: Eddy Ceetee with Nick Capra
Perched under a pickup truck in his shop, mechanic Nick Capra grabs his own bulge…getting the attention of beefy Eddy Ceetee, who bends down to start rubbing the stud's crotch. "You look like you like that," he says, Nick's initial apprehension quickly turning to curiosity ("Maybe I do…"). Eddy unclips the hunk's overalls and rubs his hairy muscle chest, then takes out Nick's big dick and strokes it. He soon has the thick shaft in his mouth, Nick getting more verbal with each slurp: "Wrap those lips around it! Wax that fat cock!" Nick sucks back, his own cock throbbing as he plants his noise in Eddy's pubes. "Take the whole thing…all the way!" instructs Eddy as Nick gulps it up. The two kiss, their cocks grinding together, before Nick bends over the hood to get his ass eaten ("Open up that hole!"). Eddy fucks him from behind, yelling "Back up on it!" as Nick moans. "Put it back in!" yells Nick as Eddy slides out. "Fuck! You're making my dick drip!" Eddy's pecs shake as he fucks hard and fast, Nick then sitting down on him—his own boner bobbing as Eddy grips his waist. On his back, Nick gets slammed some more before the two squirt on him.
CLICK HERE TO GO TO HIS LUCAS ENTERTAINMENT DETAILS
VIDEO ON-DEMAND: Nick Capra @ AEBN SMUTJUNKIES THEATER
DVDs & ON-DEMAND: Nick Capra @ TLA VIDEO