Handsome William Higgins Czech Gay Porn Star, Milan Manek
Known Aliases / aka:
Years Active: 2015 – 2016
WILLIAM HIGGINS INFO:
Milan Manek is a 22 year old straight guy. He works as a driver and enjoys sports, tennis and fitness. He looks very good indeed, as he lifts his sweater to show off a sexy body. Removing the sweater he poses to let us enjoy that nicely defined chest. Then Milan turns, with his underwear pushed down, to reveal a beautifully rounded ass. Turning once more he poses in his underwear and sits on a footstool a hand resting on his groin. Then he removes the underwear and we see his soft cock, resting on his balls. Soon Milan's cock is very hard indeed, pointing skywards. We see him posing with the cock hard both standing and sitting and then leaning back. He lifts his legs in the air, with that stiff dick trapped between his thick thighs and his hot ass shown so nicely. Reaching back he spreads the ass cheeks to expose his hot, tight hole. Milan ends a lovely shoot with more sexy poses to show off that lovely ass.
Model Name: Milan Manek
Age: 22
Home Town: Volyne
Height: 178cm/5'10"
Weight: 82kg/180.4lb
Foot Size: EU43/US8.7/UK8.2
Penis Size: 17cm/6.69″
Profession/Student of: Driver
Hobbies: Sport
Favorite Sports: Tennis
Active Sports: Fitness
Movie/Music/Sport Stars: Juraj Kukura
Visited Coutries: Croatia
Want to Visit Coutries: France
Dream of My Life: I don't know.
Zodiac Sign: Aquarius (January 20 – February 18)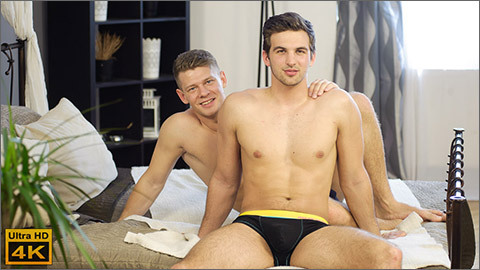 TOY TRAINING: MILAN MANEK
Milan Manek is one very handsome and sexy guy. After we did a massage with him, where he felt something in his hot hole for the very first time, we decided to stretch him further in the lead up to full sex in the future. So we paired him with Rosta Benecky for his toy training. Milan looks so good as he kneels on the bed, wearing just his underwear. He is soon joined by Rosta, who kneels behind him and reaches round to rub Milan's sexy chest. Millan reaches back, rubbing Rosta's legs and then gropes himself. Rosta's hands keep exploring Milan's sexy body as he lays on the bend. Oil is smeared over Milan's chest and then his underwear is removed with oil being dripped all around his cock and balls. Rosta's hands work to rub that oil into Milan's thick thighs. Then the hands start to rub the cock and balls too. Soon Milan's dick is nice and hard from Rosta's wanking. He lifts a leg to exppose his tight hole and Rosta starts to finger it as he keeps wanking on the cock. He fingers Milan's tight hole and then shoves a vibrator deep inside, still wanking on the stiff cock. Milan takes the vibrator so well. Soon it is time to stretch that hole further and a thicker toy slides deep inside. It really opens Milan's hot hole as it goes in. Still his cock stays so hard as Rosta works the dildo into his tight ass. With the dildo deep in Milan's ass Rosta cant resist, he leans over and starts sucking on that throbbing cock. Milan loves how the mouth feels on his dick and keeps on rubbing his body. Then Rosta kneels and pulls out his massive,cock and rubs it against Milans. He grabs Milan's cock again and wanks it, whilst fingering the hole some more. Then Rosta bends forward to suck that cock some more, whith is finger deep in Milan's well stretched ass. He wanks Milan's cock hard and fast, until it releases the hot cum, squirting it all over the place. Rosta milks the cock and then sucks it again to ensure all the cum is out. He then takes hold of his own, massive, cock and wanks it to shoot his cum over Milan's resting body. After a hot toy training he takes Milan off to the shower to clean up.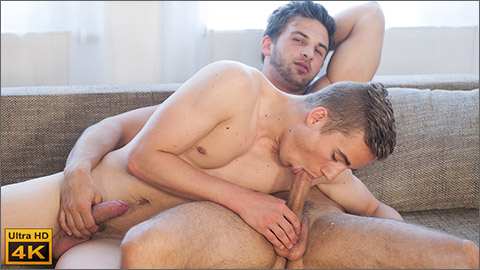 FULL CONTACT: MILAN MANEK & BENED FAUST – SCREEN TEST
Milan Manek is up for a screentest with Bened Faust. We find them on the sofa will Milan sitting between Bened's legs. Bened's hands are feeling over Milan's body and his lips caress his neck. Milan pulls off his tee shirt to expose his sexy chest as Bened's hands run over it. Milan turns his head and they kiss. Then Milan lays back on the sofa and Bened opens and pulls down his shorts for him. He takes hold of Milan's cock and starts to suck it. The cock quickly hardens in Bened's mouth as his head bobs up and down. Then Bened gets naked too as Milan wanks himself. Bened goes back down on Milan's cock and Milan reaches round to wank him. Bened's dick is rock hard too as it is being wanked. Having sucked on Milan's dick Bened then presents his ass that the hard cock to slide in. Milan gets behind him and his cock goes into the waiting hole. He fucks it slowly, with long strokes. Then, moaning as he fucks, he speeds up. Bened turns onto his back with his legs in the air and Milan slides his cock back into the eager hole He fucks it deep as Bened grabs his own cock and wanks it. Bened wanks fast and moans as his cock shoots a big, creamy, load all over his left thigh. Milan continues to fuck that sexy ass, speeding up as he works the hot hole. Then he pulls out and wanks him dick, shooting his hot cum over Bened's still hard dick. Milan leans forward and kisses Bened before taking him off to the shower to clean up.
WILLIAM HIGGINS
STR8HELL
BADPUPPY
CLICK HERE TO GO TO HIS WILLIAM HIGGINS BIO PAGE