Sexy Puerto Rican Gay Porn Star, Max Gianni
Years Active: 2015 – 2016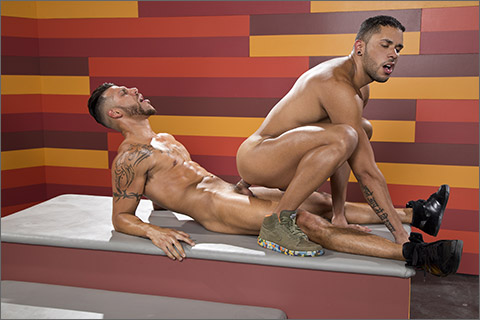 HOT AS FUCK: FX Rios fucks Max Gianni
Max Gianni's muscular thighs are defined in all the right places. He enters the room naked, shadowed by FX Rios, who can't keep his hands off Max's smooth ass. They face each other and kiss. FX sits on a box and his ripped abs throw shadows as he watches Max inhale his cock with total commitment. Max's lips tug FX's foreskin taut, so you can see the veins. The combination of Max's tongue, lips and hand stimulates every part of FX's cock and balls. But, FX keeps his eye on the prize: Max's bubble butt. He can't wait to touch it, taste it and fill it. Max can't wait to feel FX's pole inside him, and he takes every inch. Twisting his nipple ring, Max grabs his cock and squirts parallel streams of cum across his smooth torso. FX's does the same, coating Max's face, chest and neck with semen and feeding him the last drop.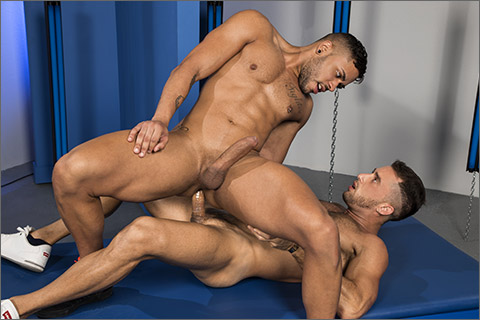 I'D HIT THAT: Armando De Armas fucks Max Gianni
Completely naked, fiery stud Armando De Armas and stunning Max Gianni kiss deeply. The connection is real, and their desires clear. Plump buns, pumped pecs and taut muscles fill the screen. Armando's arms wrap completely around Max, his hands squeezing his inviting ass, his fingers teasing the hole. The fur on Armando's chiseled torso is a forest in which Max's hands get lost while he sucks Armando's uncut cock and nibbles on his foreskin. Armando's hands continue their exploration of Max's bubble-butt, adding lots of spit to ease the entry of his fingers into his hot hole. Armando's tongue comes next, and they both use their hands to spread Max's ass for a deep basting. Armando's cock is so hard, it glides into Max's eager crack with ease. Switching positions, a sideways sit-fuck brings them to the point of no return. Throbbing cocks spurt a generous helping of cum, leaving behind a sticky and satisfying pool.