Big Beefcake Bareback Gay Porn Star, Matthieu Angel
Years Active: 2015 – 2019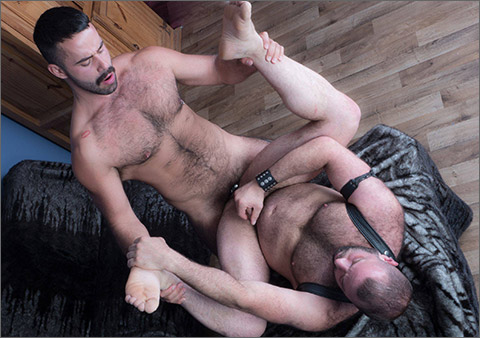 TEDDY TORRES FUCKS MATTHIEU ANGEL
Fans of Teddy Torres already know he's a complete oinker of a sex pig. And that's exactly how we like our men…complete and total sex pig whores. Good looking, hairy and hung as fuck, tattooed Teddy gets down to business with big and beefy Matthieu Angel. Both take turns slobbering on each other, sucking cock, but it soon turns into a primal session of who can fuck throat deeper. And as if that weren't enough, the bareback fuckers go wild, with Teddy slamming that big fat slab of uncut meat balls deep inside Matthieu, who repeatedly cries out "Oui! Oui!" The muscle hunk is eventually rewarded with a humongous load. Now this is what we call nasty fucking…bareback sex as it should be. No limits. No apologies. Just men doing what men do best. Ohhh, oui!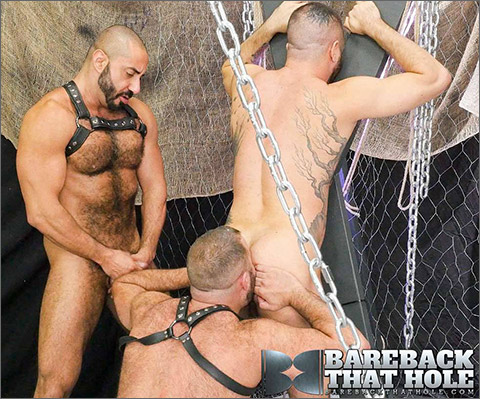 AMIR BADRI, MARCUS ISAACS AND MATTHIEU ANGEL
When you get these three hot guys, Amir, Marcus and Matthieu, in a scene together you can expect nothing less than fireworks. Amir and Marcus begin and Matthieu quickly adds in. Soon cocks and hot holes are dripping with spit getting their bodies ready for hot fun. Then it's time to pull out the toys! Major cock sucking and ass play is just the warm up to part 2 of this session. Enjoy!
   Last we left we were deep into ass play. Now we are just deep in ass. Amir slurps up Matthieu's thick cock while Marcus sits in the sling waiting his turn for some raw dick. But not before Amir turns over and gets drilled first! I love watching these boyfriends fuck. Always a pleasure. Now back to Marcus who's ass is ready for whatever Amir is giving him. I love seeing Amir fuck. He is usually a bottom, but even a bottom can't resist Marcus' sweet hole. It isn't long before Amir shoots his load all over it and then uses the dildo to push it in deeper. What a conclusion to a production weekend!
CLICK HERE TO GO TO HIS BAREBACK THAT HOLE DETAILS