William Higgins Hung Czech Solo Performer, Matej Borzik
Known Aliases: Ryan Torres, Mates
Years Active: 2015
WILLIAM HIGGINS INFO:
Matej Borzik is from Dvur Kralove and he is aged 20. He is unemployed and enjoys sports, athletics and soccer. He is a good looking straight guy who does a very nice interview, in English, at the start. Then Matej leans back on the sofa and starts to feel his boyd. He lifts his sweater as he runs his hands over his chest. Then he takes off the sweater, showing his slim body. His hands slide over the smooth chest and down to his groin. He gropes himself through his jeans, as the camera films him from above. As a hand rubs over his left leg it moves to the foot and removes the sock from it. Then he repeats the process with the right leg and foot. Matej rubs the foot some and then opens his jeans and slips his hands inside. Soon he pulls out his stiff cock, wanking it. Scooting round with his legs up on the sofa Matej takes off the jeans, to be completely naked as he lays back and wanks on his beautiful cock. Then he turns over, onto his knees, and presents his hot ass to the camera. Matej's hands reach for his ass cheeks and pulls them wide apart, opening up his hot hole. That ass is shown perfectly as Matej's cock and balls dangle between his legs. Turning over, onto his back, with his legs in the air, Matej's ass is spread so well and he has a toy ready for his ass. He slides it into his hole, fucking it in and out. Then a bigger toy replaces it, opening that hole so well. It fucks in nice and deep, stretching the hole nice and wide. With the dildo deep inside his ass he wanks on his throbbing cock and shoots his creamy cum , with his balls so tight up against his shaft. Milking the cock of his cum he fucks his hole some more and then goes off to the shower to clean up, after a great shoot.
Age: 20
Home Town: Dvur Kralove
Height: 185cm/6'0″
Weight: 68kg/149.6lb
Foot Size: EU45/US9.1/UK8.6
Penis Size: 18cm/7.09″
Profession/Student of: Unemployed
Hobbies: Sport
Favorite Sports: Athletics
Active Sports: Soccer
Movie/Music/Sport Stars: Brad Pitt
Visited Coutries: Greece
Want to Visit Coutries: Australia
Dream of My Life: I don't know.
Zodiac Sign: Aries (March 21 – April 19)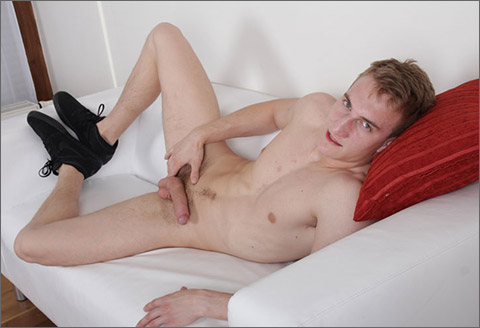 RYAN TORRES – BLONDE HAIR/BLUE EYED LEAN MUSCLE JERKS OFF FOR YOU
Ryan Torres, newcummer to ManAvenue, gets naked and jerks off his uncut cock just for you in this hot update.
   Ryan leans back on the sofa, hard cock poking out of his gym shorts as he begins to slowly tease and tantalize your fantasy. Pulling and tugging, his dick is ready to show off and spew it's man juice.
   He strips allowing the cameras to get full access to his lean hard body and walks around with his dick fully erect. Ryan really know what we like and does his best to turn us on. He even pokes and probes around his tight pink ass hole to sweeten the pot.
   Stroking his hard cock to a frenzy, Ryan moans in excitement before blowing his load of sticky jizz on his abs. Standing, cum still dripping from his cock, Ryan bids us farewell…for now.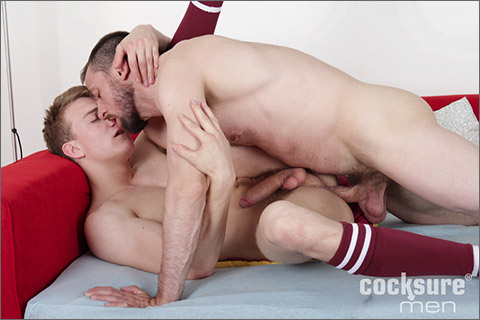 STAN SIMONS BAREBACKS RYAN TORRES
Muscle stud Stan Simons and sexy blond Ryan Torres make out on the couch wearing their uniforms after playing soccer. They are really hot for each other. They take their shirts off before they both lick and suck each others nipples. Ryan gets on his feet making sure Stan gets a mouthful of his massive cock, while Stan jerks his pole. Stan lays down while Ryan follows by slurping his cock. Ryan lays on his back with his legs in the air. Stan sucks his cock and plays with his hole, getting ready to be plowed. Stan mounts the young stud and firmly pounds his hungry hole bareback doggy-style. After Stan pounds Ryan's raw ass, he lays down and Ryan hops on the huge pole bareback while Stan jerks his cock. Ryan readjusts his legs and keeps riding the raw cock, making him moan with delight. After the joyride he sucks the muscle stud's cock. They get into the missionary position and fuck bareback, thrusting his rock hard raw cock into Ryan's ass. Stan hits the right spot and Ryan squirts cum from his throbbing member. Stan pulls out and jerks his cock until he shoots his load on Ryan's torso. They passionately kiss one last time.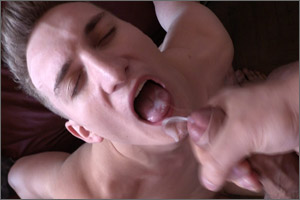 DEBT DANDY 070
The lowest debt ever. This young fella needs only 11,000. Sportive and sexy hunk, will definitely go for my dirty offer. I was a bit worried, cause he owes only to his mum and two friends, no bank or other institutions are involved. After the usual chat I've presented my offer. He said no, straight away. So I slowly started to raise the bid. 1,000 by 1,000. Once I got to 15,000 and he said no again. 35,000 crowns was the highest offer I could give to him. As soon as he saw that much money, I've seen the Jackpot sign in his eyes. He literally said " That's an offer I simply can't refuse.". That was the sentence I was waiting for. Soon after that, I've had him stripped off, naked and waiting for my orders. Was again great fun to fuck another arrogant straight guy.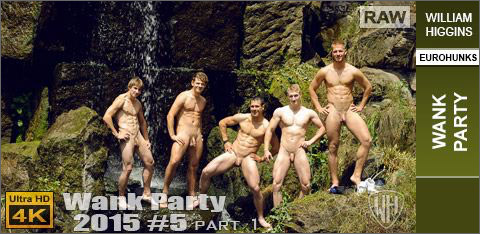 WANK PARTY 2015 RAW #5
WANK PARTY 2015 #5 features Rosta Benecky, Matej Valej, Lorenc Byro Matej Norzik and Dave Cargo. In this first part we find the guys out in the park having a great time. Lorenc and Dave are showing off with their acrobatic tricks, with Dave doing several somersaults. Then they run off, climbing down the hill to the waterfall, where Lorenc strips off and goes under the ice cold water. He has a great body and looks wonderful as the water cascades over him. As they play Matej, Robin and Rosta walk up and watch them. Then they walk closer and start chatting. They invite Lorence and Dave to join them at their place. Once inside Robin starts to show them how he uses the dumbells. Dave then takes a turn on them too. Meanwhile Matej uses other weights before letting Lorenc take a turn. Robin then sits and demonstrate more exercises with the dumbells, as Lorenc leans over to feel his muscles. He then sits on the bench to use the weights as Dave uses the other set. Next it is Matej's turn to show off his prowess before Dave takes another turn. Lorenc then goes again, this time the others stand around him and start to feel his chest.Matej flexes his muscles to show off his hot body, as the guys feel him. Lorence is very proud of his body too and is soon flexing to show off his muscles. Rosta does the same, comparing his legs to Lorenc's. Then Dave is under inspection too. When it is Robin's turn he pushes his shorts down to reveal some ass crack as everyone's hands are all over him. Lorenc leads the way to more, leaning over to kiss Robin's chest. They all examine Robin's legs too. Robin sits on the bench and everyone is all over him, Rosta kisses him , as does Lorenc as the hands grope his shorts. Lorenc licks that hot body and then pulls the shorts down so that he can suck on Robin's cock. He takes the cock all the way into his mouth, sucking it real good. Matej then sucks it too as Dave and Rosta get their own hard dicks out. They are both massively endowed and Robin is quick to start sucking on Rosta. His big dick fucks into Robin's mouth as Lorenc is back to sucking too. Then Robin turns his head and takes Dave's big, fat cock into his mouth. Matej sucks Robins again as Rosta's cock is fucking his face some more. Matej and Lorenc keep taking turns on Robin's cock as he takes turns on the other two. Then Robin stands and gets serviced my the handsome Rosta's hot mouth. Lorenc sucks Daves big cock, deep throating it until he gags. That dick goes all the way down his throat. Rosta also gags on Robin's dick and then swallowes Matej's too. They all move, with Matej on his back with Robin sucking him as Lorenc is laying over Dave sucking his cock and taking turns on Rosta's too. He is expert at sucking the really works those cocks. He places both cocks together and manages to suck both at the same time. Robin keeps working on Matej's dick as Lorenc's mouth works overtime.Rosta rubs a foot over Dave's big, throbbing cock and Lorenc sucks cock and toes at the same time. Rosta's foot rests on Dave's cock so that Lorenc can work on both. Meanwhile Matej is sucking on Robin's rock hard cock too. What a great start to a wonderful wank party, with much more to come in part two.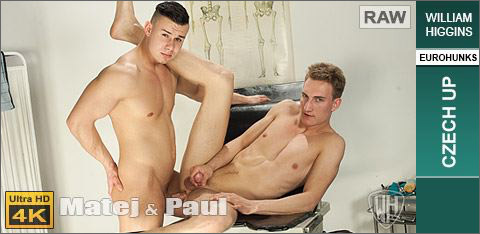 CZECH UP: MATEJ BORZIK & DR PAUL HUNTER
Matej Borzik has come to the doctor's office for a check up. It seems that he couldn't get hard when having sexy with his girlfriend. Dr Paul Hunter decides on a full examination and tells Matej to strip off, which he does, putting on a gown. Then Matej sits on the examination chair so that Paul can begin his work. Matej puts his legs into the stirrups and raises the robe for Paul to start checking him out. As Paul presses his fingers around Matej's groin it seems that there is no pain, but Paul thinks and operation can be avoided with some massage. He takes some oil and starts rubbing around Matej's soft cock. His hands rub over the cock too and soon Paul is pulling on the swelling cock. It grows big and hard under his touch, with the balls tightening. Paul leans over and takes the cock in his mouth. He is an expert sucker and really works the cock well. Paul's cock gets stiff in his pants as he sucks and he moves up so that Matej can suck him for a while. Matej works on that cock, as he wanks his own. Paul then decides that he needs to check Matej's ass as well and has him move onto his knees. He starts to finger Matej's tight hole, as he also wanks him. That hole feels good to Paul and he decides his cock needs to check it out too. So he positions himself behind Matej and slides his throbbing cock deep inside. He fuck Matej's hot ass as Matej moans with each thrust. Matej wanks himself as he takes Paul's throbbing dick. Paul keeps fucking that hot hole, turning Matej over onto his back. Matej wanks himself as Paul pounds his tight hole. As he takes the cock and wanks himself Matej dumps his creamy juice all over his left leg. Paul keeps fucking, going harder and fast before pulling out to shoot his hot load over Matej's balls. He milks his cock to drain it as he leans forward to kiss Matej after a very good fuck.
WILLIAM HIGGINS
JAKE CRUISE'S COCK SURE MEN
DEBT DANDY
GAY WAR GAMES
CLICK HERE TO GO TO HIS WILLIAM HIGGINS BIO PAGE
EROTIC SOLO: MATEJ BORZIK
FULL CONTACT: MATEJ BORZIK & JOHN BLUNT
FULL CONTACT: ANDREJ LAMOS & MATEJ BORZIK – SCREEN TEST
FULL CONTACT: JOHN BLUNT & MATEJ BORZIK – SCREEN TEST
WANK PARTY 2015 RAW #5
WANK PARTY 2015 RAW #4
WANK PARTY 2015 RAW #2
CZECH UP: MATEJ BORZIK & DR PAUL HUNTER
MASSAGE: MATEJ BORZIK
STAN SIMONS BAREBACKS RYAN TORRES