Tattooed American Gay Porn Star, Marxel Rios
Years Active: 2012 – 2015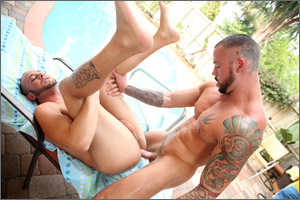 BULGE: TATTOO FUCK FEST: Sean Duran fucks Marxel Rios
A horny Marxel Rios stands hidden in a doorway rubbing his bulge watching tattooed hottie Sean Duran stroking his hard cock. Marxel delivers a slobbery cock sucking with his beautiful mouth then bends over and opens his tight pink hole to Sean's probing tongue. With his hole good and wet, Marxel straddles Sean and takes his cock deep into his ass. Sean flips Marxel on his back and savagely fucks him deep until both men shoot their fat loads.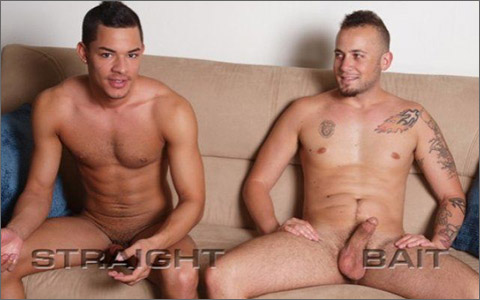 THE TURN OUT
Marxel is back, a hunky half Puerto Rican boy with a fat 7.5 inch cock. We turned Marxel out at Bait Buddies a little more than a year ago when Caruso found him walking with a red gas can after his car ran out of fuel. Instead, Caruso lured him back to the studio with a promise of more than enough cash to fill his can. He's been back twice since and it's turned out that he now pretty much prefers gay sex and loves to bottom. This is his fourth and probably final appearance on camera as he is moving on to explore his real dream, using his four year culinary degree and working as a chef. He's a little more beefy than we've seen him before, but no less sexy and happy to help us turn out our straight guy, Ethan. Ethan is as cute as they come. He's a country boy from the Bayou, he describes himself as a little bit of everything, but mostly Native American and Italian. And what a great combination that genetic background produced. Besides be great looking, he's got perfect proportions, muscles in the right place and a hot 7″ cock. Ethan is in the studio to make some pussy porn, but oh what surprise he has coming. As usual, the porn girl has somehow had a calamity befall her and cannot show up and there are no other girls to fill in for her. Caruso's only option is to have the boys play with each other. When Ethan receives the news it doesn't take him long to make it clear that he's not gay. But, of course that never gets in our way and with a little pressure and explaining that it's no big deal to go gay4pay, Ethan is in. And before Caruso can even get the first direction out, Marxel's hand is sliding up Ethan's thigh and grabbing the boy's hard cock. They move from a mutual cock stroking to blowjobs with Marxel going first, Ethan following with a short stab at it while Marxel is too anxious to get that hottie's cock back in his mouth. There's a little bit of kissing and then they move to the fucking. Ethan shoves his cock into Marxel's butthole just like it was some pussy and starts giving Marxel a good fucking. Marxel then flips on his back and Ethan continues to fuck him until Marxel is moaning like a bitch and spurting a load onto his belly. Ethan pulls out of Marxel's hole and strokes his cock and shoots a massive load that not only covered Marxel's body, but was also dripping off Marxel's cock. This may have been Marxel's last scene, but he certainly made it memorable by causing Ethan to shoot a load that traveled a distance of five fucking feet! How do we know, we measured it. Now that's a fucking "Turn Out" at BaitBuddies.com!
NAKEDSWORD
BAIT BUDDIES
BIG DADDY / OUT IN PUBLIC
PRIDE STUDIOS
CHANNEL 1 RELEASING / RASCAL VIDEO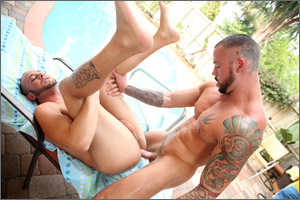 BULGE
   EPISODE 1 – TATTOO FUCK FEST: Sean Duran fucks Marxel Rios
MUSCLE GUY GETS BANGED OUT
STREET TRADE
   and others