Slender Blond William Higgins Czech Gay Porn Star, Lukas Beran
Known Aliases / aka: Casper Ivarsson
Years Active: 2017 – 2018
WILLIAM HIGGINS INFO:
Model Name: Lukas Beran
Age: 18
Home Town: Prague
Height: 180cm/5'10"
Weight: 65kg/143lb
Foot Size: EU44/US8.9/UK8.4
Penis Size: 17cm/6.69″
Profession/Student of: High school
Hobbies: Sport
Favorite Sports: Jogging
Active Sports: Fitness
Movie/Music/Sport Stars: Josef Vojtek
Visited Countries: Croatia
Want to Visit Countries: Italy
Dream of My Life: I do not know.
Zodiac Sign: Capricorn (December 22 – January 19)
BOY FUN INFO:
aka: Honza, Lukas Beran
Nationality: Czech Republic
Date of Birth: 1999
Height: 180 cm / 5'9
Weight: 70 kg / 154 lbs
Dick Size: 7″ uncut
Role: Versitile
Orientation: Bisexual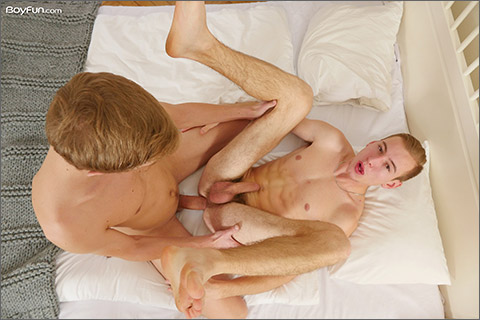 LAZY DAY DESIRE
Is there anything better than having a day to yourself to just be lazy and do nothing? Well, yes, it's much better to have a friend like Bjorn Nykvist to share your down-time with! The tall and sexy young man arrives in Casper Ivarsson's bedroom to wake him up and get him moving, but whatever his plans might have been he's soon enticed into some BoyFun by the sexy twink and his offer of cock delicious young cock. Bjorn gets on that hairy dick and sucks his friend with the kind of hunger we would all express given the chance, slurping the precum out of his friend and working his cock up into a rigid shaft of pink pleasure, but Casper's boner isn't the only one ready for some head. Hung Bjorn has an amazing dick of his own to share with his buddy, stripping off and revealing his impressive inches, feeding his buddy his engorged boner as clear nectar leaks from the exposed swollen tip. Casper might have been feeling lazy at the start of this morning escapade but he's soon demanding a good deep fucking from his friend, something Bjorn is more than equipped to deliver. He eases his experienced bareback manmeat between the boys slightly fuzzy cheeks and gets to work, plundering the boy's pucker, humping his length in and out. A little break for some ass-to-mouth oral gives Casper a tasty treat, but soon enough he's demanding more of that dick and sliding his pucker back down on it, riding his friend while his own shaft throbs and swings. Taking the boy from behind at the edge of the bed finally gets Casper spilling his seed, cum pumping from his well-worked boner just before Bjorn pulls his long shaft out to splash warm ball-juice all over the lad's butt cheeks! That's certainly a better way to start the day than whatever Casper had originally planned.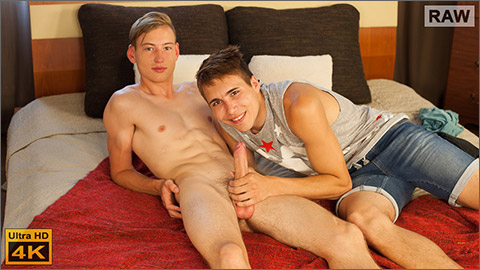 FULL CONTACT SCREEN TEST: IGOR TAPAK & LUKAS BERAN
Lukas Beran has his screentest, paired with Igor Tapak. They start off chatting as they sit on the bed, exploring what experiences Lukas has had. Then Igor persuades him to kiss. As they kiss Igor helps Lukas takes off his tee shirt. Igor runs his hands over Lukas' body. Then Lukas' shorts are removed too and his hard cock is exposed. Igor is soon sucking on that cock, licking up and down the shaft and sucking on the head. He kisses Lukas' again as he wanks on the cock before sucking again. Lukas' cock is rock hard and he moves onto his knees for Igor to continue sucking. That cock stands proud as the mouth works it and the tongue licks up and down the shaft. Igor then gets naked too and bends forward for Lukas to get behind him. Lukas slaps his cock against Igor's ass and then slides it into his waiting hole. The cock goes in easily and Lukas begins to fuck Igor's tight hole. He fucks that ass with long strokes, slowly at first and then speeding up. Igor takes the throbbing cock so well and when they move he quickly sits his ass back down on Lukas' big cock. He rides up and down on that dick taking every inch. Then they move to spoon position and we see that big cock really stretching Igor's hot hole. He grabs his own cock and starts to wank as Lukas pounds his ass. Igor keeps wanking himself as he takes Lukas' cock, shooting a big, creamy load as the dick pounds his ass. Lukas keeps fucking, going in deeper and fucking harder, then he pulls out and shoots his hot cum over Igor's balls.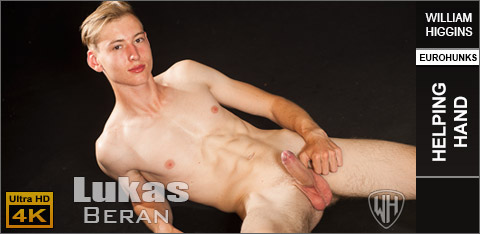 HELPING HAND: LUKAS BERAN
Lukas Beran is aged 18 and lives in Prague. He is a student who enjoys spors, fitness and jogging. he is a very sexy straight guy who does a nice interview. Then Lukas moves to the chair and starts to feel his sexy body. As his hands run over his chest he is joined by a helping hand, Filip Cervenka. Filip takes some oil and massages it into Lukas sexy chest. Then he removes Lukas shorts and pulls the hard cock out of the underwear. He wanks on the cock and then gets Lukas fully naked. The big cock looks so good as it is wanked. Luaks then raises his legs to make his hot hole available and Filips hands explore the ass. A finger slides deep into the hot hole. As the fingers fucks Lukas' hole Filip's other hand wanks the big, hard, cock. Then Lukas drops his legs and Filip keeps wanking him until he delivers a big, squirting cumshot. He then goes off to the shower to clean up.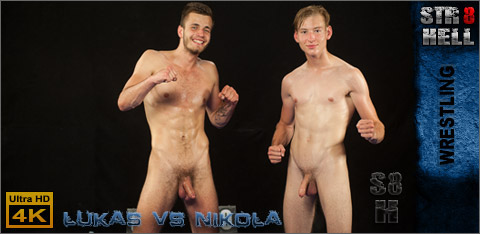 WRESTLING: LUKAS BERAN vs NIKOLA DONOVAL
Lukas Beran and Nikola Donoval are paired in a submission wrestling match. They look good as the warm up and the start to wrestle. It is the slim Lukas who manages to get the first point on the board. Then the guys remove their underwear to wrestle naked from the remainder of the match. As they roll all over the mats, grappling with each other to gain a decent hold we get to enjoy the flailing dicks and the nicely spreading asses. Nikola recovers well from losing the opening round to put a decent score on the board, even if it does involve some underhand techniques. He establishes a big lead and the guys take a break to oil each other a5t 7 – 1. Then it is on with the match again and despite his best efforts Lukas cannot recover and the victor is Nikola. They then settle down on the mats for a wank off. They get their cocks hard and wank each other a little too. Nikola also wins the wank off, shooting his creamy load all over his left thigh. Lukas watches closely and then he cums as well. Then it is off to the shower to clean up.
BOY FUN COLLECTION
WILLIAM HIGGINS
STR8HELL
UK NAKED MEN
CLICK HERE TO GO TO HIS WILLIAM HIGGINS BIO PAGE
CLICK HERE TO GO TO HIS STR8HELL BIO PAGE
Casper Ivarsson Boy Fun Profile