Handsome William Higgins Czech Gay Porn Star, Lubos Koryz
Known Aliases / aka: Paul, Lubos Koryz
Years Active: 2014
WILLIAM HIGGINS INFO:
Model Name: Lubos Koryz
Age: 28
Home Town: Prague
Height: 183cm/6'0″
Weight: 84kg/184.8lb
Foot Size: EU44/US8.9/UK8.4
Penis Size: 16cm/6.3″
Profession/Student of: Bartender
Hobbies: Sport
Favorite Sports: Football
Active Sports: Fitness
Movie/Music/Sport Stars: Chris Hemsworth
Visited Countries: Ireland
Want to Visit Countries: Portugal
Dream of My Life: I don't know.
Zodiac Sign: Pisces (February 19 – March 20)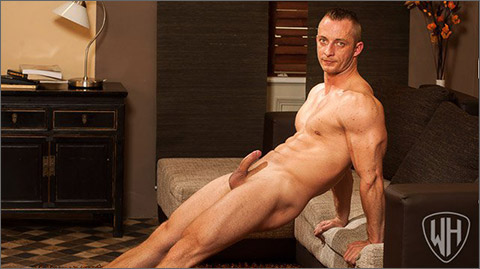 EROTIC SOLO: LUBOS KORYZ
Lubos Koryz is aged 28 and lives in Prague. He works as a bartender and likes to spend his spare time on sports, football and fitness. What a great looking guy Lubos is, he looks so good as he sits for his interview. Then he stands up and removes his shirt, showing off a fabulous chest. Next, it is off with the jeans too, and his socks. Lubos thighs are so thick, matching his great body. He flexes to show off his muscles before removing his underwear and sitting down to wank his cock. That cock gets very hard as he wanks it, and he proudly shows it off, before laying back and lifting his legs to expose his ass as well. The ass cheeks spread, showing his tight hole as Lubos continues to wank his cock. He reaches for his hole, teasing it with a finger, that slips inside the tight sphincter. Then he grabs his ass cheeks and really pulls them apart, stretching that hole. He fingers himself again, going it deeper this time before standing up and wanking again, as he oils that hot body. Then Lubos turns around and bends over to show off that hot ass again before standing up and wanking himself to a very nice cumshot. Then it is off to the shower to clean up after a very good show.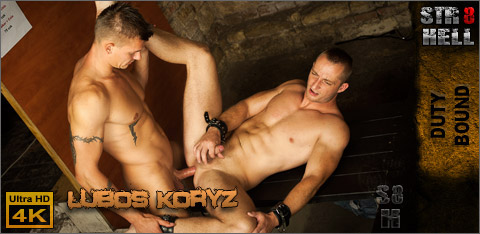 WRESTLING: ONDRA MATEJ vs LUBOS KORYZ
We brought two great looking muscle guys in for a submission wrestling match, Ondra Matej and Lubos Koryz. They start by doing some warming up exercises and then help each other with some stretches. Then it is on with the match. A quick first round gives the edge to Lubos which is quickly matched by Ondra taking the second. They then remove their underwear to do the rest of the bout in the nude. Those bodies look so hot as the guy grapple with each other, showing off everything so well. Ondra, the taller of the two, takes the next round after some tough holds. They look so good as they keep up the pressure on each other. With Ondra pressing his advantage the score moves to 6-3 and they take a breather, to oil each other's sweaty bodies. When they resume the match we get to enjoy those hot bodies, closely entwined as each guy strains to gain the ascendancy. Ondra is the won who wins the battle and eventually the contest. What a very good pairing, two beautiful guys who did a great job in this bout.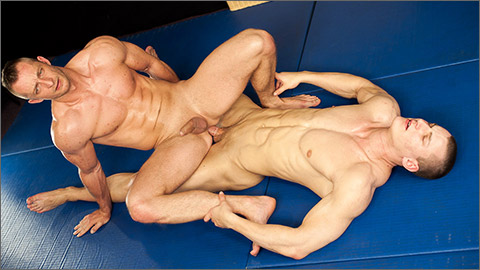 DUTY BOUND: LUBOS KORYZ & MIREK CESLAR
We have another hot episode, in Lubos Koryz punishing saga. We find Mirek Ceslar using a dildo on Lubos' hot ass, and then fucking him deep and hard. His throbbing cock slams in and out of Lubos ass, opening the hole up real good. Mirek lays down and makes Lubos sit on his big cock, and ride it. Lubos does just that, working his ass up and down on the thick shaft, as his own dick bouncing around. Then Mirek puts Lubos on his back so he can fuck him some more. With one leg up over Mirek's shoulder that ass is readily available and gets filled so deep, as Mirek fucks hard and fast. Lubos wanks himself as Mirek fucks him and soon shoots a big creamy load all over one leg. Mirek isn't quite done though and keeps on plowing that hot ass. He moans as he builds up to his cumshot. Pulling out he rushes to Lubos face and shoots his cum over it. He rubs the cock over Lubos lips and then rubs the cum in to end a great scene.

HORNY FRIEND GETS ANAL POUNDED
This week we had our friend Paul here and he was telling me about how horny he is. So I told him about my friend Tony. He is always horny and Tony loves to suck dick. So Tony sucked Paul's dick in the balcony. Paul was very happy but when he saw Tony's dick his eyes and mouth dropped. Because he had never seen a dick so big. Paul was happy and wanting that dick in his ass. This was good fucking.
WILLIAM HIGGINS
STR8HELL
BIG DADDY
CLICK HERE TO GO TO HIS WILLIAM HIGGINS BIO PAGE
CLICK HERE TO GO TO HIS STR8HELL BIO PAGE