Helix Studios American Gay Porn Twink, Logan Cross
Known Aliases: Elder Land
Years Active: 2015 – 2019
MORMONBOYZ INFO:
Elder Land has known for a long time that he liked men, but like a devout Mormon boy, he's never acted on it. But one day a very persuasive and friendly mission president managed to get him to admit his secret feelings. "Struggling with same-sex attraction" was how they agreed to describe it.
   Now that he's on his mission, he's trying hard to not give in to temptation and keep his thoughts righteous and pure. But being surrounded by handsome older men has always been his weakness, and several of the priesthood leaders have caught his attention. And his struggle is getting harder day by day.
HELIX STUDIOS INFO:
Height: 5′ 6″
Weight: 138lbs
Waist: 30
I'm 18 years old and am from Utah. I love sports! Especially wrestling and gymnastics!! I'm very flexible and always pin my opponent on the mat. Never gave up, never quit.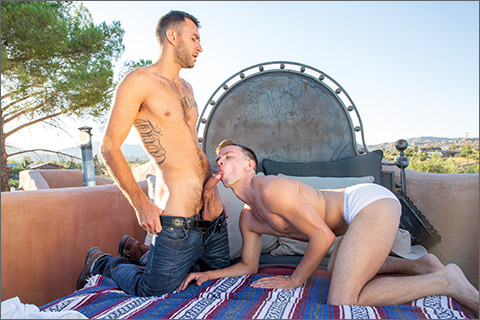 BAREBACK RANCH: Logan Cross sucks Brian Adams cock
When the morning sun gets too hot for doing chores, Logan Cross and Brian Adams find the perfect opportunity to head up to the private rooftop patio and sprawl out on a daybed under a bright blue sky. Making out with a passionate intensity, the two horny studs slowly make their way out of their clothes, as Brian takes the upper hand and dominates Logan with a confident swagger. Hung stud Brian whips out his thick and lengthy horsemeat for a hungry Logan, who takes his time with the impressive tool savoring a long, relaxed blowjob and nurses a humongous load out of Brian's swollen low hangers before blowing his creamy jizz in the afterglow of a sex-filled siesta.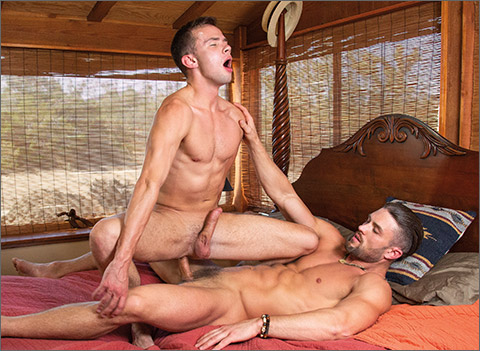 BAREBACK RANCH: Ryan Rose fucks Logan Cross
Hitchhiker Logan Cross is thumbing his way down the highway looking for more than just a ride. Lucky for him, built stud Ryan Rose happens along in his pick-up truck on his way home from work and picks Logan up at the side of the road. Proving the old trucker saying "There's no such thing as a free ride — passengers better give up ass, gas or grass" — Logan shows his gratitude by nosediving into Ryan's lap right there in the truck while they're driving. Ryan sees he's got a live one on his hands and takes Logan to 'Bareback Ranch', where he pounds the living daylights out of the wandering stranger with his massive hard dick spraying a giant load on (and in) his ass.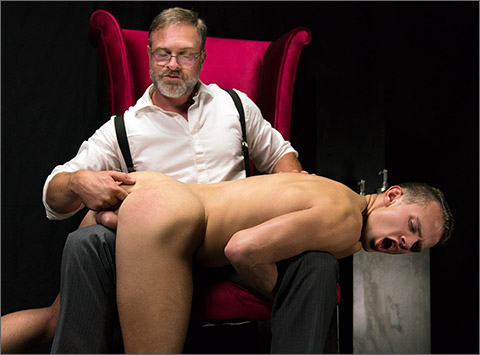 THE INITIATION OF ELDER LAND:
CHAPTER 5: DISCIPLINARY ACTION
Elder Land felt like he was in some sort of dream. The idea that he had Bishop Gibson inside him was enough to make him cum again and again.
   Unfortunately, the moment of his initiation was far too brief. Nearly as quickly as the handsome man had inseminated him, he was dressed and gone, leaving with Elder Land with just a tingling, wet hole.
   Days went by and he didn't see Gibson again. He wondered what the Order wanted from him… if he disappointed them. Was he not good enough for them? For him?
   It was all so confusing, complicated further by the fact that he still felt deep down that his desires were sinful and wrong. And yet, there was clearly a place for his secret desires among the men of the sacred priesthood order.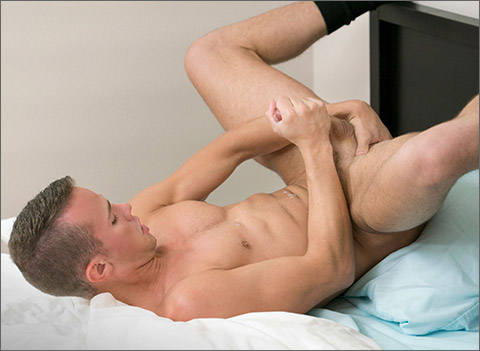 THE INITIATION OF ELDER LAND:
CHAPTER 1: SAME-SEX ATTRACTION
Ever since Elder Land left home and arrived in the MTC, he'd been constantly surrounded by dozens of young men like him. Hormonal teenagers, all conservatively dressed and groomed, all looking and sounding the same.
   The lack of privacy set him into a state of total psychosexual lockdown, unable to find any release. Even showers were group showers. And being around the handsome, older MTC teachers were only making it worse.
   Land had known for a long time that he liked men, especially older men, but never acted on it. Until recently he'd never even told anyone about it. But one day his very persuasive and friendly MTC president managed to get him to admit his secret feelings.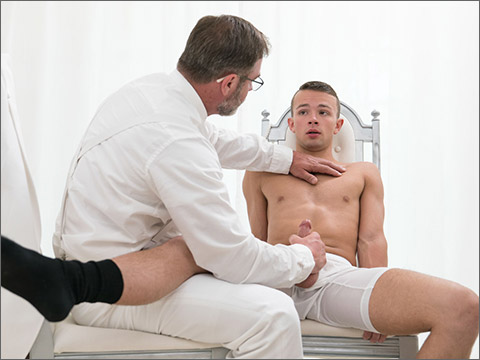 THE INITIATION OF ELDER LAND:
CHAPTER 2: INSPECTION
Elder Land sat nervously in the big, white room. He leg shook up and down as his palms got sweaty and hot.He'd only been waiting a couple minutes, but he knew any meeting he had would be a test of some kind.
   Ever since he revealed the truth of his sexual attractions to his mission president, he knew that all others in leadership would press him and question him about it. He knew the right answers to those questions, but he knew they were neither true nor easy to talk about it.
   As he waited, his mind kept circling back to Bishop Gibson. He'd had multiple fantasies and wet dreams about this handsome president and his passion was getting the better of him. The more he tried not to think about it, the more it surfaced. And at inopportune times.
   President Faust came into the room and sat across from him. He looked over what appeared to be some kind of binder of papers, occasionally glancing up at Elder Land.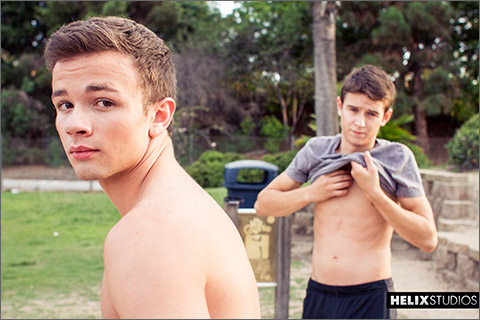 LET ME SEE YOU SWEAT
There's no better way to work up a sweat than some routine conditioning in the warm California sun. Ok, maybe there is one training session more enjoyable… When Evan Parker gets little Logan Cross back to the apartment, he can't even wait for his studly receiver to shower before insisting the two glistening guys start going at it. Watch as Logan throats Evans throbber and gets drilled down right in a scene ending with a hot hungry shot in the mouth. You're guaranteed to break a sweat watching Evan Parker break one off.


HELIX ACADEMY EXTRA CREDIT: SHOW & TELL
That moment when your homies wanna use your computer and you've forgotten to put away your dick pics. The struggle is real for Helix Academy horse cock Troy Ryan and It's on When his bros Logan Cross & Kody Knight insist that he prove that big bad bone belongs to him!
CLICK HERE TO GO TO HIS HELIX STUDIOS DETAILS
VIDEO ON-DEMAND: Logan Cross @ AEBN SMUTJUNKIES THEATER
DVDs & ON-DEMAND: Logan Cross @ TLA VIDEO