TitanMen Exclusive American Gay Porn Star, Liam Knox
Known Aliases / aka:
Years Active: 2016 – 2019
TITAN MEN INFO:
San Francisco, December 20th, 2016
TitanMen is pleased to announce they have signed industry newcomer Liam Knox as their newest exclusive performer. Knox, a professional trainer and bodybuilder, stands 5'9" tall, weighs in at 215bs. with a 50" chest, 30" waist, 20" arms and 26" thighs….100% pure BEEF! His sexy Southern twang and amazing smile will melt the hearts, and holes, of his co-stars and fans!
The 41-year-old Knoxville Tennessee native will make his gay porn premier in a February 2017 feature set to release for Valentines' day, co-starring with TitanMen exclusive Dallas Steele. Followed by a March 2017 film where he headlines as the up and coming new pornstar, based on the real life story of TitanMen exclusive Jesse Jackman's entry into the gay adult industry.
"It's been AMAZING working with TitanMen! I remember seeing the men of Titan when I first started watching porn," says Knox. "I'm honored to be amongst their legendary stable of exclusives."
   "The moment Liam walked onto the set of his first movie, we knew we had something magic," says Jasun Mark, Director of Production. "Yes, he's stunningly handsome with a great body, but his charming southern gentleman style won over the cast and crew instantly. That smile and accent is the finishing touch. Can't wait for fans to meet him in his debut scene with Dallas Steele, but after that he'll play the lead in a movie that will answer the question we get all the time… "how does one become a Titan Man.""
   "Liam is the epitome of a TitanMan," says Keith Webb, VP and managing partner at TitanMen. "He's smart, sexy, built like a superhero with a humble and thoughtful personality. It takes more than just good looks to be a TitanMan, it takes an extra level of intelligence and masculinity that Liam has in droves!"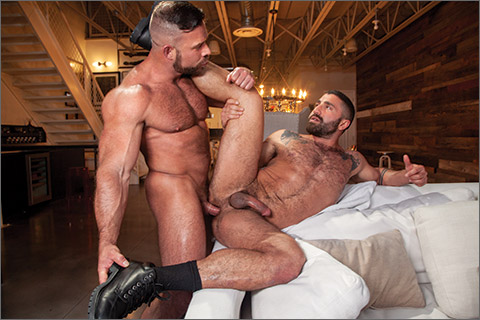 AT LARGE: Sharok & Liam Knox flip-fuck
As the killer moves in to silence Dante, officers Sharok and Liam Knox arrive to his distress call. They question Dante, and then leave him alone in the bedroom to head downstairs to keep watch. There's nothing else to do as they protect the house, so Liam suggests that Sharok suck his dick to pass the time. Sharok happily unzips Liam's pants and gets to work taking Liam's thick dick down his throat. Sharok knows how to use his lips and tongue and Liam wants to return the favor. He gets Sharok rock-hard with his talented mouth until Sharok is ready to fuck. Liam bends over to take his fellow officer up his ass and get a pounding he won't soon forget. Liam loves every inch that Sharok pounds into him, but now it's his turn to rail his brother in blue. Liam splays Sharok out on the couch and gets his ass ready for cock with his tongue before shoving his massive boner deep into Sharok. The guys switch up their positions as Sharok takes all of what Liam has to offer. Liam can no longer hold off and pulls out to cover Sharok's hairy taint with a fresh load. When Sharok feels Liam's cum hit his skin, he lets loose and blows a load of his own. After their fuck-sesh, a hazy cloud descends on the house when a disoriented Liam wakes to a bashed head and a new disturbing turn of events.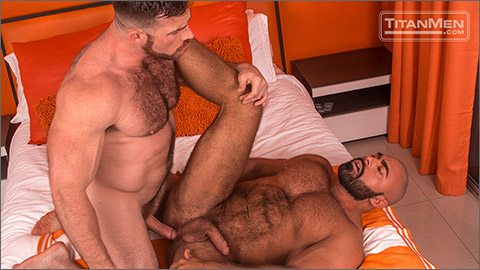 SWAP: Liam Knox fucks Steve Roman
Steve Roman hops in the shower—water cascading down every inch of his furry muscles. Beefy Liam Knox joins him for a kiss as their groins grind. He buries his face in Steve's massive pecs, bicep and pit as the two grunt. Steve pins Liam against the wall and licks down to his jock ass, spreading his cheeks and diving his tongue inside. Steve slurps the verbal moaner ("Suck those nuts!"), then offers his own cock—his fuzzy nuts caked in spit as he fucks Liam's face. In the bedroom, their boners touch as they kiss. Steve offers his hole, his deep voice moaning as he takes it. Liam fucks him fast, then lets the bottom take control—grinding his jock ass down on it. "You want more of this dick?" asks Liam, the bottom sitting his hairy ass on it. Liam plows him like a jackrabbit from below, Steve yelling "Harder!" as he grips the top's thick neck. Steve gets on his back, his pecs shaking as he gets pounded—his hairy groin soon coated in their cum.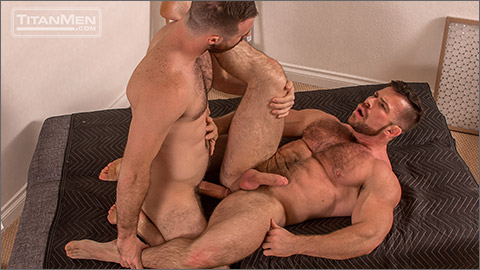 BOOM: Matthew Bosch fucks Liam Knox
While being shown around their latest project by Matthew Bosch, Liam Knox is instantly distracted: "Big D told me you had a big dick," says Knox. "But I didn't realize it was that fucking huge!" Matthew smiles: "You wanna see it?" Liam worships Matthew's beast, breathing heavy as he sucks. Matthew swallows the verbal stud's thick cock, then eats his jock ass before pounding him from behindóthe top's low hangers slamming against Liam's ass, the bottom staying rock hard. Liam sits down on Matthew and rides, his steel shaft slamming against the top's tight abs. Liam gets on his back, Matthew fucking a load out of him before shooting all over his hairy bod.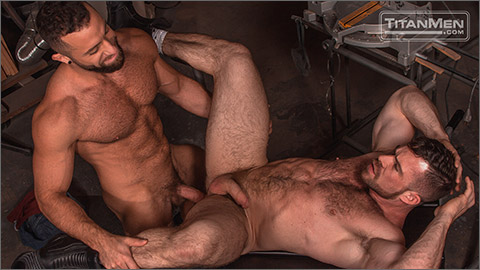 SLING: Eddy CeeTee & Liam Knox flip-fuck
Store manager Eddy CeeTee heads to the factory to check out hot new designer Liam Knox who shows off a new fuck bench, hopping on to test it out. Eddy grinds his bulge against Liam's ass: "Looks good. How does it feel?" They rub each other's buff bodies and take off their tanks, kissing as their hairy pecs meet. Eddy releases Liam's cock, sucking the moaner deep. He gets pulled up for a kiss before Liam returns the favor grunting as he swallows Eddy's thick beauty ("Play with my balls!"). Liam bends over, offering his furry hole for Eddy's tongue ("Arch that ass up!"). Eddy pounds the verbal bottom from behind, Liam's tight ass rippling ("Gimmie that fucking dick!"). Liam turns over, his hard cock bouncing as Eddy fucks him fast. Eddy then offers his ass in the sling, gripping onto the chain as he gets owned ("You like that dick?"). The excited stud gets on his back, yelling "Keep fucking me! Fuck me hard!" as he strokes out his load, his sac sliding against Liam's hairy groin. Liam then dumps his hot load all over the bottom's cock.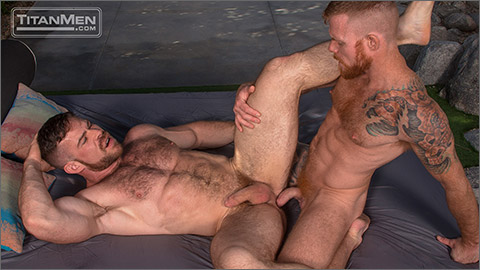 POOL SERVICE: Jack Vidra & Liam Knox flip-fuck
Jack Vidra returns to work, finding Matthew's slumbering (and naked) husband Liam Knox — who catches a glimpse of Jack's ass peeking out of his jeans. "Is there anything else I can help you with?" asks Jack. Liam drops his towel, his boner popping up in Jack's smiling face. He engulfs it as a verbal Liam encourages him ("Swallow it!"), then silences the alpha with a mouthful of cock. They take turns fucking each other's breathless faces, Jack soon burying his beard in Liam's hole before fucking him. Liam then rams him doggie style, the bottom's tight ass rippling as his low hangers sway. Jack turns over for more, then rides Liam's dick—the two shaking as they squirt.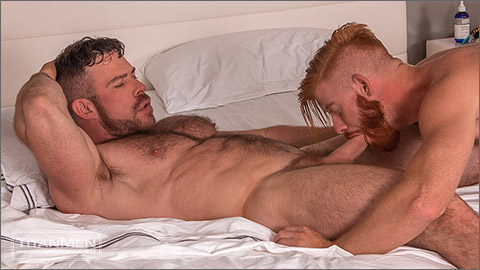 TAXXX: Liam Knox fucks Bennett Anthony
Escort Bennett Anthony mistakes sharp-dressed tax inspector Liam Knox as his next client. "Looks like you do a little more than massage here," says the observant Liam—who is happy to accept a full body massage as payment for his silence. Bennett takes out the stud's already-stiff dick, devouring it deep. "Show me those work skills," Liam says as he fucks the gulping sucker's bearded mouth, then whips his steel shaft on his face. "You like that dick? Fucking suck it!" Spit slides down Liam's shaft and sac as he gets worshipped, the businessman then planting his lips on Bennett's fire crotch. Liam then buries his beard in the tattooed bottom's furry ass ("Want this dick?"), soon giving him some deep daddy cock. Bennett's boner slams up against his own hairy abs as he gets taken from behind—the bottom then sitting down on it, their sweaty bodies grinding. He gets on his back, moaning "Fuck that hole!" before his red pubes get coated in white.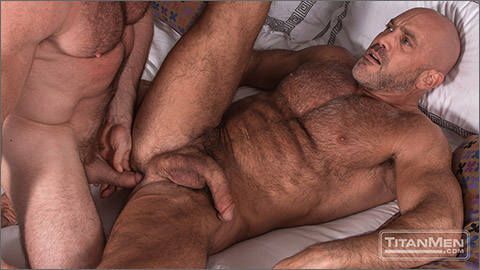 AUDITION: Jesse Jackman & Liam Knox flip-fuck
To prep for his first shoot, Liam Knox heads to the home of Jesse Jackman to break the ice—and the two realize they've met before. "That was one of the best weekends of my life," smiles Liam, the two soon locking lips—their foreheads touching as they stare deeply into each other's eyes. Liam drops down to release Jesse's monster cock, taking it deep as spit clings to the shaft. Jesse pulls the sucker up for a kiss, cocks and foreheads touching again. Jesse bends down, Liam's boner sliding on his furry muscle pecs. Liam moans "That feels so fucking good!" as Jesse sucks him back. Jesse eats Liam's hairy hole, getting him to beg for it: "I want you in me!" Liam gets fucked on his back ("Oh God…so fucking big!"), moaning as he gets it deep. They flip positions, Jesse's boner pulsing as he gets slammed. The bottom's eyes roll up in his head, Liam stroking Jesse as he fucks him. They release their loads, Jesse rubbing it into Liam's hot bod.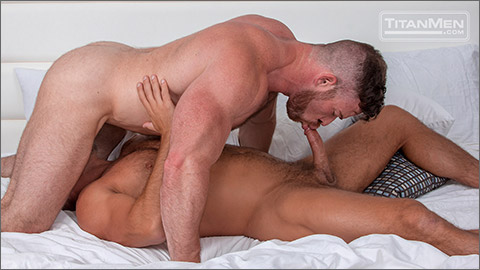 AUDITION: Liam Knox & Dirk Caber flip-fuck
On his run, beefcake Liam Knox jogs by a familiar stranger: Dirk Caber, home from his workout. Dirk motions Liam to follow him to the back of the house. Their foreheads meet, hands roaming each other. Dirk grips the growing bulge in Liam's shorts and releases it, rubbing his stubbly face on it. He sucks Liam to the root, smiling up at him. Liam fucks his face, shouting "Gimmie that fucking tongue!" as Dirk licks his sac. Dirk goes up for a kiss, licking Liam's pit ("Get in there! Taste that sweat!"). Dirk's throbber pops out in Liam's face, the sucker flexing as Dirk marvels "Look at the size of those arms!" In the bedroom, Dirk munches on Liam's jock ass. Liam's cock pulses as Dirk slides inside, the top feeding his thumb to the hungry bottom. Liam plows Dirk from behind, his bubble butt rippling. Dirk gets on his back and grunts as he gets rammed, their hands clasped. Dirk's boner shakes as he gets it hard, his cock soon covered in cum.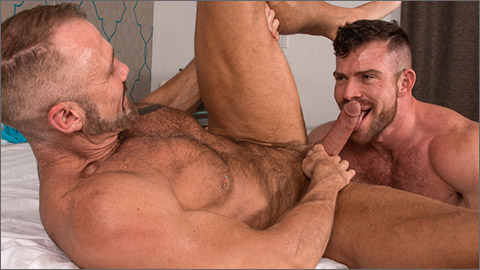 2 MEN KISS: Liam Knox & Dallas Steele flip-fuck
"How was the water?" asks a lounging Dallas Steele as beefy Liam Knox exits the pool. "Cold! Could you warm me up a little?" Their lips meet, their beards sliding against each other. Liam engulfs Dallas's cock, the sucker's boner peeking out of his trunks. The breathless Liam comes up for air and a kiss, sucking Dallas some more before offering his own cock. Inside, with his big boner grinding on the mattress, Liam eats Dallas before fucking him, the bottom's cock pulsing up with each deep thrust. Liam is soaked in sweat as he rams him from behind—then gets on his back to get pounded. Dallas wants more cock in his ass, taking it deep again as the two squirt.
CLICK HERE TO GO TO HIS TITAN MEN DETAILS
VIDEO ON-DEMAND: Liam Knox @ AEBN SMUTJUNKIES THEATER
DVDs & ON-DEMAND: Liam Knox @ TLA VIDEO