Blond American Military Active Duty Amateur, Levi
Years Active: 2016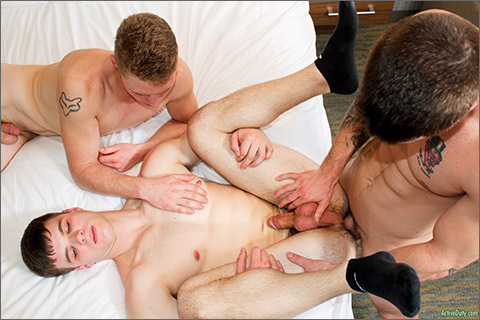 IVAN JAMES, QUENTIN GAINZ & LEVI
We have a special treat for you today. We have two Veterans, Ivan James & Quentin Gainz who are breaking in the new recruit Levi. If you haven't seen what these two hunks are capable of yet then go check their scene out. Levi has only done a solo with us and we didn't want to waste any time so we threw him on the front lines to see how well he could do for such a timid young man. Claude gives them the usual run down and sets all three men loose on each other. They all start out on the couch together stroking their cocks slowly building up the hardness. Levi has never been with a man let alone two of them at the same time and you can read it all over his face. He's a trooper for sure especially when he opens up his mouth to let his first cock inside. He does a great job going back and forth from Ivan and Quentin.The angles are extremely close up giving you the best shot possible as all three studs move around the room naked positioning themselves for their next encounter. Levi's first taste of a man's ass is a great one as he goes deep taking turns on Quentin and Ivan. Hard cocks all around plus smiles and moans that you only hear on the ActiveDuty battlefield. We like to mix it up here and give the realest experience possible.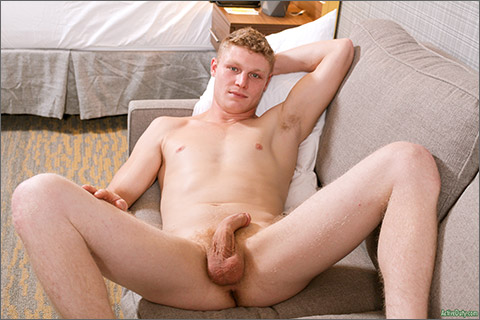 LEVI
Levi has a great smile and one of our most nervous recruits we've had yet. He's not scared of the outdoors but indoors is a whole new world for him. Claude gives him the run down and then lets him go at it.He has creamy white skin smooth barely any hair but what a nice cock. He's relaxing on the couch rubbing himself getting his dick hard and then slips off his underwear to reveal a sexy dick. He's got one of those cocks that will fit anywhere just perfectly and I'm sure we all can't wait to see him in action with another soldier. Levi stands up to show off his glorious balls as Claude is right underneath him to show the perfect stroking and his balls twitching. Back to the couch the camera moves in for an extreme close up of his sexy hole as he strokes his dick with a strong momentum. Finally Levi looks into the camera and is ready to bust his built up load which is a huge stream of beautifulness. I know I loved this scene more than others, maybe because of the nervousness on Levis face or just because he's one damn cute new recruit. Welcome to the squad Levi.