Uncut American Gay Porn Star, Lance Luciano
Known Aliases / aka:
Years Active: 2012 – 2014
FALCON STUDIOS INFO:
Hair Color: Black
Height: 5′ 11″
Weight: 165 lbs
Dick Size: 8″ cut
Sexual Position: Versatile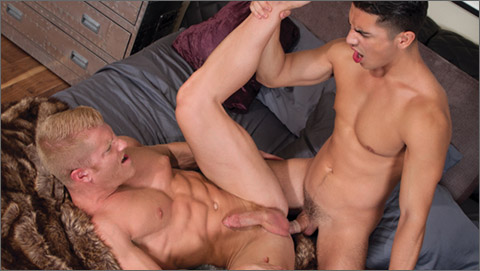 COCKSTAR: Lance Luciano fucks Johnny V
Lance Luciano is lounging in bed when his sexual desire walks into the room. Lance commands him to stop and strip, all the way down to his huge boner. Lance brings out his own manhood to stroke. Only then is Johnny V's face finally revealed. Their hot throats envelope each other's hard cocks. Johnny throws a leg across Lance's body like he's mounting a horse and lowers his hole onto Lance's fat waiting cock. Lance bucks and thrusts. Then he flips Johnny on his shoulders stand and plows him from above, his cock plunging vertically all the way in and out. When Lance finds the perfect angle and depth, Johnny's cock spurts thick ropes of jizz across his washboard abs, causing Lance to add his own giant load to Johnny's cum-spattered torso.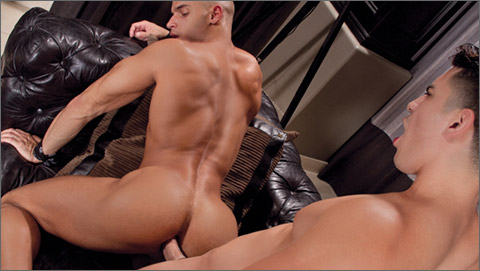 COCKSTAR: Lance Luciano fucks Sean Zevran
The sight of Sean Zevran triggers Lance Luciano's bulging hard on. This situation calls for an impromptu fuck session. They strip bare while kissing, revealing Lance's smooth skin and Sean's bristling fur. Taking it to the next level, Sean strokes himself, prods Lance's taint and gives an expert blowjob. When Lance slaps Sean's ass, the glutes barely move: they're solid muscle. The only soft part is between the cheeks, where Lance dives in with his tongue. Rearing up, he spears Sean's hole with his cock, doggy style. Sean arches his back to get the fullest effect of Lance's lunging. They all but tie each other in knots, jousting from one position to another until their cocks explode cum together.
FALCON STUDIOS
HOT HOUSE ENTERTAINMENT