Randy Blue Scruffy Twink Otter Gay Porn Star, Kyle Moore
Years Active: 2015
RANDY BLUE INFO:
I want to call Kyle our new sexy twink, but all the fur that he has on his chest and legs make me feel that "Scruffy Otter" is probably a better description. There is a lust for sex that lies underneath those sexy innocent eyes and perfect bone structure. Kyle told me that he mostly wanted to get into porn to prove that he had what it takes. And boy does he. He took to it like a fish to water. And every man that had to do a scene with him whether gay or straight, suddenly could not get enough of his fuzzy butt and come hither eyes. Watch him take a dick like the best of them and make some of the best gay porn out there only here at Randy Blue.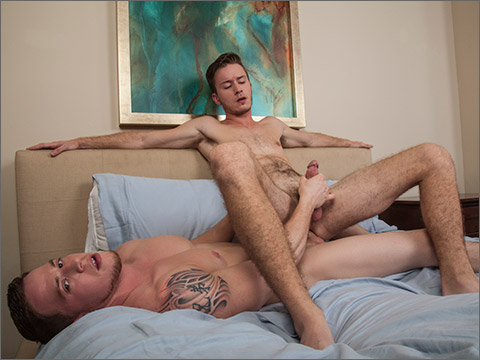 KYLE MOORE BEGS FOR MORE AS DUKE CAMPBELL BREEDS HIM
Kyle Moore found us on Instagram and told us he wanted to be a Randy Blue model. He did it on a whim and didn't think we would ever get in contact with him. But with his ripped twink body and gorgeous face, we called him back right away. I started to interview him before the scene and he was nervous as fuck. He told me that he got into porn just to prove to himself that he had what it takes. He hadn't met his scene partner yet, and finally brought Duke out. Duke is such a fucking tease. He knows that his muscled body is perfect and loves to show it off. He walks out like a peacock and introduces himself to Kyle. He then gets totally naked and jumps in the pool. Kyle is dumbstruck. He looks at me in awe and says, "He's going to fuck me?" I told him, "That's right. Go ahead and join him in the pool". Kyle eagerly stripped down and walked in after Duke. He started feeling up his muscles like a kid in a candy store. He asked Duke, "Do you mind that I'm touching you?" and Duke replied, "You can do whatever you want to me". That was all it took from this moment on these guys were inseparable. They kissed and made out and acted like fucking boyfriends. I finally brought the action in the bedroom and basically sat back and watched the love making unfold. It was sweet and passionate as they took turns sucking each other off. And finally they started to fuck. Duke usually is a bottom, but hell he took to topping like a champ. These two barebacked until finally Kyle was begging to get the cum fucked out of him. Duke plunged his raw dick inside of Kyle when they both finally got overwhelmed by how hot they were for each other. Kyle burst first shooting ribbons of cum all over himself. Duke followed next filling Kyle up with his hot cream. This is one hot debut for Kyle. Welcome to Randy Blue.
RANDY BLUE
RANDY BLUE LIVE CHAT & PRIVATE SHOWS
CLICK HERE TO GO TO HIS RANDY BLUE DETAILS