Gay Porn Superstar & Handsome Power Bottom, Kyle King
Known Aliases:
Years Active: 2007 – 2012
TWITTER @kylekingxxx
HOT HOUSE INFO:
Kyle King Signs Exclusive Contract With Hot House Entertainment
Filed under: News — Brent @ 6:51 pm
Hot House Entertainment announced today that newcomer Kyle King has signed an exclusive contract with the company. The 25 year-old heartthrob joins 9 other men currently working as Hot House Exclusives, one of the gay porn industry's most select lineup of stars.
   "Kyle has all the ingredients to take the industry by storm," said Steven Scarborough, President of Hot House. "He's got Hollywood good looks, a sexy tight body, a perfect butt, and a really big dick – plus he's got an enormous appetite for sex. We're really pleased he's chosen to join The Men of Hot House and know this is gonna be a big year for him."
   Kyle made an immediate impression on fans in his first scene with fellow Exclusive Dillon Crow, available exclusively in the Hot House Backroom. "We were immediately inundated with fan emails asking to see more of him," Scarborough continued. "It was clear to us that we needed to step up our offer to sign Kyle immediately."
   "I've always fantasized about doing porn," King said, adding that "I had gotten to be friends with (Hot House Exclusive) C.J. Knight and he got the wheels turning in my head about applying."
   "Hot House has all the buzz on the streets right now and I'm really happy with this decision. It's so cool to think 'gee, I'm about to live out those fantasies!'"
   Exclusive Ross Hurston appears with Kyle in his next Backroom Exclusive Video, due to go live in The Backroom on March 17th; he's also slated to make his first movie with Hot House at the end of March.
   The new Hot House Model Blog, featuring posts from The Men of Hot House, also has several new posts from Kyle. "I would encourage all my new fans to check out the site for pics and updates on my latest adventures – I suspect this year's gonna be a wild one!"
PARAGON MEN INFO:
All Hail the King! Everyone bows before a preternaturally gorgeous Kyle King. His throne is graced with a royal ass so noble it's got its own Facebook fan page!
   He's also got a personality and no attitude – a rare combo makes us even hornier for his flawless physique. Kyle is fascinated with health food, vitamins, and naturopathy. In the future, he plans to put all that interest to work as a Nutrition Specialist. Spermulina? Whatever! Open up for any supplements this stud says to put in your mouth.
   The Valley of Fire has never been hotter. We stripped him down and took him to the red rock desert just outside of Las Vegas to pose him among the hard rocks (nothing stays soft around this stud!)
   Kyle fearlessly flaunts all his rock hard thick parts en plein air. If those rocks could talk, they would blush! And if it's water that keeps us alive, the desert now lets us dream.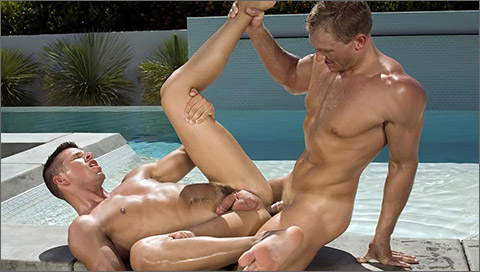 TRUNKS 5: David Dakota fucks Kyle King
A casual afternoon of tossing a ball around in the pool turns into a steamy sex session when David Dakota pops up out of the pool with a hard on. Kyle King starts sucking Dakota's big cock and gets a boner of his own. Dakota expertly sucks King's massive cock then flips him over to dive in to his big, round ass. All of the ass eating has King so worked up he stands up and orders Dakota to fuck him. First Dakota plows him right there in the pool then moves to the pool's edge where he lies King on his back to fuck him even deeper. Dakota pulls out and he and King jack off, blowing hot loads onto King's chiseled torso.
HOT HOUSE
HOT HOUSE CLUB INFERNO
FALCON STUDIOS
RAGING STALLION
LUCAS ENTERTAINMENT
MEN AT PLAY
JAKE CRUISE'S COCK SURE MEN
CLICK HERE TO GO TO HIS HOT HOUSE DETAILS