William Higgins Czech Gay Porn Star, Kuba Neval
Known Aliases / aka:
Years Active: 2016
WILLIAM HIGGINS INFO:
Kuba Neval is aged 21 and lives in Sokolov. This good looking straight guy is a student who enjoys sports, soccer and boxing. He is a very fit looking guy and does some very good posing as he removes his tee-shirt to show off his chest. Then Kuba drops his jeans and poses again in his bulging underwear. He turns and lowers the underwear to give a good view of his sexy ass. Then the underwear comes off and Kuba shows off his soft cock, surrounded by hair and nestled by his balls. Flashing a big smile he poses to let us enjoy the soft cock before kneeling on the sofa to present his ass. He reaches back to part the cheeks for a glimpse of his tight hole. Then Kuba stands again, with his cock rock hard. The cock is big and hard and pokes out in front of Kuba as he stands with hands behind his head. He sits on the sofa pushing his cock up towards the camera before laying back and lifting his legs. That shows off his hot hole even better than before as both hands pull the cheeks apart. His big dick is trapped between his thights as we examine the hole. Then, to finish a great shoot he kneels on the sofa with that big cock rampant.
Model Name: Kuba Neval
Age: 21
Home Town: Sokolov
Height: 180cm/5'10"
Weight: 70kg/154lb
Foot Size: EU42/US8.5/UK8
Penis Size: 16cm/6.3″
Profession/Student of: University student
Hobbies: Sport
Favorite Sports: Soccer
Active Sports: Boxing
Movie/Music/Sport Stars: Michelle Rodriguez
Visited Coutries: Italy
Want to Visit Coutries: Portugal
Dream of My Life: I don't know.
Zodiac Sign: Leo (July 23 – August 22)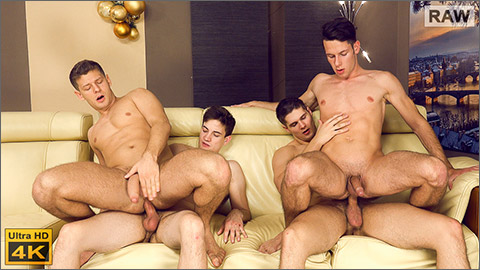 CHRISTMAS WANK PARTY 2016 RAW
In our Christmas Wank Party for 2016 we have Rosta Benecky, Tomas Fuk, Kuba Nevel and Adam Rezal. In this first part we Tomas and Kuba sitting and relaxing as they are joined by Roast and Adam who are bearing presents. Tomas and Kuba unwrap the presents to find virtual reality headsets. They both insert their phones to try them out. It seems that Tomas has decided to watch some porn on his and he stands and starts enacting what he is seeing. As he thrusts his hips in a fucking motion Adam gets up and bends over in front of him as Rosta records everything on his phone. Then Adam simulates sucking Kuba as well. Kuba removes his headset and watches what Rosta has recorded. Then Rosta shows Tomas too. Having enjoyed the VR they decide to get some real action. As Tomas watches more on his headset Kuba leans over and starts opening the pants and pulling out a stiff cock. Rosta does the same for Adam. Kuba starts sucking on Tomas' stiff dick while Rosta gorges himself on Adam's. Then the headsets are discarded and the guys start kissing, with Rosta pulling off Adam's tee shirt. He kneels for Adam to suck his massive cock. Tomas begins stripping Kuba too and goes down on his raging hard cock. His head bobs on the cock as Rosta thrusts his into Adam's mouth. Tomas gets naked and Kuba takes a turn on his throbbing cock as Adam keeps sucking Rosta. Then they all move, with Rosta being the focus of attention as they suck his nipples and his big, fat, ccok. Tomas, Adam, and Kuba all take turns on that huge cock as Rosta leans back and enjoys it. Then he lays down, the others lay along the sofa, with Adam sucking Roast, Kuba working Adam's dicka nd Tomas taking a turn on Kuba's. Then it is time for some ass and Adam and Rosta lay back, legs up for Tomas and Kuba to rim the hot holes and suck on the balls.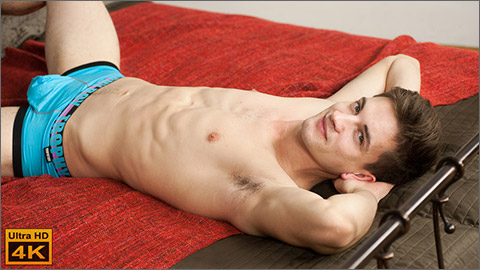 MASSAGE: KUBA NEVAL
Kuba Neval is a great looking guy who agreed to a massage. He looks so hot as he comes in, wearing just his underwear, and lays on the bed. The masseur arrives and takes some oil and gets to work, telling Kuba to relax. The hands work on Kuba's shoulders and then down his back. The hands go up and down Kuba's back and then massage his arms too. Then attention tunrs to Kuba's ass, with the underwear being pushed down, giving access to the cheeks. More oil is used, and massaged into that sexy ass. Then underwear is removed and the hands work all over Kuba's ass. The cheeks are parted to show off his hot hole as a hand rubs up and down the crack. His cock and balls are rubbed as a hand reaches underneath too. Then Kuba moves onto his knees, allowing his ass to part to really show the hairy hole. The masseur reaches for, and wanks, Kuba's cock as a hand rubs over the ass. Kuba's cock gets very hard as it is wanked while a finger rubs over his tight hole. Then the finger slips into that hole, with Kuba's face showing how he feels it. The finger goes in deep as the cock is wanked. Then a toy rubs over the ass hole and pushes inside too. All the while Kuba's dick is being wanked. The toy fucks his hot ass and then comes out. A finger slips back inside to fuck the hole some more. Then Kuba turns onto his back and his dick is wanked until it shoots the hot cum all up his sexy body. The cum is milked from his cock and the cum is rubbed all over his body as he relaxes after a hot massage.
CLICK HERE TO GO TO HIS WILLIAM HIGGINS BIO PAGE