Falcon Studios Bob Jones Muscle Hunk American Gay Porn Star Playgirl model, Kris Lord
Known Aliases / aka: Kris Kayman, Killer
Years Active: 1992 – 1994
FALCON STUDIOS INFO:
Hair Color: Dark Brown
Eye Color: Brown
Height: 6′ 0"
Position: Top
Build: Body Builder
Body Hair: Smooth
Cock: 10" cut & chubby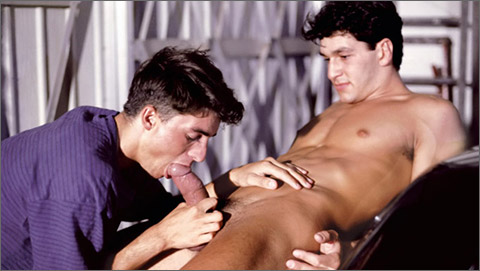 DRIVING HARD: Jeff Hammond, Kris Lord fucks Jeff Pole; Jeff Hammond blows his load
Having reached their destination, chauffer Jeff Hammond can't figure out why his two passengers won't get out. Whoops, looks like the two of them have made the backseat of the limo their personal playground where Jeff Pole can slide his mouth up and down Kris Lord's meatpole before he gets it rammed up his hole real hard. And Jeff has a front row seat to the unexpected floor show, giving him a well-deserved break.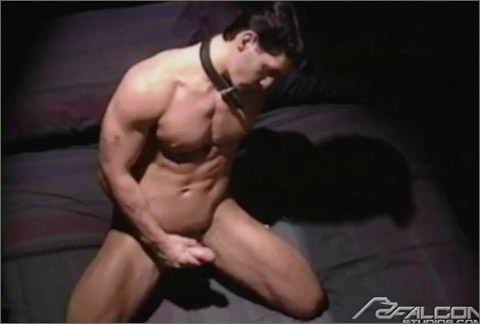 TAKE ME HOME: Kris Lord solo
Kris Lord performs through miniblinds for an audience in this sizzling solo in which he sports a collar and handcuffs as he works himself to a frenzy.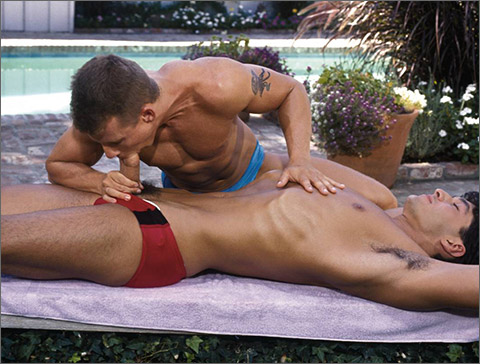 DOWN HOME: Kris Lord fucks Danny Somers
As Danny Somers does laps in the pool, he eyes the god-like form of Kris Lord sunning himself by the pool in a speedo so tight it's painted on. Drawn magnetically to Lord's beautiful bulge, Danny approaches and frees it from the clinging fabric, sucking it deep into his throat. Kris fucks Danny's mouth and Danny eagerly takes it before working his way around and rimming Kris's hole. Unable to hold back, Kris slides his cock deep in Danny's hole. Thrust after thrust bring the two studs closer and closer to the inevitable outpouring of hot thick cum and a moment of satiation in the hot summer sun.
   Danny Somers joins Kris Lord poolside for a sun-splashed encounter. Danny strips Kris out of his suit and sucks Kris's mammoth tool before eating him out. His appetite whetted, Danny opens himself up for a hot summer ass-pounding which leaves both men dripping and exhausted beside the pool.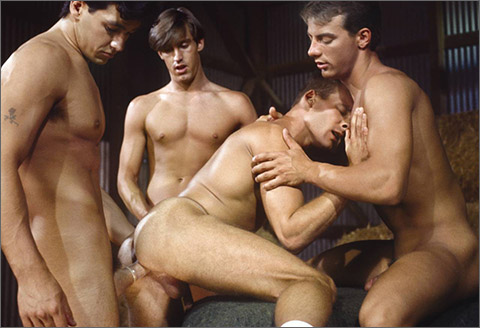 DOWN HOME: Jeff Hammond and Kris Lord fuck Adam Archer and Dylan Fox
When Jeff leaves the General Store, Dylan Fox stops him. These two guys haven't seen each other in a long time, but as they stare into each other's eyes they both know exactly what the other wants. It doesn't take long for smooth and handsome Dylan Fox and taut-bodied Adam Archer to lure Jeff back to the barn. Quickly Adam and Dylan get down to business – frenzied ass-eating, ravenous cocksucking and wild fucking. Dylan gets just what he wants as Jeff thrusts his huge cock deep into the young jock. Harder and harder Jeff fucks the surrendered stud while Dylan ravishes Adam's muscular ass with his tongue. Suddenly Kris Lord barges in. He had an idea of what was going on in the barn and he's ready to join in. He buries his cock in Dylan's hungry hole and the foursome gyrates in a hot sexual workout…a wild fuck fest of perfect erotic harmony…ending as each hot stud shoots his sticky voluminous load.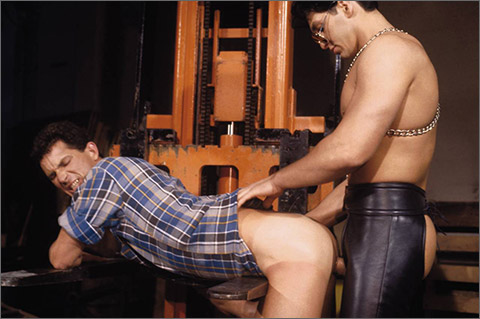 SHADOWS IN THE NIGHT: Kris Lord fucks Ray Butler
Ray Butler is dressed in jeans and flannel shirt as he drives around at night in his Toyota truck, looking for the man who knows just how to give it to him. After turning into a back alley, he spots masterful Kris Lord dressed in a leather jacket and chaps, dark glasses, boots and a g-string. Butler salivates, and can't keep his hot tongue off Lord's boots, moving his flickering tongue up to the supple chaps and g-string. Once the priming heats up, Lord whips out his premium dick-stick, and it is HUGE, about eight inches in diameter and 11 inches long! Needless to say, Butler can't keep his mouth off Lord's cock, and offers his puckering love-hole for an invasion by Lord's mammoth prick. First, however, Butler's hole gets prepared by fingers and then a big black dildo.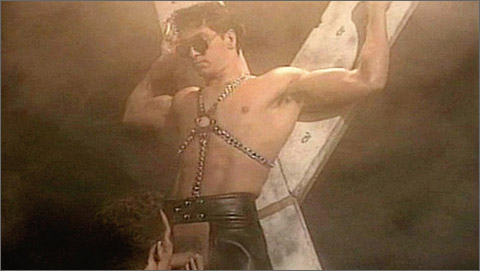 SHADOWS IN THE NIGHT: Bill Marlowe services Kris Lord
In a fantasy sequence, Ray Butler (in a non-sexual role) imagines shop-keeper Bill Marlowe servicing leather god Kris Lord…sucking the leather-bound stud's mammoth cock until Lord shoots over Bill's face.
CLICK HERE TO GO TO HIS FALCON STUDIOS DETAILS
more Kris Lord @ AEBN SMUTJUNKIES THEATER