American Gay Porn Star, Kory Houston
Known Aliases: Marcus Ryan
Years Active: 2015 – 2017
FAB SCOUT INFO:
Age: 23
Height: 5'7″
Cock Size: 7 Cut
Position: top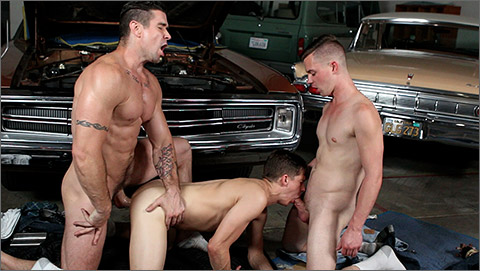 GREASERS: Kyler Ash & Kory Houston flip-fuck with help from Trenton Ducati
Horned up grease monkeys Kyler Ash and Kory Houston are hitting the hooch hard and soon they turn their attention to each other's hard cocks. Right in the middle of the throat-fucking, ass-pounding action the young greasers are joined by boss daddy Trenton Ducati who shows these punks the ins and outs of a hot flip-flop-fuck three way!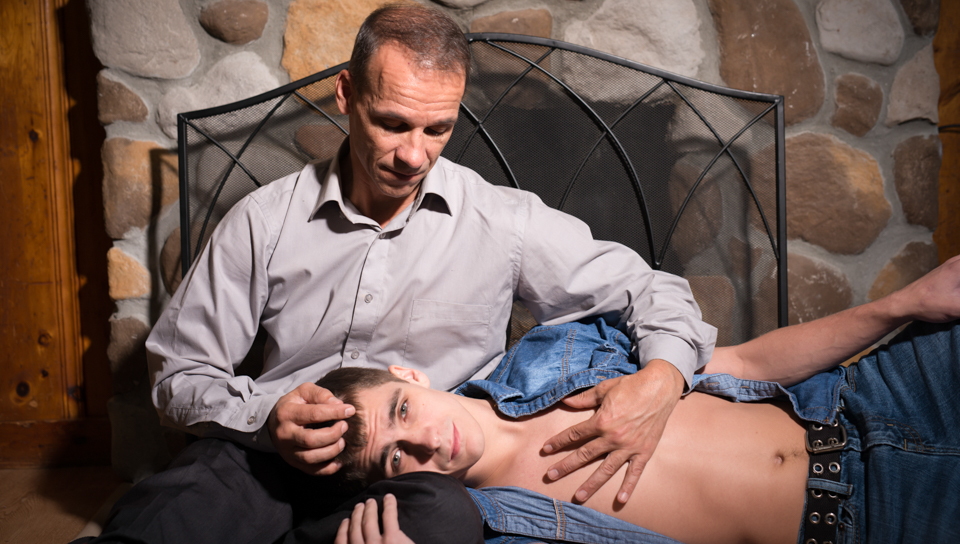 FATHERS & SONS 3: Rodney Steele fucks Kory Houston
The whole gang is out playing sports, and Kory Houston gets hungry, and decides to head back to the house with Professor Rodney Steele. Chatting on the couch with his Dad's mentor they chat about how they're similar. Rodney reaches out to the boy's thigh, caressing it slowly, touching each other unsure at first. Making out, Kory holds the professor close, their lips intertwined.
   Stumbling from the couch into the bedroom, Kory pulls at the older man's shirt, stripping it off his muscular frame. They kiss deeply, their excitement is palpable, both breath heavy in this moment of passion. Rodney reaches into Kory's pants, playing with his sizable bulge before climbing up onto the boy, feeding him his lengthy dick. Shoving it to the back of his throat, the boy gladly chokes on it.
   Switching things up, Rodney tears off the boy's cloths and briefly swallows his dick before getting into a passionate 69. Sucking on his dick, balls and rimming his smooth ass, Rodney pulls the boy on top of him, and rubs their shafts together. This frotting has them both bursting with excitement and Kory humps down into him. Rodney climbs over the boy, fucking him doggiestyle, pushing his long meaty cock into the young man's ass. Pumping it in and out, Kory moans in ecstasy as he gets fucked, taking his dick like a champ.
   Rodney pulls the young man into him, their bodies pressed against each other in full body contact as he penetrates him from behind. Laying on top, he pounds his boy hole before laying the boy onto his back. Fucking him with stiff and hard strokes, he pounds him until Kory shoots his cum onto his toned stomach. Pulling out of him, Rodney cums onto him, kissing him with deep satisfaction.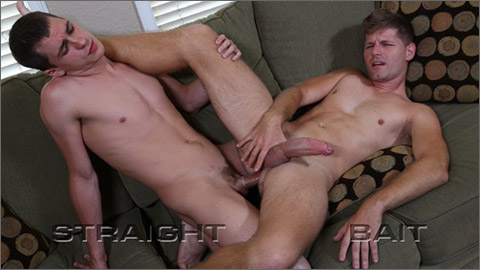 PETER FIELDS BAITS KORY HOUSTON
The scene starts out with Caruso interviewing Peter, a 24 year old, very handsome, all American, brown haired, blue eyed, hunky and muscular jock type with a massive, thick, 10" cock. He's gay and as cocky as they come. He talks about being a fan of BaitBuddies.com and straight guys and let's Caruso know that even straight guys have come on to him – he makes the point more than once – he doesn't haven't to look for sex – it comes looking for him. Well, this hot boy and his very straight buddy, Kory, contacted Caruso because they both needed cash – especially Kory, who is in college. Kory is originally from Texas and these boys have known each other for many years. Kory is currently dating Peter's girlfriend, in the real sense of the word friend, and it's a strange scene, because Peter has hit on Kory many times over the years and Kory's girlfriend knows about it. Kory is 23, stands 5'7" with hazel eyes and brown hair and has a pretty big cock himself at almost 8 inches. He's cute, slender and HOT! He loves tall girls, up to about six feet, just like his current girlfriend. And, today he's going to grant his longtime buddy a fantasy, first time gay sex with him. Peter is really excited, he's been waiting a long, long time to get his hands on his best friend. Caruso says to Kory, "you'll probably like it", "I don't think so" was his reply. So, Caruso dispenses with the interview and just says "Peter, take control!" Can you say 'awkward'? It was like two inexperienced teens going at it for the first time. Both guys have had more sex than they can even remember, but it's a little uncomfortable to start since they were buddies for so long, and Kory had never done a gay thing in his life. Even in "After the Shoot", Caruso has to explain the terms 'top' and 'bottom' … [READ MORE]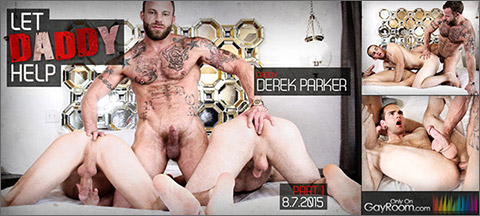 LET DADDY HELP – PART 1
What good is being young and horny if you've got no game? Daddy Derek Parker gives Jonah Marx & Kory Houston a sex lesson they won't soon forget!
NAKEDSWORD
ICONMALE
GIO CARUSO'S BAIT BUDDIES
GAY ROOM
JASON SPARKS LIVE
CLICK HERE TO GO TO HIS GAYROOM DETAILS