Sexy Compact British Gay Porn Star, Koby Lewis
Known Aliases:
Years Active: 2016 – 2017
UK HOT JOCKS INFO:
Location: Cornwall, England
Age: 19
Height: 5′ 6″
Weight: 69kg
Hair: Blond, Short
Eyes: Brown
Cock: 7ins, Uncut
Role: Versatile/Bottom
Orientation: Gay
There's cute and then there's Koby Lewis. He's just absolutely adorably sexy! UKHotJocks lucked-out on this one, he's the total package. Gorgeous, charming, sweet and he's a brilliant little performer! When we first spoke before shooting he was full of confidence, something that always gets our attention and rightfully so! When he gets going the action is red hot, he knows how to use his impressively tight muscle body to all it's advantages! More of a bottom guy in the sheets/on the set you can see this is his calling, he's got the pertest bubble butt you ever saw! Expect to see a lot of this lil firecracker on HotJocks!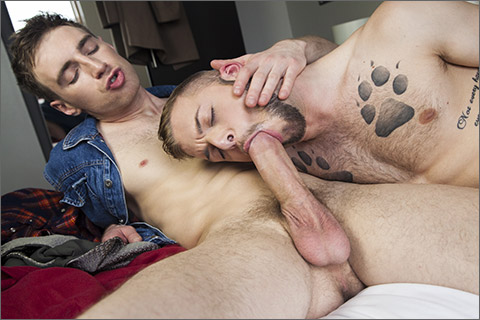 GUYSPOTTING – ARSEHOLE: Kayden Gray fucks Koby Lewis
If Grindr were a kingdom Kayden Gray would be King. With his chiseled good looks, defined swimmers build, and monstrous 10-inch cock he has his pick of all the subjects in the land – and today he has summoned hot bottom Twink Koby Lewis to do his bidding. The cock-hungry Koby knows his place and submits to Kayden's rigorous face-fucking and ass pounding. As they lay panting covered in sweat foolishly asks Kayden if they can see each other again. Kayden dismisses him with a sneer and tells Koby he's nothing more than fuck toy. "Arsehole!" Koby yells as prepares to leave but Kayden is already back on his phone searching for his next conquest.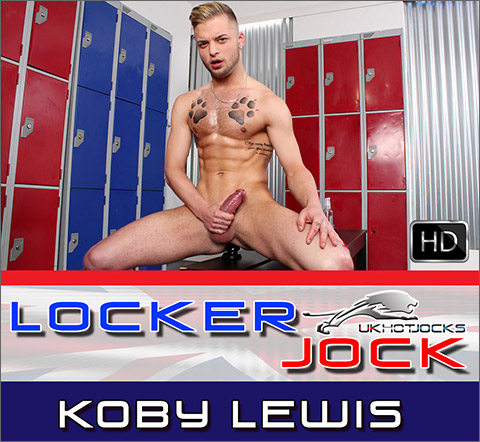 LOCKER JOCK: KOBY LEWIS
In a red and white singlet, socks and sneakers the super cute Koby Lewis sits in the locker room. He's full of energy and can't wait to crack on and show off for the camera. We have a natural exhibitionist here folks! Firstly we chat a little, learning a bit about what makes Koby tick. He's a horny boy from the English West Country, prefers to bottom and he likes big dicks. Enough said!
  Looking like a fresh young Jock in his almost virginal white gear, fresh meat he is but inexperienced he is not! Giving himself a good rub down, he reaches for the baby oil, slicking up his tight body, getting right in between each ab crevice, making his cute cub paw print tattoos shiny and giving the camera a sexy glance. Tweaking his nipples and breathing deeply, the straps come down, his cock is getting harder and can't really be contained by the singlet anymore. Pulling his dick out, he's so hard and skyward pointing it practically follows the line of his hard stomach straight up. I swear it touches his belly button when he's upright, hands free! One of those hard-one that could save the universe!! Or something!
   Beating himself off super slowly, feeling every inch of his cock up and down, he grabs a toy out of a nearby locker. Black, ridged and cone shaped, he lubes it up, sticks it to the bench and straddles it. Easing him self all the way down on it and back up again, you can tell he's enjoying every bump! Bouncing up and down on his new toy, he's giving us a real show! Laying back, pushing the plug in as deep as he can into his bubble butt you can tell he could take a lot more. Bringing himself close to the edge, he's gonna cum, spurting on his tight abs. Exhausted, he flops back on the bench, sticky, Lubey and sweaty.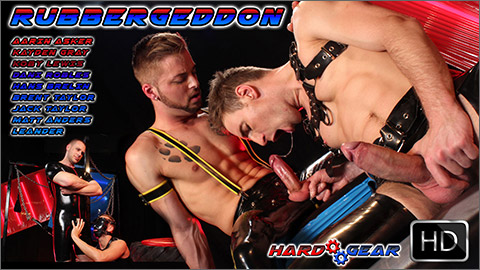 RUBBERGEDDON
Slick, black, shiny and all encompassing. Bulging muscles and rippling abdominals under taught, stretched latex catch the light and streaks across thick thighs and bursting bubble butts! Dick outlines in malleable rubber are squeezed hard and teased, zip-thru, cheeks spread , rising pink flesh from the body anonymity of the gear, reducing the guys to nothing more than incredible sex objects.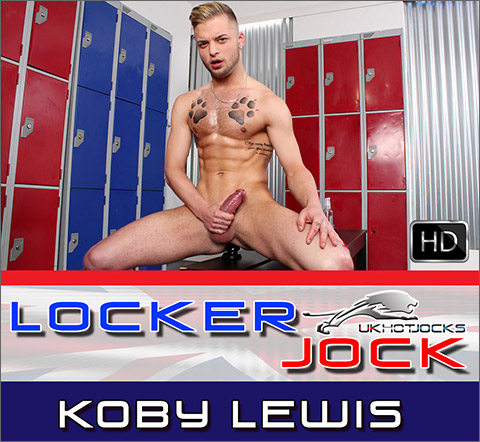 CHARLEY COLE FUCKS KOBY LEWIS
21-year-old Charley Cole hooks up with 19 year old porn newcomer Koby Lewis who admits that he's a little nervous doing his first video. After a brief interview where we get to know a little more about these two young studs, Charley stands up and when he loosens his pants and drops his underwear, the longest, thickest cock flops out and the smile that spreads across Koby's face is priceless. It's Badpuppy's version of the ìBBCî ñ Big, British Cock! Koby drops to his knees and eagerly swallows every inch of Charley's growing dick. He deep throats and gags on Charley's cock, and he definitely enjoys every inch! Charley wants some of this virgin boy's dick, and after pulling off Koby's shorts Charley goes to town giving Koby a blowjob that any guy would welcome. Charley has Koby bend over the sofa with his ass in the air and Charley buries his face in Koby's ass; shoving his tongue as far in as it will possibly go. Once Charley feels that Koby's hole is ready for his thick dick, he crawls up behind Koby and plunges his rock-hard cock deep into Koby's ass. Charley fucks the shit out of Koby in multiple positions, and when Koby cannot take anymore, he grabs his cock and starts shooting jizz all over his stomach and chest. Charley is really turned on by the cum soaked chest, and no sooner does he pull out of Kody that his ginormous cock starts spraying hot loads of cum all over Koby.
NAKEDSWORD
UK HOT JOCKS
BADPUPPY
UK NAKED MEN
BOYNAPPED
CLICK HERE TO GO TO HIS UK HOT JOCKS DETAILS