Hung Handsome Ripped Muscle American Gay Porn Star, Kevin Crows
Known Aliases / aka: Nicolas Quirico (Bang Brothers), Billy Hart, Billy Heart, William Corazon, Will
Years Active: 2010 – 2012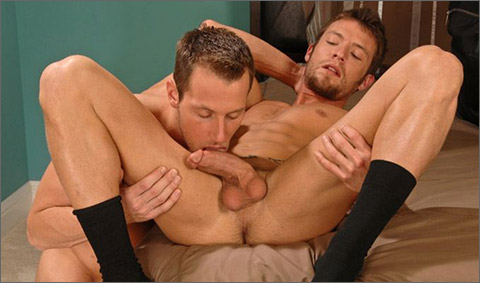 ROOM 69
On the first floor of a moderately priced hotel, one of a chain, a business man by the name of Kevin Crows talks on the phone to his secretary, who sits at her desk in an office miles from where he is now. Another man enters, toting a fold-up massage table. Before he can set up, the business man hangs up his cell phone and introduces himself. The masseur, Kyle Quinn, does the same, shaking Kevin's outstretched hand. Kevin explains to him in no uncertain terms that a massage will not be taking place during this in-room service call. No, instead Kyle will be performing a 'dick sucking,' as Kevin describes. 'But what about the massage,' Kyle asks, a bit confused. It's not what this Mr. Crows had in mind, and he doesn't want to waste time. You see, for many business men, away from their families while travelling, the massage is simply a formality. It's a means to an end. And that end is a slobbery suck job to satisfy their appetite for hot, young guys. But Kevin is more to-the-point. He's having Kyle lick and bob on his fat, rock hard cock, and that's just the beginning. He's having a taste of Kyle's thick boner as well. Then Kyle's letting this Mr. Crows slide that massive, bulging erection into his tight, eager ass. Be sure to have your assistant clear an adequate chunk of time in your schedule to enjoy these incredible hotties turn up the heat in Room 69.

PLOWED DEEP
Kevin Crows has been holding it in all day and now he's way past due to bust a nut. All prepped and ready to go, he's got his ipod on and his hand down his pants. There's only one problem: he has no inspiration. His imagination just isn't doing it for him, so he looks around for something a little more tempting. Cue Dominic Pacifico, hard at work out in the garden, working up a sweat out in the afternoon heat. Kevin stares at Dominic secretly through the window, until Dominic catches him spying. After that it becomes pretty obvious that neither one of them can take his eyes off the other, so Kevin invites Dominic in to take a load off. Or put a load on, depending on how you look at it. Dominic takes Kevin up on his offer and in no time he's going down on Kevin's rock hard dick, slobbering all over it and getting it nice and ready for stabbin'. Dominic then rides Kevin on the couch as Kevin reaches full intensity, exploding all over Dominic in a sticky mess that makes the Dominic forget all about his work outside in the field.

OFF THE WALL
Have you ever seen something cryptic written on a bathroom wall? Maybe something vaguely dirty? Like a crudely drawn penis or a man's spread asshole? Kevin Crows has. Now he's found himself in that situation, but with a strange addition. There's a hole in the stall wall along with the odd writings. Kevin sees the initials 'CD.' He's about to find out that Christopher Daniels is lurking in the stall, stroking his meat, waiting for a baffled guy to do some investigating.
   When Kevin peeps into the hole, he gets the picture. Soon he's slurping hard and sensuously on Christopher's strong dick. Christopher is a well built, blonde man with a passion for sex with strangers in strange places. He's glad to have Kevin to share this gloriously depraved moment. After Kevin sticks his own raging hard cock through the hole for Christopher to enjoy and reciprocate, Christopher emerges from the stall, ready for that throbber to plow his ass. You'll certainly like seeing these incredibly hot hunks getting very passionate in this sexy bathroom bone down.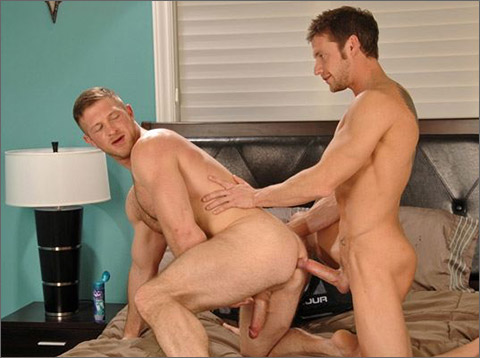 OVERSTUFFED
Paul Wagner has booked his room for the Fleshjack Conference and can't wait to get down to the main floor to see what's going on. Unfortunately, it appears the hotel has overbooked itself, and so now, Paul will have to spend his weekend bunking with a complete stranger. Luckily enough, Kevin Crows is also a conference attendee, and even more luck, he's already been down and made his rounds, so by the time he gets up to the room, he's strapped with a bag of free swag. When he produces a Fleshjack from his bag of tricks, that gets Paul's attention. Maybe this will turn out to be a positive surprise instead. Sure enough, minutes later, the two of them are 69ing on the bed and taking turns helping each other with the Fleshjack. And right about the time Kevin puts his rock hard cock inside Paul's waiting puckered asshole, Paul realizes this weekend is going to be one to remember.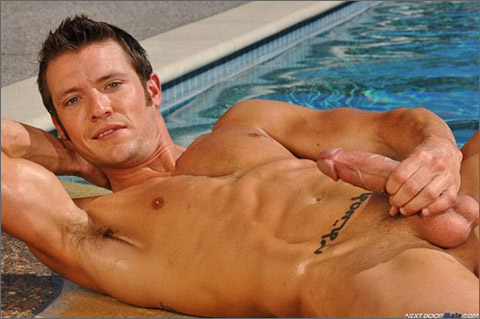 KEVIN CROWS SOLO
Kevin Crows is lounging on the patio and soaking up the sun in this poolside session. Shimmering from the lotion that glistens in the sunlight, he slowly rubs himself down with oil, then, once properly covered in sufficiently slippery, he begins to fondle his cock through his speedos. Pulling his shorts below his waist line, he reveals his rock hard poking through. Sidling up to his knees, he pushes his cock back through his legs and figures out a way to fuck his own feet, which is something you just don't see everyday, no matter where you hang out. No one trick pony, Kevin has got the self foot fucking method down to a sun drenched science as he balances the weight of his body over his feet and then drops his dick between them, before cooling off in the pool and finishing his sun stroke on the adjacent raft before cumming all over his toes.
NEXT DOOR STUDIOS
COCKYBOYS
JAKE CRUISE'S COCK SURE MEN
JAKE CRUISE
CLICK HERE TO GO TO HIS NEXT DOOR STUDIOS DETAILS
VIDEO ON-DEMAND: Kevin Crows @ AEBN SMUTJUNKIES THEATER
DVDs & ON-DEMAND: Kevin Crows @ TLA VIDEO