Handsome Blond Twink Czech Gay Porn Star, Kevin Ateah
Known Aliases / aka: Kevin Atoah
Years Active: 2011 – 2013
WILLIAM HIGGINS INFO:
Age: 21
Location: Prague, CZ
Job: Deliveryman
Hobby: Bowling
Sport: Swimming
Food: Chicken
Music: Trance
Produced by Adam Collins
21 year old Kevin Ateah is a smooth twink, coming to us from Prague. He works for a private delivery service, but today is his day off, so he's all about some Kevin time. He lays back on the couch, unbuttons his shirt and pants, as he rubs his upper body and uncut cock, which is hiding behind his boxer briefs. Kevin takes off his underwear and takes hold of the situation, delivering a little service to himself for a change. While stroking his cock, he begins massaging and fingering around his tight hole. Kevin gets on his knees giving his cock some action with one hand, while the other moves between rubbing his upper body and squeezing his balls. He moves up to spread out across the back of the couch, continuing with some tight gripped jerking action. Kevin sits back down on the couch and leans back, ready to close this deal. Moving forward with some fast and furious jacking action, he squirts multiple loads across his tight and smooth abs!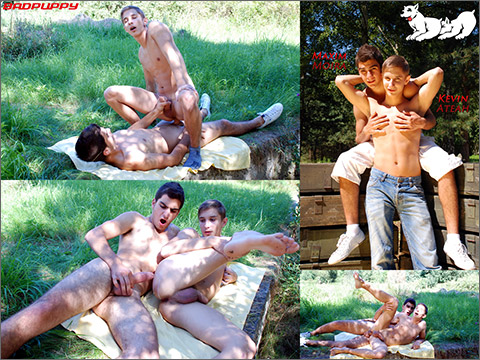 MAXIM MOIRA FUCKS KEVIN ATEAH
Maxim Moira went for a hike and found an old abandoned warehouse. He found a cool shady spot to chill and cool off; so he laid back and relaxed. He lies back in the grass, pulls off his shirt, and begins playing with himself while rubbing his chest when Kevin Ateah happens to walk up without Maxim being aware. Kevin watches the show Maxim is putting on and it is really turning him on. Maxim looks up and catches Kevin staring at him so Kevin did what every young, horny stud does. He walks over, sits down next to Maxim and they both start kissing and jacking each other's cocks. After they get their oral fix; Kevin has Maxim lie down on the grass. Kevin straddles Maxim's cock, slowly sits down and goes between riding it up and down and Maxim thrusting his cock in and out as he jerks Kevin's thick and fully erect cock. Laying Kevin over on his side, Maxim slides his cock back into Kevin's ass and goes back to working his ass over until Kevin starts spurting jizz all over the place; and I mean ALL over the place. When Kevin cums; this was all the stimulation that Maxim needed. He pulls his cock out of Kevin's ass and starts squirting thick loads of cum all over Kevin's hot ass.
BADPUPPY'S DANNY RAY COLLECTION
WILLIAM HIGGINS
EUROCREME
AYOR STUDIOS
RAWBOYS / BARE ADVENTURES
STAXUS
HAMMER ENTERTAINMENT