Randy Blue Czech Gay Porn Star, Ken Novotny
Known Aliases: Steave Wolker, Pavel Horal, Debt Dandy 143
Years Active: 2016
RANDY BLUE INFO:
Ken just seems like your regular guy next door, but then he gets naked and like, woah. His body is fucking jacked. His abs, chest and arms are just shredded. Want to see his ass get shredded? For a straight boy who has never done porn before, this guy takes a cock up his butt like a pro. Watch this hot European stud lose his cherry right here at Randy Blue Universe.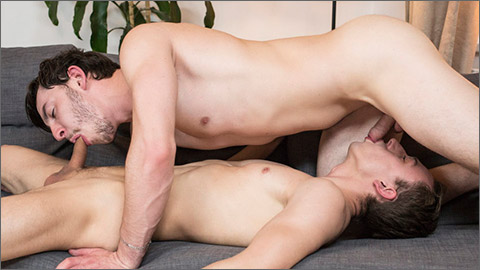 JAMES HUCK EATS CUM AND DROPS A LOAD INTO KEN NOVOTNY
What happens when you get two hot European guys with big muscles and ripped physiques? A super hot fuck session is what happens. Newcomer Ken Novotny is hard and ready to go. James comes over and pulls out Ken's hard cock. They begin to make out and get completely naked. These two nude hunks then begin to suck each other off. Both of these guys say that they are straight, but right now their hard dicks are saying other wise. They 69 each other before James starts to rims that hot muscle hole of Ken's. Then the fucking begins. James Fucks Ken nice and hard every which way until he gets him doggy style and can hold back no more. He creampies Ken's ass and then has Ken jerk off and cum right in his mouth. I think these to dirty fuckers are ready for more at Randy Blue Universe.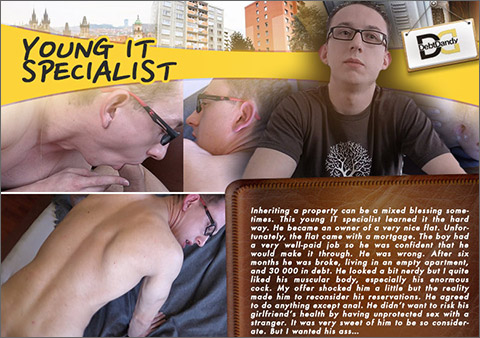 DEBT DANDY 143
Inheriting a property can be a mixed blessing sometimes. This young IT specialist learned it the hard way. He became an owner of a very nice flat. Unfortunately, the flat came with a mortgage. The boy had a very well-paid job so he was confident that he would make it through. He was wrong. After six months he was broke, living in an empty apartment, and 30 000 in debt. He looked a bit nerdy but I quite liked his muscular body, especially his enormous cock. My offer shocked him a little but the reality made him to reconsider his reservations. He agreed to do anything except anal. He didn't want to risk his girlfriend's health by having unprotected sex with a stranger. It was very sweet of him to be so considerate. But I wanted his ass…
CLICK HERE TO GO TO HIS RANDY BLUE DETAILS