American Cockyboys Gay Porn Star, Justin Matthews
Known Aliases: Taylor (Sean Cody)
Years Active: 2015
TWITTER: JustinMatthewsX
COCKYBOYS INFO:
Justin Matthews may look like your standard football jock with his hard 8-pack and wide shoulders, but at heart he's an extremely creative person with some mind-blowing musical talent. He could easily give Jack Johnson and John Mayer a run for their money, and this isn't even counting the fact that he loves being naked. Everything comes very naturally to justin — from the lyrics in his songs to his sexual encounters — and he holds nothing back. He's one of those guys who's 100% in touch with who he is, and that's what makes him so attractive. Welcome to Cockyboys, Justin!
SEAN CODY INFO: Published March 10, 2011
There's just something about sexy little farm boys!
   Taylor's family owns several hundred acres of farm land in the south. He enjoys the country life, but once he graduated from high school, he couldn't wait to take a year off to travel — and that brought him to us.
   And he does have a dirty streak… When you live in area where the nearest neighbors are miles and miles away, what do you do? Trade dirty pictures of yourself on your phone, of course!
   "What is the dirtiest thing…?" I cautiously asked about photos he has received.
   "Cucumber in the ass… pretty dirty," he responded.
   "Wow! That's impressive," I joked. "Depending on the size of the cucumber. What is the dirtiest thing you've sent?"
   "Nothing too dirty, you know, some nut on my abs…"
   So he's a bit of a bad boy with a sweet face and a very hot, athletic, toned body who doesn't mind sending out pictures of his cock!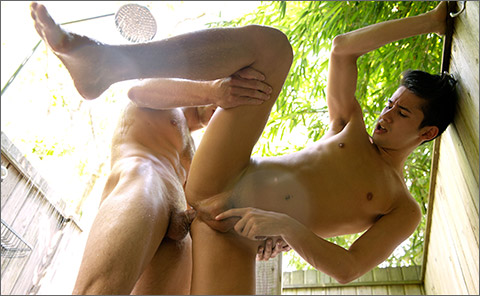 JUSTIN MATTHEWS FUCKS LIAM RILEY
Justin Matthews and Liam Riley clicked right from the beginning. And you can immediately see why — Justin is a more simple-minded country guy while Liam's a bubbly big city boy, a walking exclamation point! Even physically, Justin's a taller, tan blond Adonis while Liam is a slightly shorter, brown-haired pup in training. A perfect Yin and Yang is what you could call their chemistry, and that always leads to some explosively hot sex.
   The guys were visiting Fire Island this summer, and all Justin could think about was sex. He was very vocal about it, too, but Liam reigned him in a little bit at first. They explored the beach, checked out the docks, and then took a lazy summer nap back at their cabin. But Justin couldn't fight his sexual impulses… he snuck off, got naked, and started jerking his hard cock outside on the patio. Liam discovered him a short while later, and the two were soon locking lips. Liam then gave Justin what he really wanted, a slow and hot blowjob. Justin then sucked off Liam for a bit, but he was so turned on that he very abruptly told Liam to bend over so he could pound him doggy-style.
   Liam was loving Justin's hard, powerful thrusts from behind and Justin undoubtedly enjoyed dominating him. But Justin wanted to cool off, so he led Liam to an outdoor shower nearby where the guys got under the water and made out some more. Liam couldn't get enough of Justin's cock though and gave him a second blowjob. But Justin quickly pulled him up, perched him against the wall, and fucked him from behind some more. After they were moaning loudly in a steady rhythm, Liam came while Justin was still fucking him. And Justin rewarded him with a huge load all over his face and torso shortly after. The guys then got under the water again to wash off, ending another successful trip to Fire Island!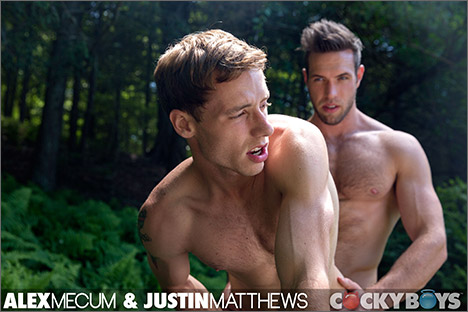 ALEX MECUM FUCKS JUSTIN MATTHEWS
Alex Mecum is new to the adult industry but no stranger to showing off. He's a self-proclaimed total exhibitionist posting videos online of himself jerking off and wearing a buttplug outside when doing yard work. But make no mistake – Alex is all man! He's a big, built, dominant, rough, hairy, alpha male who couldn't wait to get inside Justin Matthews.
   Justin – whom we all know and adore so very much – was beyond excited about surprising Alex in the pool with a blowjob. In his own words, he just "had to get his mouth on his big thick thick". But the action doesn't stop just in the pool. The two are just getting started. Surrounded by nature and lush greenery Alex and Justin suck, rim, and fuck the way only two real man can – rough, deep, and hard! Judging by the absolutely massive loads that both of them shoot it was easy to say this is by far one of the best fucks these bushes have seen so far!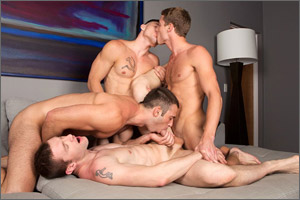 BAREBACK FUCKFEST
"There's a lot of meat in there!" Dennis said, wide eyed.
   Liev, Taylor, and Jarek were in the next room waiting to fuck him.
   "I am going to get filled up!"
   Dennis was really excited, especially about Taylor, the "newbie," as he called him.
   "He's really cute," Dennis said. "I can't wait to see what he can do!"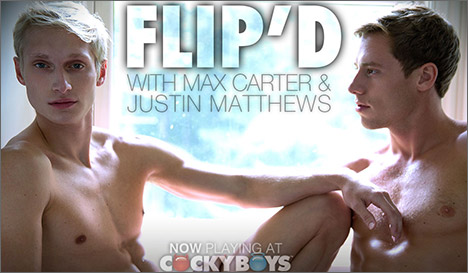 JUSTIN MATTHEWS & MAX CARTER FLIP-FUCK
ALEX MECUM FUCKS JUSTIN MATTHEWS
JAKE BASS & JUSTIN MATTHEWS FLIP-FUCK!
TAYTE HANSON & JUSTIN MATTHEWS FLIP-FUCK
JUSTIN MATTHEWS DOMINATES LEVI KARTER
BAREBACK FUCKFEST
TAYLOR, BRENT & JAREK FLIP-FUCK
TAYLOR
CLICK HERE TO GO TO HIS COCKYBOYS DETAILS
CLICK HERE TO GO TO HIS SEAN CODY DETAILS