Kristen Bjorn Spanish Gay Porn Star, Juanjo Rodriguez
Years Active: 2010 – 2015
Nationality: Spain
Height: 5′ 9″
Weight: 170 lbs
Dick: 8 (20.32 cms) uncircumcised
Position: Versatile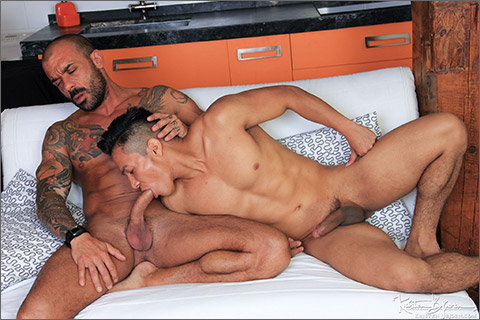 CASTING COUCH #350: RICKY IBANEZ & JUANJO RODRIGUEZ
Juanjo Rodriguez brings his young protégé, Ricky Ibanez home as the master begins his training. Juanjo takes Ricky's hot cock deep in his mouth and devours him balls deep. Ricky wishes to show his master that he has been practicing and goes down on Juanjo's straining cock, showing the master that he has learned to swallow him whole. Juanjo moves right in on what pleasures Ricky the most, giving his ass attention with his hungry tongue. Ricky follows his master and begins tongue fucking Juanjo's incredible ass. With his ass nice and wet, Ricky slides his bare cock into the masters awaiting ass. Juanjo has to monitor Ricky because he has a tendency to blow his load early and Juanjo has more training in store for his young friend. Ricky becomes overwhelmed with the sensation of that hot, muscular ass gripping his cock that he can no longer withhold his load and shoots his cum on that perfectly sculpted ass. Juanjo guides Ricky down onto his throbbing cock and Ricky instantaneously remembers the pleasures he has had in this position before. The two find their rhythm and fuck in unison as Juanjo's balls draw up and prepare for an eruption of lava like cum that flows creamy gobs of cum out of the head of his cock. We all need a master at some point in our lives to guide us along the way to higher pleasure.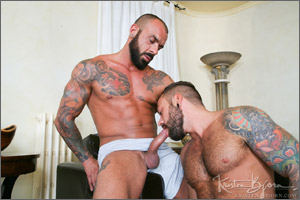 ON THE PROWL #7: JUANJO RODRIGUEZ & SERGI RODRIGUEZ
Juanjo has injured his ankle and calls his good friend Sergi to go to the pharmacy and get a wrap for him. Sergi arrives with bandage in tow and Juanjo wants to know what else he has brought him. Sergi unleashes his hard cock for Juanjo to suck on and forget his pain. Juanjo gives Sergi's cock a complete servicing before he shoves his rock hard cock into Sergi's voracious mouth. Juanjo then flips Sergi around and gives his pucker hole a hot tongue lashing before probing his ass with his tongue as well. With Sergi's ass nice and wet, Juanjo slips his raw cock deep inside of Sergi. Juanjo plays with Sergi, teasing his hole with the head of his cock before driving his entire shaft deep inside his ravenous hole. Sergi then squats down onto Juanjo's stiff cock and begins to ride him hard while his own cock is flopping up and down with heated anticipation. Sergi shoots his hot, creamy load all over Juanjo's thigh as Juanjo picks up his rhythm of fucking. It's not long before Juanjo erupts his thick load that Sergi sucks up into his ass and milks Juanjo for every drop. Do you have a good friend that is also your nurse when needed?
CLICK HERE TO GO TO HIS KRISTEN BJORN DETAILS