Men At Play Blond Dutch Gay Porn Hunk, Johan Kane
Known Aliases:
Years Active: 2016
MEN AT PLAY INFO:
Age (2006): 26
Eyes: Hazel
Hair: Blonde
Nationality: Dutch
While the rest of the world is out there chasing Pokemon, we're busy hunting down the hottest men in the world for you… and not only have we succeeded, this time we've hit the Jackpot!!
   Following in the steps of recent discoveries like Hector de Silva, Dani Robles and Dato Foland, 28 year old blond adonis JOHAN KANE makes his world-wide porn debut right here on MENATPLAY. The 6'3 Tarzan look-alike, describes himself as 'straight but curious', but in his first scene with Denis Vega he's willing to try it all, and even have his ass fucked by muscle stud Denis Vega.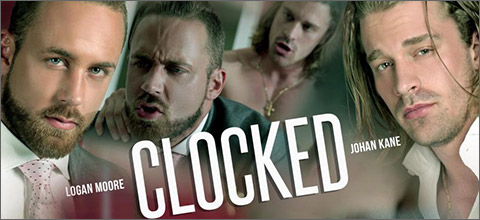 CLOCKED
It was going to be a typical day at the office. But there is no such thing as a typical day at Menatplay. Logan Moore is such a Dutch stunner that its difficult to believe he'd be phased by any new guy starting work at the company, But when he encounters something so unique as the tall beautiful Johan Kane , with his long blonde hair and his blue eyes, Logan is so stud-struck he walks straight in to the wall. He's even less prepared for what follows. Johan turns up at Logan's desk and well aware of his own magnetism Johan taunts Logan by guiding his hand to his crotch. One thing leads to another and before we know it straight guy Johan is having a turn on Logan's peachy ass.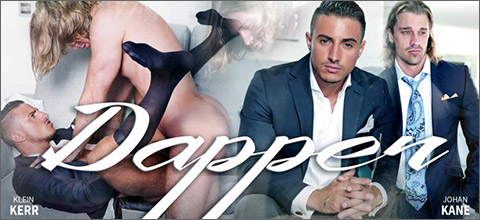 DAPPER
A few weeks ago we gave you an exclusive first look at porn newcomer Johan Kane… but that was just a taster. This week he gets in total Menatplay mode with a little help of a bespoke suit, and devilishly handsome scene-partner Klein Kerr.
   Surprised by how masculine and horny the suit make him feel, Johan suddenly feels a desperate urge to get his dick blown and Klein is more than happy to help his customer out. Johan stands dominantly, watching Klein get to work on his delicious, uncut meat – savouring the taste of Johan's pre-cum on his tongue. Johan then pulls Klein up and on his knees, turns him around and goes straight for it.. ramming his hard cock deep inside Klein. Johan pounds away hard and fast without even stopping to catch his breath, working himself up to an intense orgasm.
   Johan may have confessed to fucking girls in his private life, but here he's on a mission to get to know our men (intimately) one by one… and by the looks of it he's loving the man action.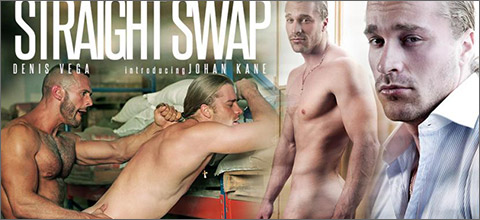 STRAIGHT SWAP
Menatplay is known for introducing some of the biggest names to gay porn and Johan Kane is a perfect example of brand new masculine raw talent. 6ft 4 of blonde, straight, Dutch male isn't something we come across everyday so when Johan expressed an interest in acting in gay porn films we just had 4 words for him "When can you start?". His beautiful long blonde locks a refreshing change to our mainly hispanic men of late, and we wanted to show case that contrast by pairing him up with one of our most popular spaniards – the dark uber-muscular Denis Vega.
   When Johan goes to Denis to confide in him about a girl that has the hots for him Denis notices the girl has already cause a reaction in Johan's cock and he just cant get his mind back on work till he's got a release. Denis, being the generous co-worker that he is offers to help Johan get that spunk fired out of his dick in the best way he knows how – a good sucking and fucking should do the trick!!
   This is a great flip flop scene between two amazing contrasting men and an explosive introduction for Johan to the world of Menatplay.