Handsome Hung Hungarian gay porn star, Jeffrey Branson / Jeffry Branson
Known Aliases:
Years Active: 2009 – 2017
BENTLEY RACE COMMENTS / INFO:
I was really happy to see my mate Jeffry Branson when I had a mid-winter visit to Budapest earlier this year. We had stayed in touch after I met him on our first visit there about 4 years ago. I was really surprised the handsome Hungarian had agreed to model for me after I saw him in a porn movie for one of the big US studios. He put on a really hot show in that first video, and I love catching up with him each time I get back to Europe. On this very chilly day in Budapest Jeffry is warming up in my hotel room this this hot strip show. I love making photo and video shoots with Jeffry. He's a fun and really sexy guy. And check out those bum shots on the couch. I am looking forward to editing his new video this week. You can also check out his previous videos in Budapest and Berlin now in the me member's area. I told him he looks like a lumberjack now with the beard and flanno shirt.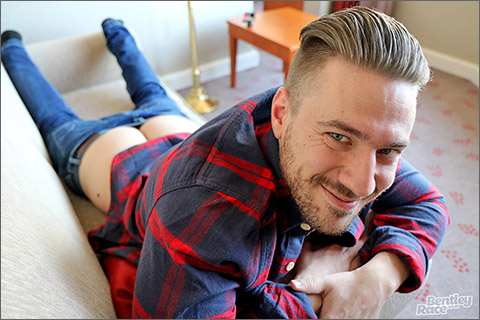 MY BEAUTIFUL MATE JEFFRY BRANSON CAME TO VISIT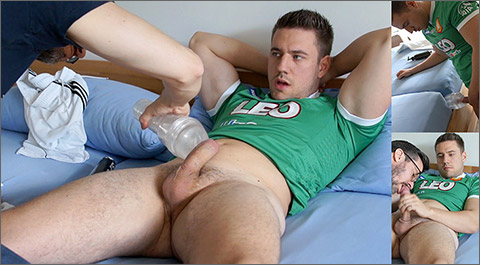 JACKING OFF MY STRAIGHT MATE JEFFRY BRANSON
After having spent the morning photographing my straight Hungarian mate Jeffry getting naked it was time to move on to making a video with him. Jeffry's fleshlight fucking action is very hot. His cock just keeps swelling more as he bangs the rubber fuck toy. I want to get a feel of that fat cock for myself. So I jumped up on the bed and started stroking it. I like getting guys close to cumming and then backing off. Jeffry almost came as I made quick short pumps up and down on the head of his cock. But Jeffry ends up jacking himself off as I lick the top of his cock waiting for his to ejaculate. What a hot session that turned out to be! I grabbed a few more photos of Jeffry's cum drenched cock before he takes a shower.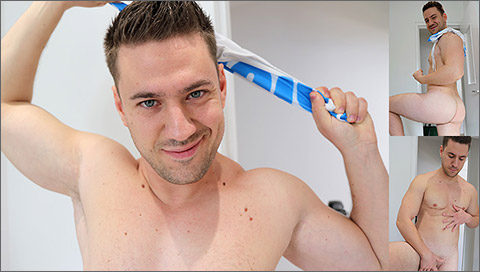 SHOWER TIME WITH MY STRAIGHT MATE JEFFRY BRANSON
One of the most beautiful men I have gotten to meet during my travels around the world is the beautiful Hungarian Jeffry Branson. I spotted Jeffry in some American porn and thought he was really hot. So you can imagine my surprise when he agreed to come and model for me during my visit to Hungary a couple of years ago. Then late last year I ran in to Jeffry again in Berlin and quickly jumped at the chance to shoot with him again. Before we got in to his soccer gear scene, Jeffry took a shower and let me take these shots. He looks great in the Aussiebum speedo, but even better out of it. I like Jeffry a lot and Im hoping our travels will cross paths again this year. In the meantime make sure you check out all of Jeffry's videos, including the latest where he cums on me.
COLT STUDIO / OLYMPUS
CSABA BORBELY / DIAMOND VIDEO
HIGH OCTANE PRODUCTIONS / HERVÉ HANDSOME