Czech Gay Porn Twin, Jean Bazelan
Known Aliases:
Years Active: 2015 – 2016
WILLIAM HIGGINS INFO:
Peter and Jean Bazelan are twins, aged 18. They live in Ricany and both do manual work as a carpenter and a bricklayer. They certainly look very good together as they strip off for the camera, and have a great time showing off their wares. Both have very good cocks and we get a good look at them. Then we get to enjoy two very sexy asses as well, with the cheeks spread to show off their tight holes. What a very nice shoot from two sexy guys.
Model Name: Jean Bazelan
Age: 18
Home Town: Ricany
Height: 181cm/5'11"
Weight: 89kg/195.8lb
Foot Size: EU43/US8.7/UK8.2
Penis Size: 16cm/6.3″
Profession/Student of: Bricklayer
Hobbies: Cycling
Favorite Sports: Athletics
Active Sports: Fitness
Movie/Music/Sport Stars: Drew Barrymore
Visited Coutries: Latvia
Want to Visit Coutries: Russia
Dream of My Life: To have a fun!
Zodiac Sign: Aries (March 21 – April 19)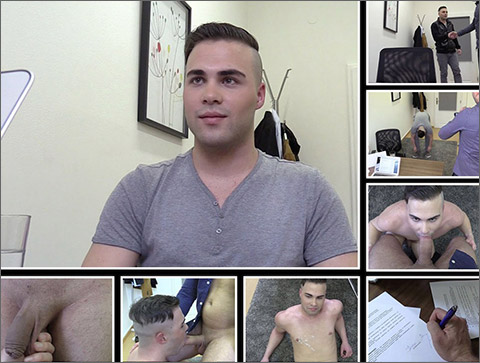 DIRTY SCOUT 38
When this guy came in, I immediately noticed that he was not a standard applicant for this position. He used to work as a door-man in a club. Apparently a dangerous job because someone even broke a bottle over his pretty head. He left after the incident and worked at a fast-food restaurant. In both cases, the salary was significantly below the average. His language skills appeared to be good. Advanced English and basic Russian. Well, I had no doubt that he would be able to work in a warehouse. And indeed he was very interested. Not so much into the work itself but definitely in the salary which I offered him. This I could tell from his eyes. It took a long time to get him naked. And even longer to make him agree to a blowjob. But would he let me fuck his door-man butt?