Big Uncut Cock British Gay Porn Star, Jason O'Connor
Years Active: 2008 – 2015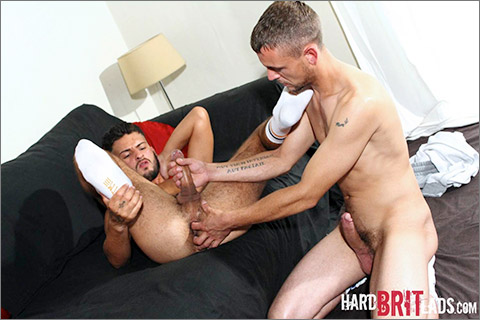 JASON O'CONNOR & BEN GREY PARTS 1 & 2
Horny big dicked chav lads, Jason O'Connor and Ben Grey, have a seriously hot session, starting off with plenty of mutual nipple sucking and bulge groping, with their big cocks hard and throbbing under their trackie bottoms right from the start. Ben drops to his knees and clearly loves getting Jason's massive knob as deep into his throat as he can, he cant quite manage it all but has a damn good try. Jason gets on his knees and gives Ben's thick and meaty dick a nice sloppy deep sucking, and gets his face fucked a bit. On the sofa now, Jason sits back to get his schlong serviced some more, then grips Ben's head to fuck his mouth hard and fast. Laying on his back with his legs wide apart, Ben shows off his hairy hole, pushing his fat hard dick up between his legs as Jason goes to work on his hole, rubbing plenty of spit in, then giving him a good deep fingering, preparing that juicy hole for a good hard fucking.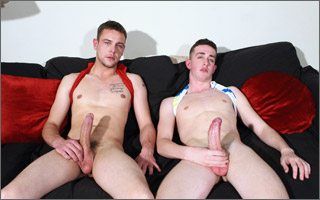 JASON O'CONNOR & LUKE VOGEL
Horny chav lads Jason O'Connor and newbie Luke Vogel have a seriously hot session here. Both have big stiffies under their trackie bottoms as they kiss and grope, taking off their tops they suck each others nipples and rub their throbbing bulges, before taking out their dicks. Both are pretty huge, and young Luke has a super thick one too. He gives Jason's cock a deep sucking, managing to get the full eight inches down his throat. When Jason sucks Luke, his mouth is stretched wide by the impressive girth. Jason stands and gives Luke a real good facefucking, pushing his dick as deep as he can, making Lukes eyes water a bit. gets pretty intense and super horny. Laying back on the sofa, Luke holds his legs apart as Jason rubs his hole and jerks him off. Eager to fuck, Luke leans against the sofa and Jason pushes his dick in, making Lukes meat throb and twitch. Jason fucks him deep, building up to a good pounding. Next, Luke is on the floor, on his side, to get another good fucking, clearly loving it as his cock is rock solid as Jason thrusts in and out. On his back now Luke gets fucked a third time, deep and hard, fucking strong and steady till he cant hold back anymore, and Luke's dick starts squirting hot spunk over his chest and abs. Jason pulls out and stands over him, pumping his jizz out over him, leaving him nicely cum drenched. Very hot!
HARD BRIT LADS
EUROCREME
BULLDOG PIT
CLICK HERE TO GO TO HIS HARD BRIT LADS DETAILS