Bad Boy American Gay Porn Star, James Hamilton / James Biehn
Known Aliases: Devin, Bralin, James Biehn, James Beihn, Tommy (Broke Straight Boys), Brian, Elder Nelson, Jay Ham (Flirt4Free)
Years Active: 2007 – 2015
FALCON STATS:
Hair Color: Brown
Eye Color: Hazel
Height: 5′ 10″
Position: Top
Body Type: Gymnast
Body Hair: Smooth
Endowment: 9″ Cut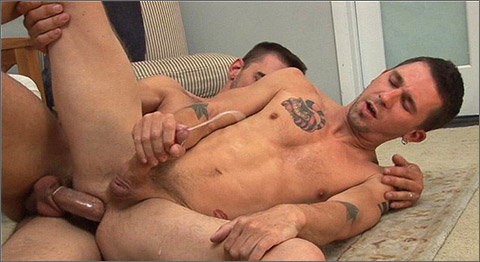 JOE PARKER FUCKS JAMES HAMILTON in READY FOR PRIME TIME
We have a blast from the past and a recent hottie that came together to rock our studios. Joe Parker, the 32 year old from Philly is back on MenOver30.com and he's lucky enough to welcome back sexy James Hamilton. James is flipping through the channels looking for something to watch as he finds porn playing on regular TV. Joe notices more than James' curiosity has been peaked as he reaches over and grabs his growing crotch. "What are you doing?" James asks as Joe goes down to show him. He hauls out James' oversized cocks and puts it in his mouth. James doesn't mind one bit as he gasps at the sensation as Joe swallows every thick inch of his cock with ease. Joe goes to town on his big dick as James just sits back and enjoys it. Joe then gets up and takes out his own boner to give James the opportunity to give back. James gets right to it as he start to bob his head on Joe's fat meat. The chemistry is off the charts as these two go at it. James takes care of Joe's hard cock fo! r a while before Joe needs some more of James down his throat. He has James lie back so he can get on his knees between those thighs and worship his meat some more. He laps at that cock and smooth balls getting James horny for much more than head. Joe gets on the floor and lubes up. James straddles him and eases his tight ass down on Joe's thick meat. It takes him a while before that ass concedes and takes Joe's thick dick inside. Joe starts pumping that dick up into James' tight ass wanting to bury it deep as James winces. It hurts so good as James starts to jack off as Joe picks up the pace. James gets up in a squat position as Joe takes the opportunity to pound his thick cock right up his ass. All James has to do is hold still as Parker pounds his dick home. He leans him back and fucks him in a missionary position for a bit before getting behind him on the floor to slip his meat in for more. Joe starts to fuck James' as he lies behind him. James' hard cock is throbbing a! nd James can't help but jack off as he gets that hole stuffed.! That does the trick as James busts his huge load all over himself and the floor. Joe pulls out and jacks his own load all over James' cum drenched cock and abs.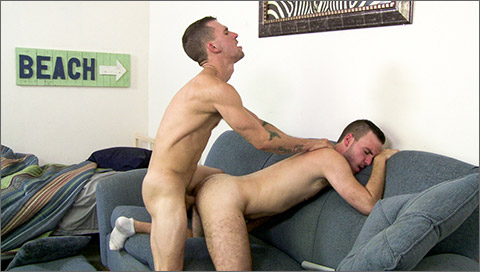 FORBIDDEN ENCOUNTERS 2: James Hamilton fucks Aaron Slate
Aaron Slate shows up at James Hamilton's place unexpectedly. Aaron tells James that he's driven by his place many times, but hasn't had the courage to go inside. Things have been tense between them since Aaron's mom divorced James, but Aaron couldn't keep away from his former stepdad. Aaron found out that his mom caught James cheating, and it wasn't with a woman. She was even more upset when Aaron came out to her, so he decided to go see his former stepdad for comfort. James puts a hand on Aaron's knee and Aaron leans in to give his stepdad a kiss. Their kiss deepens and it's not long before Aaron's hand is down James' pants. They guys take their clothes off and Aaron goes down on James' big dick, taking the whole thing into his throat. When the daddy is good and hard he takes his boy on the couch, fucking him into the cushions. James spits on Aaron's dick and jerks him while pounding his hairy ass. The ex-family members finish with a creamy white load on Aaron's stomach.
CLICK HERE TO GO TO HIS PRIDE STUDIOS DETAILS