Handsome Masculine American Gay Porn Star, Jake Deckard
Known Aliases / aka:
Years Active: 2005 – 2009
TITAN MEN INFO:
Age: 43
Height: 5'11"
Penis Length: 8″ Cut
Bio: I shot my first film for Ray Dragon in April of 2005 and won the best newcummer of the year 2006 at the GAYVN Awards. I thought about doing porn for several years and when there was a change in my personal relationship I went ahead and started doing it.
Turn-ons: I like raunchy, sweaty man sex and that type of porn is a total turn on to me.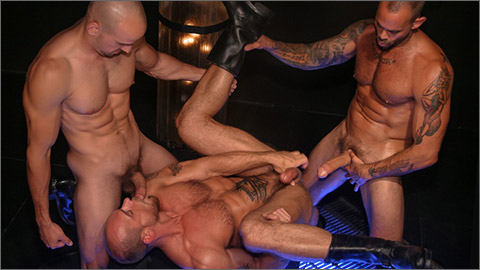 BIG MUSCLE – THE SEX ZONE
Chuck Scott tops Jake Deckard with Jay Armstrong
In the shower, horny dog Chuck lathers up a swelling cock as he dreams of a sensuous yet rudely demanding sex session with Jake. Chuck worships Jake's body—all the time making sure that smooth Jay Armstrong is watching from across the room and beating his hefty tool. He's an exhibitionist, that Chuck, and he's putting on a show, forcing the spit from Jake's drooling mouth with his monster cock. When Jake's amazing bronze eye is exposed, Chuck pisses right on it, and sends long streams over Jake's back. The gold rain rolls over Jake's face and drips off his nose, and the mens' cum explodes. Sweating and swearing, Chuck plugs Jake's sublime pucker, pulling out and taking aim before another rude plunge slams his colossal cock deep into the gate to heaven. The mens' cum spurts, and Chuck hungrily sucks his off Jake's hairy butt.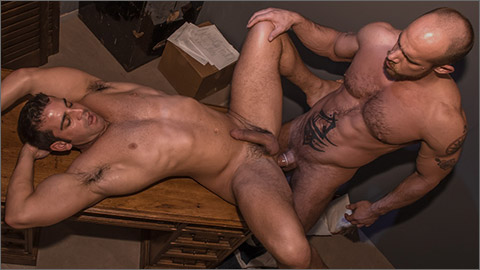 ARCADE ON ROUTE 9 – ARCADE STOCKROOM
Matt Cole and Jake Deckard flip-fuck
Is delivery man Matt Cole just pretending to be straight? He wants to know what goes on in an arcade, so store manager Jake Deckard gives him a guided tour of the stockroom, where Matt finds out how well his cock fits in Jake's mouth. Matt doesn't need instructions on rimming, and savors Jake's finely furred crack and honey-sweet hole. He's just priming Jake for long, powerhouse cock strokes—the dude sure knows how to fuck a guy. Big surprise—he sits on Jake's cock! His big cock bounces heavy as his smooth muscle ass bangs atop Jake's hairy thighs. Then they're kissing' and cumming. Matt's hot loving propels a sensational burst of juice outta Jake as his own load blasts out.
TITAN MEN
RAGING STALLION
CHANNEL 1 / RASCAL
CLICK HERE TO GO TO HIS TITAN MEN DETAILS

MEN MAGAZINE PRESENTS: TITAN MEN
VIDEO ON-DEMAND: Jake Deckard @ AEBN SMUTJUNKIES THEATER
DVD's & ON-DEMAND: Jake Deckard @ TLA VIDEO