Hard Brit Lads Gay Porn Star, Jack Taylor / Jack Green
Known Aliases: changed to Jack Taylor late 2016
Years Active: 2014 – 2017
Age (2014): 19
Height: 5′ 10″
Cock: 7.5 inches, uncut
Body Type: Athletic / Muscular
Prefers: Versatile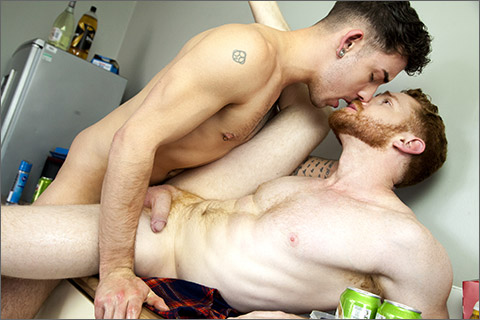 GUYSPOTTING – HUNG & HUNGOVER: Jack Hunter & Leander flip-fuck
Two is company, Three's a crowd. That's how horned up boyfriends Jack Taylor and Leander feel about Mickey Taylor. They love him but it's hard to find time to fuck when he's hanging around their flat. So when Mickey jumps in the shower to get ready for a wild night raising hell around Manchester they get their chance. Still hungover from the night before, Leander doesn't want to go out anyway, all he wants is Jack's huge uncut cock up his ass. He bends over and Jack fucks him on the kitchen counter then Leander leans back and Jack hops on his thick dick for a ride. These two hot fuckers put the MAN in Manchester.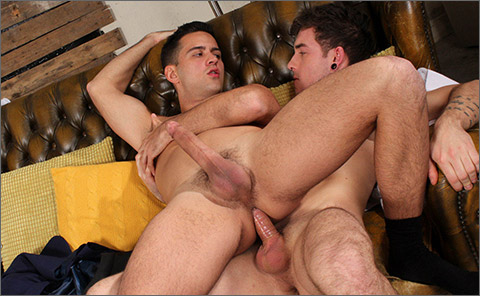 SHARP: JACK TAYLOR FUCKS ROBBIE ROJO
Jack Taylor sits on a leather ottoman looking dapper as fuck, black suit, white shirt and gold details. He's got a look in his eye that says he's on the prowl, directing that stare at the gorgeous Robbie Rojo. Standing tall in a navy suit, grey tie and white shirt, very crisp and sexy. Jack swaggers up to Robbie, mutually appreciating and each other's effort, hands run over silk and stitching, lips lock and these young guns go to town on each other! Jackets hit the floor and shirt buttons pop, toned creamy muscle peeks through tailored white linen. Kisses get sloppy, cocks get hard and boys get hungry! Robbie is first to pull his massive dick out of his open fly, Jack devours him slobbering, giving him a hot and wet suck. Getting on the sofa they swap saliva, pre cum and cocks, Robbie makes jack rock solid while he lays back and enjoys. Hard and ready he pushes Robbie down and mounts him, thrusting hard into his perfect bubble butt. Long slow strokes turn into a hard pounding, Robbie moves his ass up and down, back and forth, doing all the work much to Jacks pleasure! Sitting on him, reverse cowboy he continues to take the lead and bounce on Jacks cock, taking turns Jack, jack-hammers his hole both boys moaning the place down! Flipped over again Jack ploughs into him deep, using his gold tie around Robbie's neck to pull him in to kiss, not stopping the fuck fest in between. Big loads-a-cumming, both boys are going furiously at it, Robbie wanks him self off and sprays a huge wad over his tanned torso, Jack pulls out and adds to the now-massive sticky mess!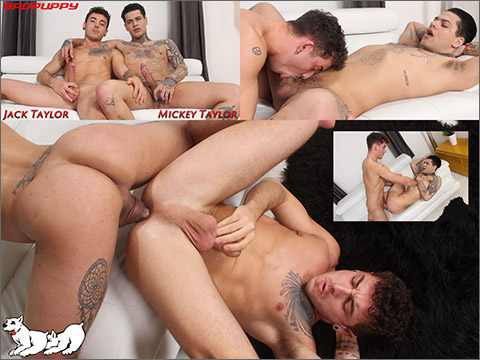 MICKEY TAYLOR & JACK TAYLOR FLIP-FUCK
Sitting on the sofa Jack Taylor leans over and kisses Mickey Taylor on the lips. He begins stripping Mickey's shirt off and pulls down his pants showing off Mickey's tight bubble butt. As Jack's clothes come off Mickey pauses and pays attention to the growing bulge in Jack's underwear. He leans forward; first licking the precum starting to show in Jack's underwear before he pulls back the shorts and out pops Jack's rock hard cock. Mickey wastes no time sucking it down; enjoying every single inch of Jack's thick manhood. Jack motions for Mickey to lie back on the sofa, rips off his pants and underwear before burying his face deep into Mickey's crotch; sometimes gagging on Mickey's cock. Jack pushes Mickey's legs back, buries his face in Mickey's ass and starts tongue fucking him causing Mickey's eyes to roll back in his head; but, getting him primed for Jack's cock. Slowly at first; Jack slides his dick into Mickey's hole; but, once Mickey is settled, Jack goes to working him over harder and faster. Mickey switches things up by having Jack lay out on the floor with his legs and ass propped up against the sofa. Mickey takes his turn at Jack as he shoves his cock into Jack's ass and from the most unique position he fucks the hell out of Jack. With one last flip-flop Mickey kneels on the sofa and Jack penetrates his ass again; pounding away until he can't hold it anymore. Jack pulls out and starts squirting thick loads of cum all over Mickey's tight, hot ass. Mickey turns around, grabs his cock as he sits back on the sofa while Jack keep shoving his tongue down his throat. Mickey's nuts tighten as he blows jizz all over his chest and stomach while Jack continues to kiss his face and rubs the cum into Mickey's chest.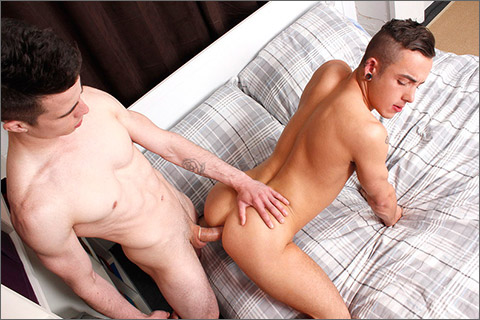 HARD FUCK FANTASY: BRUTE CLUB FUCKS JACK GREEN
Stroking his handsome young dick, cute dark haired twink Jack Green lays back on his bed letting us see his tattooed and toned body, his smooth skin slightly tanned, as he plays with his now rock solid dick, imagining his perfect fuck buddy and what he'd do with him! Appearing instantly, the damn sexy Brute Club arrives right on cue, his muscular frame and cute boyish face making way for his giant twink dick, this is some porn star in the making! Brute gets immediately into action with Jack, stroking his skin then coming by to offer his giant dick to his waiting bottom boy who willingly take sit down his throat – who wouldn't?! After some intense deep ass licking, Brute is ready of truly offer his services to Jack and slams that long thick dick into him, moving the full length back and forth inside that smooth beautiful butthole, leaving Jack gasping for breath as each thrust fucks the breath out of him, all the while jerking himself off until he can't hold back and empties his sack over himself, swiftly followed by the gallons of spunk squirting from Brute, the smile on Jack's face says it all!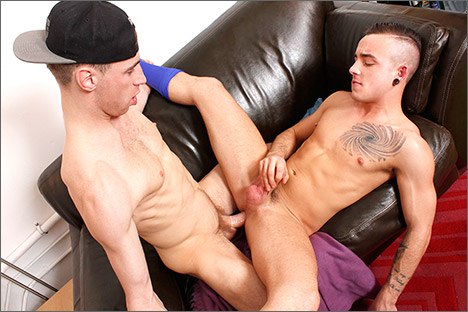 HUNG JOCK FUCKS INKED FRAT BOY: KAYDEN GRAY FUCKS JACK GREEN
Shooting hoops as they waste time with each other, cute young Jack Green and lean muscle man Kayden head back after some sweaty outdoor play and get to grips with each other in the common room. Stripping off their damp clothes, these two boys lap each other's salty bodies and Jack's cute pink lips work down Kayden's sexy body towards that growing bulge and soon wrap around his famously thick dick, getting pushed down do his throat is stretched wide and Kayden almost shoots his load straight down it! Saving himself for later, the attention is moved towards his mates delicious ass, framed perfectly around his jock strap, his legs are worked hard as Jack bounces on top of Kayden's cock ibn every position possible, Jack just can't get enough, and it's easy to understand why! Their football socks pulled high over hard and burning leg muscles, these frat boys end up covered in hot spunk and Jack's aching hole tired and never the same again!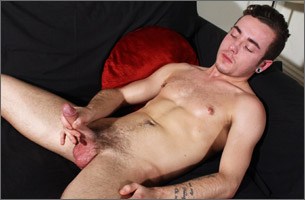 JACK GREEN HARD BRIT LADS SOLO
Super cute 19 year old Jack chats first, he is confident, with a great smile and a deep sexy voice. He talks about sex, what he likes, and how he keeps fit. Then the solo begins with Jack stripping from his sports kit down to his white briefs. He has a very hot, fit body, and an impressive hard bulge in his undies, which are moist with precum. Taking out his cock, Jack gently slides his foreskin back and forth over the head, rubbing the precum in, takes off his undies, and gets down to some very hot solo action, as he plays with his big dick, so hard it throbs and twitches as he plays with his nipples and strokes his athletic, perfect body. On the sofa now, Jack continues, working up more precum, showing it to the camera, and jerking off nice and slow, giving plenty of sexy looks to camera. He starts to speed up, and as he gets close, his muscles bulge and tighten, shiny with sweat. Jack jerks off hard for a bit, till the jizz starts pumping out thick and heavy over his tight six pack, all shown in horny slow motion. He squeezes out every last drop giving a final sexy look to camera.
NAKEDSWORD
UK HOT JOCKS
BADPUPPY
BULLDOG PIT
HARD BRIT LADS
CLICK HERE TO GO TO HIS UK HOT JOCKS DETAILS
CLICK HERE TO GO TO HIS HARD BRIT LADS DETAILS