Raw Castings American Gay Porn Amateur, Issac Lin
Known Aliases: Isaac Lin
Years Active: 2016 – 2017
TWITTER @izzaclin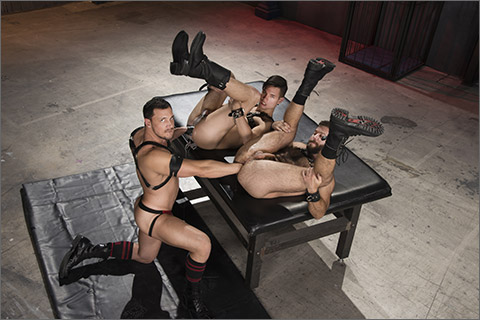 DEEP HOLE DUNGEON: Joey D fuck machines Issac Lin & Gage Lennox
Hairy, muscular Gage Lennox and smooth, lean Issac Lin show off their asses to big, beefy Joey D. Joey has a special surprise for their training session today: twin fucking machines! But first, the boys need to service Joey's cock. They take turns choking on Joey's fat, hard meat, eager to do whatever it takes to please him. Before using the fucking machines to fill their asses, Joey makes Gage and Issac lube up their dildos by showing off their cocksucking skills. When Issac's dong is ready, Joey spins him around and guides the big, black dildo into his hole. As Issac watches, Joey slides his cock into Gage's hole and fucks him as Gage continues to practice his cocksucking on the fucking machine. Saliva drips from Gage's mouth to the floor, forming into a sloppy puddle. With Gage's hole opened up, Joey spins him around and guides him onto the fucking machine. The speed ramps up as Joey feeds his cock to Issac, then to Gage. Joey has one more trick in this session to destroy Joey and Gage's holes. Joey reconfigures the fucking machines so that they penetrate straight up into the air, penetrating more deeply than ever into their eager holes. As the machines reach the limit of their abilities, the boys start begging for daddy's fist – and Joey is eager to give it to them!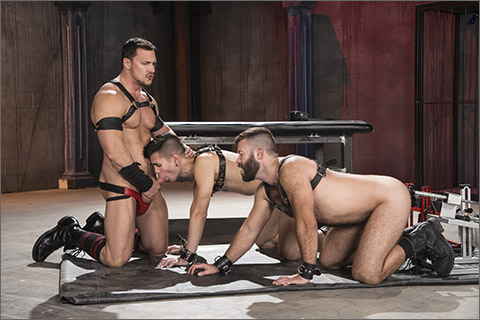 DEEP HOLE DUNGEON: Joey D fists Issac Lin & Gage Lennox
Big daddy Joey D lets his boys out of their cage. Furry cub Gage Lennox and smooth, lean Issac Lin jump on the leather bench, assume a doggy style stance, and spread their asses. Lubing up his black-gloved hands, Joey simultaneously works his fists into both their holes. Giant strands of lube stretch down as Joey ramps up, twisting his fists like corkscrews into the dual eager holes. The bottoms squint their eyes and bite their lips, focusing on the intense anal wreckage Joey is perpetrating on their holes. Gage shows off his gaping man hole, ringed with hair slicked down from the lube. Rolling onto their backs, the two fist-hungry butt sluts throw their legs in the air and give Joey total control over their asses. Their stomachs heave with deep breaths as Joey's expert fist pummeling works its magic. 'Gonna carve me out?' asks Gage. 'Gonna carve that hole out? Fuck yeah!' Joey puts them in an even more adventurous position: as he lays on his back, Gage and Issac squat down onto his raised fists and fuck themselves by rocking back and forth. Flipping onto their backs again, Issac and Gage point their asses at the ceiling as Joey gut-punches their holes into total submission. 'Look at those nice, stretched-out holes,' says Joey as he admires his work. With Gage and Issac's holes wrecked, all three men stroke their cocks, building to an immense climax. Joey blows his load first, releasing his cum with guttural moans. Issac and Gage release jets of cum simultaneously, grunting like wild animals, then lean in for praise from daddy Joey.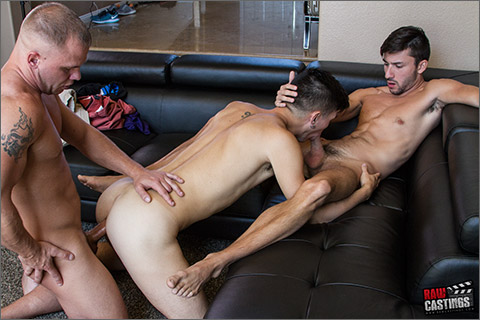 RAW CASTING #95: ISAAC LIN
Catch the banging of Isaac in this audition tape. On the way to the casting director we learn Isaac likes being watched while he's getting off. He's naked at home, he's naked on the beach, he's naked in the club. Isaac is definitely a bottom who knows his way around big dicks. Hell, money's nice and all but he'd audition for free, he's full of stories and cum. Austin gets things going by ramming his cock down Isaac's throat before throwing him on the couch and pounding him. He's rough, yet to see Isaac's face you'd think he was just getting fingered. Scott joins in to take Isaac's audition to the next level. He's ready to get spit-roasted, double penetrated, and anything else a director might want to throw at him. And on him. And in him.
HOT HOUSE CLUB INFERNO
MAVERICK MEN
RAW CASTINGS
BROKE STRAIGHT BOYS